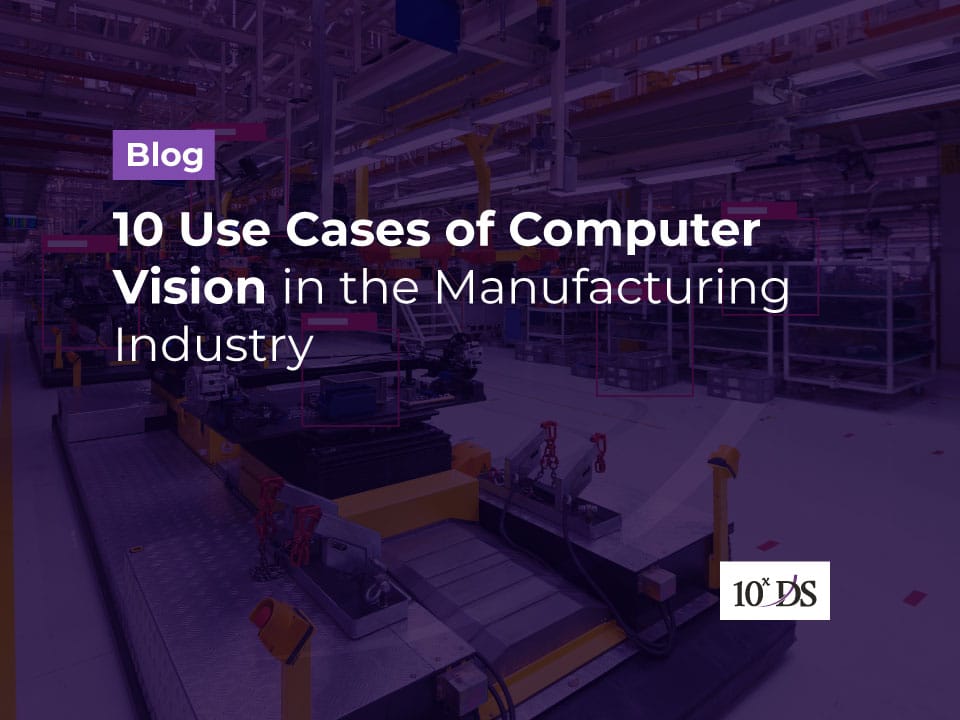 10 Use Cases of Computer Vision in the Manufacturing Industry 
As part of Industry 4.0 – the forthcoming revolution in production – the manufacturing sector has been implementing numerous automation systems. As part of industrial automation, the manufacturing sector is implementing cutting-edge technologies like artificial intelligence (AI), machine learning (ML), the internet of things (IoT), computer vision (CV), robotics (Robots), and so on to revolutionise the way products are made. In particular, computer vision has come to the forefront, with its intelligent automation solutions transforming many parts of the industrial process.
The contributions of computer vision to manufacturing are now unremarkable. Having a human look at something can help with qualitative interpretations, but when it comes to quantitative tasks, computer vision is unrivalled in speed, accuracy, and ability. High-resolution cameras, optics, and the incorporation of AI are the building blocks of a CV system, which offers numerous advantages to industrial factories. Think about how much time it would take to manually verify sophisticated machine parts on assembly lines. CV systems of today are not confined to simple, routine jobs. They work brilliantly even in complex settings that provide difficulties for conventional methods.
According to recent data compiled by Insight and IDG, 44% of businesses are currently exploring the technology, while 37% have concrete plans to implement it.
They are able to work in tandem with humans all the time, boosting production output. Such jobs are easily accomplished by computer vision in a matter of minutes and don't require any human intervention. Although the uses of machine vision in factories are virtually unlimited, here we will focus on the ways in which computer vision (CV) may boost the output and profits of every factory.
How Computer Vision can Revolutionize and Transform the Manufacturing Sector
1. Assembling Products
In the manufacturing sector, computer vision applications play a crucial role in product and component assembly. Industry 4.0 automation includes the widespread use of computer vision in production for completely automated product assembly and management. It is common knowledge, for instance, that close to seventy percent of the Tesla assembly process is automated. Computer programmes aid in the creation of 3D models for use in planning and presentation. The computer vision system follows these blueprints to assemble components correctly. Here, computer vision systems keep a watchful eye on the robotic arms and the workers on the production line, guiding them as needed.
2. Supply Chain Optimization
Manufacturing facilities can save money and improve customer satisfaction by streamlining their supply chain processes. Improvements in computer vision have made it possible for machines to monitor many aspects of the supply chain, eliminating the need for human oversight in some cases. Computer vision applications have been adopted by a number of manufacturing companies for usage in areas such as warehouse management, inventory control, and overall productivity enhancement. Retail giants like Amazon and Walmart, for instance, are experimenting with drone inventory monitoring. Empty containers, for instance, can be identified for optimal replenishment thanks to real-time processing of video data.
3. Lean Manufacturing
Lean manufacturing is a production method that aims to reduce inefficiencies and boost output in the manufacturing sector. The data-driven approach to decision-making and automation made possible by Industry 4.0 technologies' sophisticated sensing technologies is advancing businesses' lean processes. Industry 4.0 technologies, such as computer vision, are essential to the digitalization of factories. Use case of computer vision systems in the manufacturing industry include the measurement of process efficiency, the provision of analytics for the detection of faulty equipment, and the optimization of workloads across the factory floor for all workers.
4. Identifying Flaws and Defects
Multiple types of flaws can be spotted by the computer vision system, image processing can be improved, and digital flaw certifications can be generated.
Because of the need for micro-level defect monitoring systems, manufacturers rarely achieve flaw-free product detection rates of one hundred percent (like monitoring the wrong threading). If these flaws aren't found until after manufacturing is complete or after delivery to the client, it might drive up production costs and cause unhappiness among buyers. These losses outweigh the investment required to implement a computer vision defect detection system driven by artificial intelligence by a significant margin.
Applications based on computer vision collect data in real-time from cameras, processes it with machine learning algorithms, and then, using the data to compare against quality criteria, identify any discrepancies and report them as a percentage. Problems in the manufacturing process can be identified and fixed using this information. This ensures an efficient and error-free manufacturing process. Keeping in mind that "the cost of not finding a problem is substantially larger than the expense of detecting the defect" is essential. As an alternative, investing in a computer vision-based flaw detection system may be a sensible financial move.
5. 3D Vision System
On the assembly line, a computer vision inspection system takes over tasks that humans find difficult. In this scenario, the technology is used to create a complete 3D model of components and their connecting pins using high-resolution photographs. A computer vision system takes pictures at different angles as parts move through the factory to create a 3D model. When these photos are fed into AI algorithms, any threading errors or design deviations, no matter how slight, are immediately revealed. The automobile, electronic circuit, oil and gas, energy, and similar manufacturing sectors all find great credibility in this technology.
6. Die Cutting
Die-cutting is a common manufacturing technique that is typically carried out with rotary cutters or laser cutters. In contrast to laser, which employs slow light pulses, rotary uses sharp blades and other hard tools. In spite of laser die cutting's superior accuracy, it presents difficulties when cutting resistant materials; in contrast, rotary cutting can be utilised to process any kind of material.
Employing computer vision systems, the manufacturing sector can do rotary die cutting with the same precision as laser cutting, allowing them to cut any design. If you feed a design pattern into a computer vision system, it may direct a laser or rotary die cutter to cut precisely.
7. Predictive Maintenance
Products are manufactured using specialised machinery at factories. Wear and tear on these equipment from consistent operation may cause faults in the final product and financial losses.  Degradation or corrosion of materials is especially frequent in some manufacturing processes because they occur at key temperatures and environmental conditions. It causes the machinery to bend. Manufacturers hire corrosion experts to monitor equipment health and devise strategies to prevent corrosion as part of preventative maintenance. Manufacturers manually do continuous monitoring of all machinery. However, when it comes to identifying such shifts in production machinery, computer vision technologies are far superior than human observations. Defects in very small machine components have been detected in real time using CV. As a result, malfunctioning components that may have slowed production can be found in time and fixed without disrupting production. For industrial machinery, deep learning is utilised for prediction, leak detection, and problem diagnosis. Intelligent defect diagnostic systems have been developed with the use of machine learning methods. Computer Vision systems can keep tabs on the machinery using a wide range of parameters, and they do so in real time. Computer vision systems can notify the appropriate managers to do preventative maintenance if a divergence from the measurements indicates corrosion.
8. Norms for Physical Protection and Safety
There is a high rate of on-the-job injuries among industrial workers. Production is closely tied to the health and well-being of the workforce, thus protecting workers is a top priority for every business. Since a single person can find it difficult to keep an eye on numerous displays at once, manual monitoring procedures are typically inadequate. It's possible that if such mistakes are made at a manufacturing company, they'll have far-reaching effects on the staff and business. Using computer vision technology, any problems with employees' safety precautions may be quickly identified, reports made in dashboards, and alerts sent. In the event of an accident, alarms may be sent out automatically, allowing management to take appropriate action without delay. In order to identify employees who are wearing protective gear, a computer-vision system is used.
This programme keeps a constant eye on the factory, from the moment someone enters until they leave. The system notifies the appropriate manager and the staff of any non-compliance, no matter how little. In this method, manufacturing firms may monitor worker compliance with safety and security measures.
In the event of an ongoing incident, the computer vision system can send an alert to management detailing the precise location and severity of the incident, allowing for the immediate suspension of production in that area and the proactive protection of workers.
9. Packaging Regulations
Before placing finished products in a shipping container, some factories require a final count of the number of items produced. When done by hand, this process is prone to numerous mistakes. Pharmaceutical and consumer goods are particularly prone to this issue. Using a computer vision system to count items as they are packaged is one way to ensure that proper procedures are being followed when packing.
Computer vision can also be used to check for damage to the packaging after the objects within have been wrapped. Products should be delivered to consumers undamaged and unharmed. If the container gets messed up, the product inside could be messed up too. Any broken containers are automatically rerouted by computer vision systems before they leave the factory.
10. Analysis Using Barcodes
Barcode checking is also very significant. Today, barcodes may be found on virtually every product. The packing section needs to double ensure that the barcodes produced are legible and precise. Manually checking the barcodes of thousands of products is time-consuming, error-prone, and expensive. Products with invalid barcodes can be easily redirected by computer vision systems.
Conclusion
Companies in the manufacturing sector throughout the world are enthusiastically adopting cutting-edge technology. We hope that this information will shed light on why computer vision is so important in the industrial sector. Across the years, factories all over the globe have adopted new ways of mass-producing goods. Each one is doing their part to make production as safe, inexpensive, and efficient as possible. Therefore, there is a plethora of advantages to incorporating computer vision systems into your factories. You may take your manufacturing firm to the next level by using this method.
Talk to our experts to leverage 10xDS AI Computer Vision solutions to address your business and operational challenge!