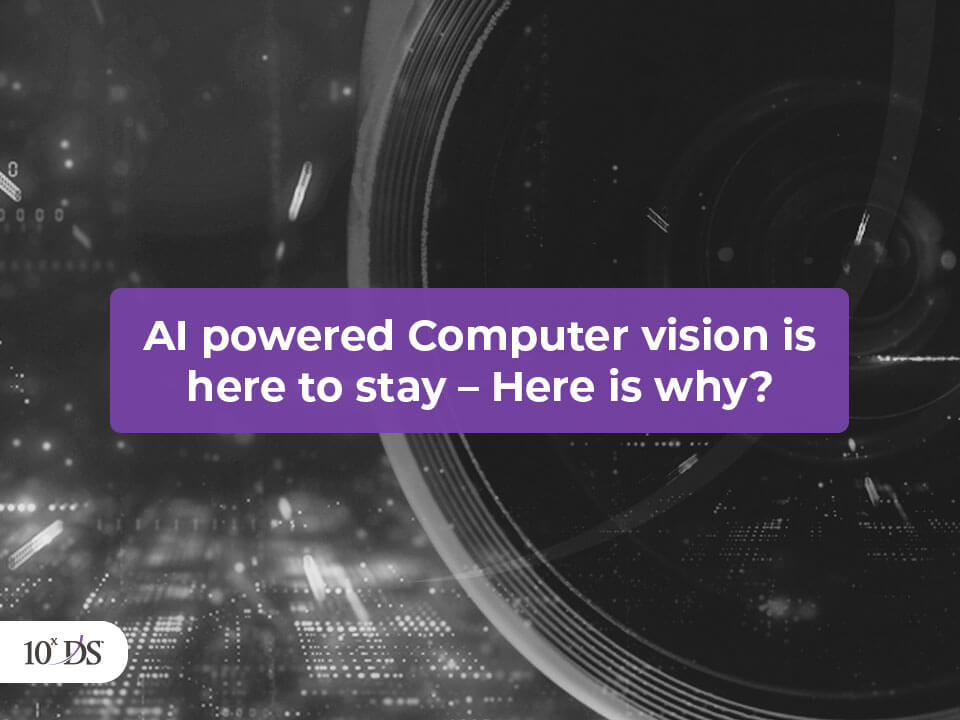 AI Computer vision is here to stay – Find out why?
Recent studies have shown that more than the trust factor, customers are now choosing companies based on the customer experience it delivers. State-of-the-art and innovative AI-based technologies like Computer Vision are now being widely adopted by companies to create such unique and positive customer experiences. To put it simply, Computer Vision can be compared to human eyes as it reproduces the same effect, thereby enabling the computers to understand the images they process and act as programmed. With AI models, Computer vision does not just see but they analyse what they see, and they present those images with derived insights.
Applications of Computer Vision
Let's analyse few of the use cases where benefits are manifold.
1. Compliance to SOPs
Lack of proper monitoring of Standard Operating Procedures (SOP) and the subsequent effects that arise due to non-compliance can be severely detrimental for petroleum retail. For example, deviations in decantation and fueling processes significantly affect operational efficiencies.  AI Computer Vision Solution can analyze footages from multiple cameras and derive meaningful insights on adherence to SOPs as well as a real-time alarm to notify the staff on non-compliance on their devices. Staff allocation can also be planned based on the insights provided by Peak time and Fueling time calculation in real-time. Ensuring an adequate number of staffs will also ensure that the staff is relaxed enough to be vigilant about procedures to comply.
Compliance to SOP is very critical in the Pharma sector as well. The adherence to CGMP (Current Good Manufacturing Practice) is a challenge when many stakeholders are involved. The staff not adhering to gowning requirements before entering clean areas such as microbiology lab or production area, or if they are not following the air barrier requirements for the specified time to prevent cross-contamination in the manufacturing area will create contamination and eventually revenue loss.  Adherence to CGMP in terms of gowning requirements, cross-contamination, packaging, labelling, quarantine zone protocols, among others can be monitored easily with AI methods.
2. Health and Safety at workplaces
Traditional fire detection devices or smoke detectors require sufficient levels of the smoke build-up to turn alarms in large spaces such as factories and warehouses thus leaving a very little time for rescue operations. Near-miss incidents do not get recorded as safety incidents hence precaution and prevention may not be practised until a mishap occurs. Recording ergonomics is hardly possible considering the way workers are performing their work and how they handle workplaces, products, systems, and hazardous materials.
Implementing AI Computer Vision Solution can help detect and pinpoint the location of the fire as soon as it starts, which in turn allows it to be extinguished before it gets out of control. CCTV footages record accidents that may have occurred but averted and the built-in algorithms can raise them for human attention so that preventive measures can be done.
With AI-powered computer vision, ergonomic hazards posed can be tracked back to workers to properly train them to avoid occupational diseases in the future. Major benefits include the reduction in the industrial accidents and vulnerability to employees and assets, improvement in regulatory compliance for industrial safety and also the avoidance of occupational diseases to large extent by imposing proper measures by analyzing recorded data and structuring training around them.
3. Smarter space utilization in warehouses
Computer Vision can be implemented by plugging into existing or new CCTV cameras to monitor various scenarios based on the requirements and provide detailed analytics in real-time:
CBM (Cubic Meter)
Dock Utilization
Truck TAT
Forklift Utilization
Personnel Utilization
Safety Compliance
This helps in complete tracking of the warehouse along with monitoring operational efficiencies accurately in real-time. Leveraging CV companies can now optimize warehouse operations cost, enhance compliances and FIFO (first in first out) implementation.
4. Banking
Imagine opening a bank account with a selfie and a short video call instead of lengthy KYC procedures and unending supporting documents. This is a reality in many of the forward-thinking and technology-driven banks.  Understanding customer emotions is important to deliver actionable insights for the purpose of personalizing banking services across multiple channels. These will have a direct impact on bank revenues and that is one of the reasons why the Banking sector is adopting Computer Vision widely. They are also used for:
Customer demographic analysis
Queue monitoring & footfall analysis
customer conversation analysis
Employee proctoring
Fraud detection and more
Conclusion
Now with the COVID 19 pandemic crisis changing the way we live, implementing safety measures such as social distancing, mask monitoring, thermal monitoring, and others have become a norm in Malls, worship places and other public places.  With the safety norms getting stricter and mandatory, companies have started adopting emerging technologies like Computer Vision as lifesavers in these difficult times.
10xDS offers advanced AI-powered Computer Vision solutions catering to various needs of companies across different industries.
Looking to adopt Computer Vision solution in your organization, talk to our experts to kickstart the journey!