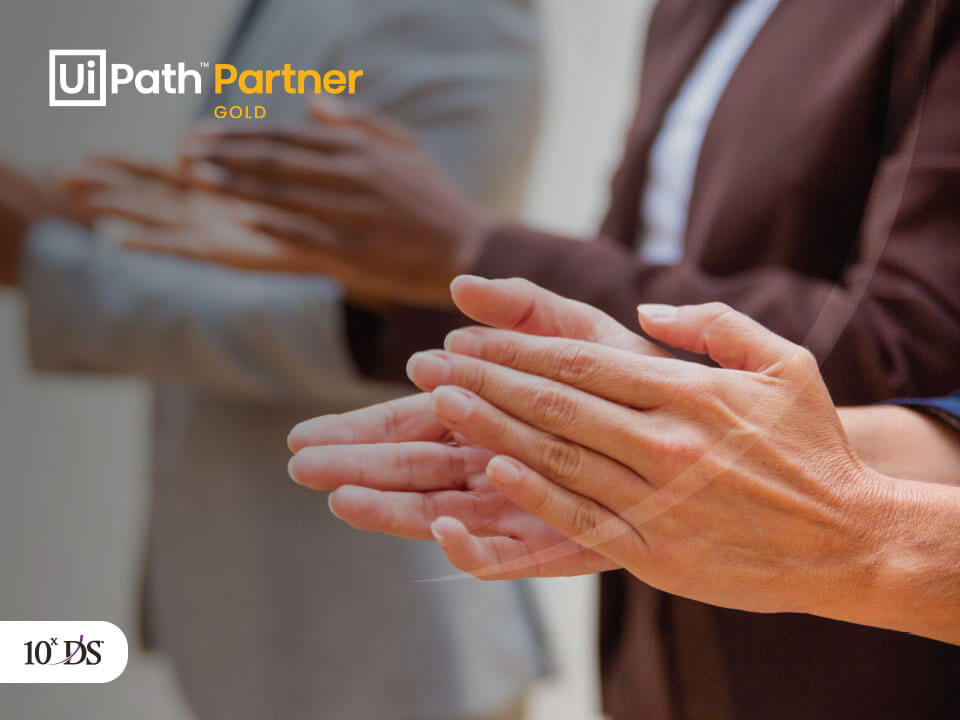 UiPath Names Exponential Digital Solutions (10xDS) as an Official Gold Partner
Bengaluru – Exponential Digital Solutions (10xDS), a leading Digital Transformation Consulting Company and solution provider harnessing emerging technologies, was recently named an official Gold Partner by UiPath, a global enterprise Robotic Process Automation (RPA) software company. The Gold Partner Status implies that UiPath has recognized 10xDS' skills and capabilities as a leading RPA vendor in delivering cutting-edge services and solutions across industries.
This global quality label is a recognition granted by UiPath to partners who have scaled and achieved growth using the UiPath platform. With a certified pool of UiPath platform experts of around 100 RPA developers, Infrastructure Engineers, Solution Architects, Implementation Managers, Business Analysts and Customer Success professionals; a strong Automation Centre of Excellence (COE); a full-fledged delivery team;  and a proven track record of delivering cutting edge automation solutions to clients, 10xDS have truly earned this recognition.
10xDS has successfully delivered digital transformation across a wide range of sectors including Banking, Financial Services, Insurance, Healthcare, Manufacturing, Retail, Oil & Gas, among others. With a primary focus on the Middle East and India, they are now spreading their wings to Australia, US and Europe regions as well. Leveraging the UiPath experience and expertise, 10xDS has transformed many banking processes both in India and the GCC region. They performed a RPA COE implementation for a large Immigration firm to augment their Shared Services in India with operational excellence and digital transformation which was a huge success story. They were also involved in automating exploration and engineering processes using UiPath tool for a leading oil exploration company in Middle which was a first of it's kind implementation in the region.
Binu Koshy, CEO of 10xDS is looking forward to a great journey together. He said "Our digital transformation journey has been truly phenomenal, and we leverage our technology partners to jointly deliver compelling value to our clients. RPA consulting, implementation, Post Implementation review and support are our core service offerings, and UiPath has been providing excellent support to us and our clients and I look forward to winning and delivering valuable propositions to many more across the globe."
Adding to this, Manish Bharti, President, UiPath India and South Asia said, "Partners like 10xDS form an integral part of our vision to bring automation to every company in India. 10xDS has implemented some innovative RPA use cases with their customers and we hope to continue working with them to bring forth more transformative automation solutions."
About 10xDS
Exponential Digital Solutions (10xDS) is a new age organization where traditional consulting converges with digital technologies and innovative solutions. With an expert team having diverse experiences and backgrounds, 10xDS is committed towards partnering with clients to augment their performances and help them realize their most important goals by harnessing a blend of automation, analytics, AI and all that's "New" in the emerging exponential technologies. Today, we are treading an exponential path of growth, delivering many successful and transformative engagements, designing and creating new business models, business advisory partnerships and centre-of-excellences!
About UiPath
UiPath is leading the 'automation first' era—championing a robot for every person and enabling robots to learn new skills through artificial intelligence (AI) and machine learning (ML). Through free and open training, UiPath brings digital era skills to millions of people around the world, improving business productivity and efficiency, employee engagement, and customer experience. The company's hyperautomation platform combines the #1 Robotic Process Automation (RPA) solution with a full suite of capabilities, including process mining and analytics, that enable every organization to scale digital business operations at unprecedented speed. The company has already automated millions of repetitive, mind-numbing tasks for businesses and government organizations all over the world, including more than 50% of the Fortune 500 and 8 of the Fortune 10.