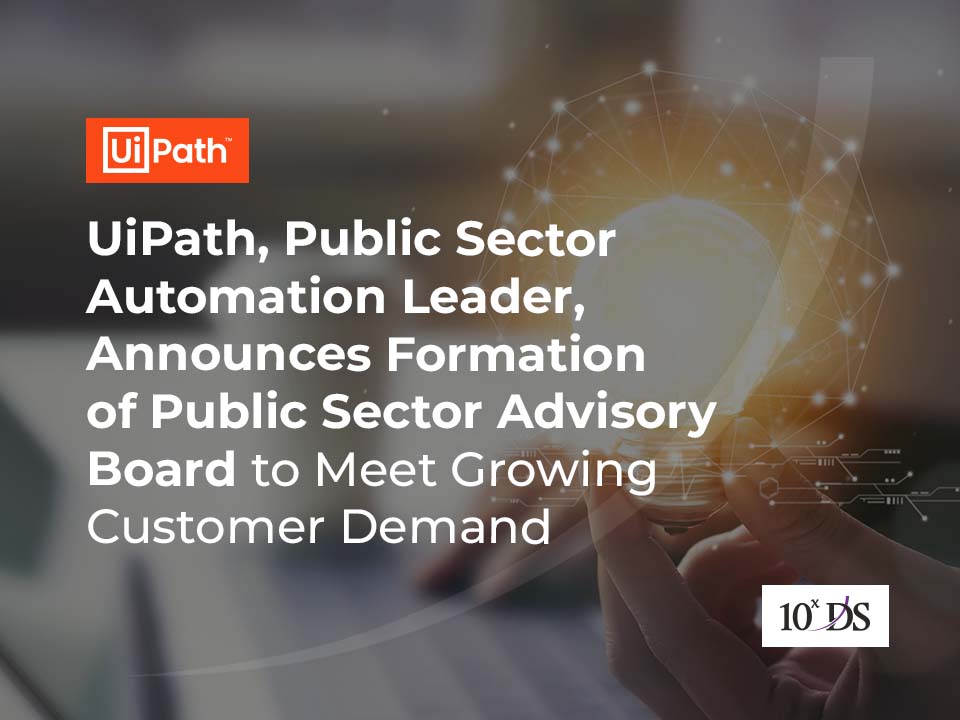 UiPath, Public Sector Automation Leader, Announces Formation of Public Sector Advisory Board to Meet Growing Customer Demand
One of the leading enterprise software companies, UiPath recently announced the formation of their first and new Public Sector Advisory Board. The officials from the company confirmed that the Public Sector Advisory Board will contain former economists, academia, and government technology officials.
UiPath is hopeful that the newly formed board will offer external perspectives on global economic trends, all facets of the government, and the latest opportunities in the field of automation to help public sector agencies to meet their goals.
The automation platform of UiPath has been already deployed in half of the states in the United States. In addition to that, UiPath has deployed the automation platform in 92 federal agencies and departments in the country. It is evident that the need for automation has been on the rise in recent years.
The federal government in the United States is planning to spend approximately 65 billion dollars on digital infrastructure in the next eight years. A recent survey conducted by NASCIO revealed that nearly 77 per cent of state CIOs revealed that their growing interest in automation software solutions is actually driven by the need to ensure better delivery of services to people who are living in the country.
The knowledge and insight of UiPath's Public Sector Advisory Board regarding the unique challenges, legislative and policy priorities, and specific missions will help the company to decide on how they can approach the market segment. It will also help UiPath to come up with automation solutions, which can make the government effective and efficient.
Here are the seven members of the Public Sector Advisory Board of UiPath. The company has confirmed that the members will be regularly meeting for discussions and each one of them will serve at least one year.
Anesh Chopra : President of CareJourney, author, former secretary of Technology for the Commonwealth of Virginia (2006-2009), former U.S CTO (2009-2012)
Tyler Cowen :  economist and professor at George Mason University
Suzette Kent : CEO of Kent Advisory Services and former CIO of the federal government
Gopal Khanna :  former CIO, State of Minnesota, former Director, Agency for Healthcare Research and Quality, and Executive-in-Residence at the Medical Industry Leadership Institute at University of Minnesota
Matt Lira : former Special Assistant to the President for Innovation Policy and Initiatives at the White House Office of American Innovation
Shelley Metzenbaum : Personnel Management at White House Office of Management and Budget, former Associate Director of Performance, launched Performance.gov, government policy implementation expert and advocate
John Zangardi : former Acting DoD CIO, former DON CIO and acquisition executive, former CIO, Department of Homeland Security, and current president of Redhorse Corporation.
About UiPath
UiPath is leading the 'automation first' era—championing a robot for every person and enabling robots to learn new skills through artificial intelligence (AI) and machine learning (ML). Through free and open training, UiPath brings digital era skills to millions of people around the world, improving business productivity and efficiency, employee engagement, and customer experience. The company's hyperautomation platform combines the Robotic Process Automation (RPA) solution with a full suite of capabilities, including process mining and analytics, that enable every organization to scale digital business operations at unprecedented speed. The company has already automated millions of repetitive, mind-numbing tasks for businesses and government organizations all over the world, including more than 50% of the Fortune 500 and 8 of the Fortune 10.