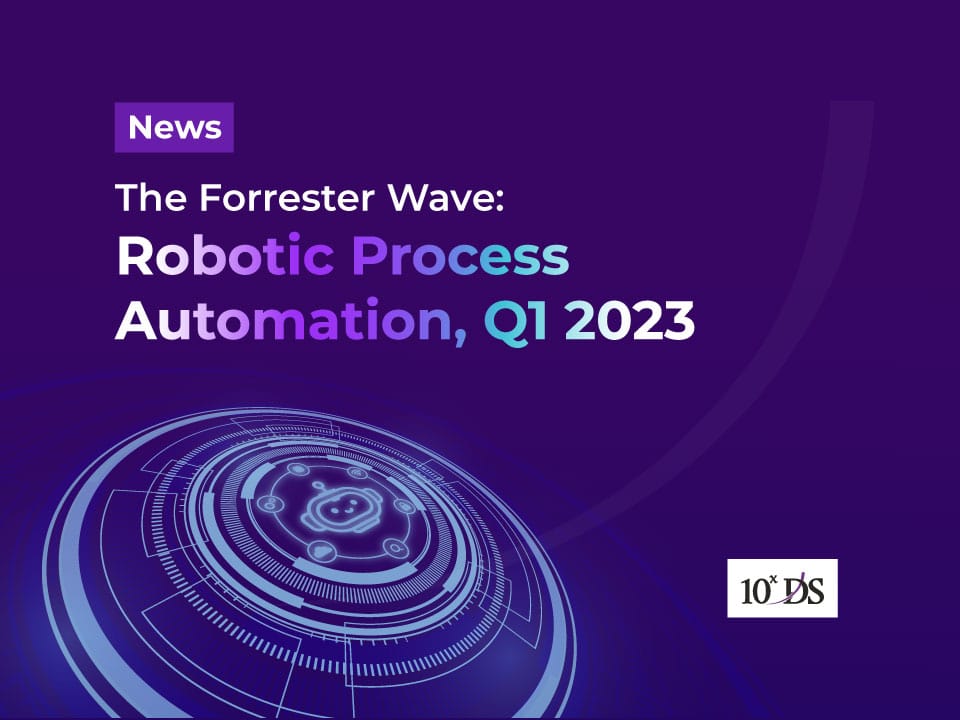 The Forrester Wave: Robotic Process Automation, Q1 2023 
Forrester recently released the Forrester WaveTM: Robotic Process Automation, Q1 2023 report. Forrester conducted in-depth research, examined, and rated 15 leading RPA vendors, including Appian, Automation Anywhere, EdgeVerve, IBM, Microsoft, MuleSoft, Newgen, NICE, Nintex, Pegasystems, SAP, ServiceNow, SS&C Blue Prism, UiPath, and WorkFusion, based on a set of 26 criteria.
Forrester says that RPA is still important, but it can only grow if it is combined with other technologies. Automation, and RPA in particular, is becoming increasingly popular among businesses. As a result, it's only natural for heads of IT to seek to increase the scope of automation in order to maximize profits and protect investments. RPA software manufacturers have expanded their product lines to include not only RPA but also low-code development tools, content and document processing, process orchestration, and more in order to meet the needs of their customers. Hence, automation experts are rearranging their automation infrastructures to facilitate growth and more complicated automation.
The report recommends that RPA clients, in light of these tendencies, should seek out service providers who:
Provide a comprehensive toolkit of automation solutions to ensure the long-term viability and scalability of automation projects.
When scaling business automation techniques, it's important to support both centralized and federated automation architectures.
Know that the process of automating a task involves first discovering it, then analyzing it to find ways to make it more efficient, and then automating it.
Synopsis of the Evaluation Process
The Forrester WaveTM analysis identifies leaders, strong performers, contenders, and challengers. This analysis only covers the major players in the industry and is not meant to be comprehensive. Forrester's RPA studies provide further details regarding this industry. The research and advisory firm's goal with this analysis is to provide a baseline from which more investigation may be conducted.
There were a total of 26 criteria included in Forrester's vendor assessments, which were categorized into three broad categories: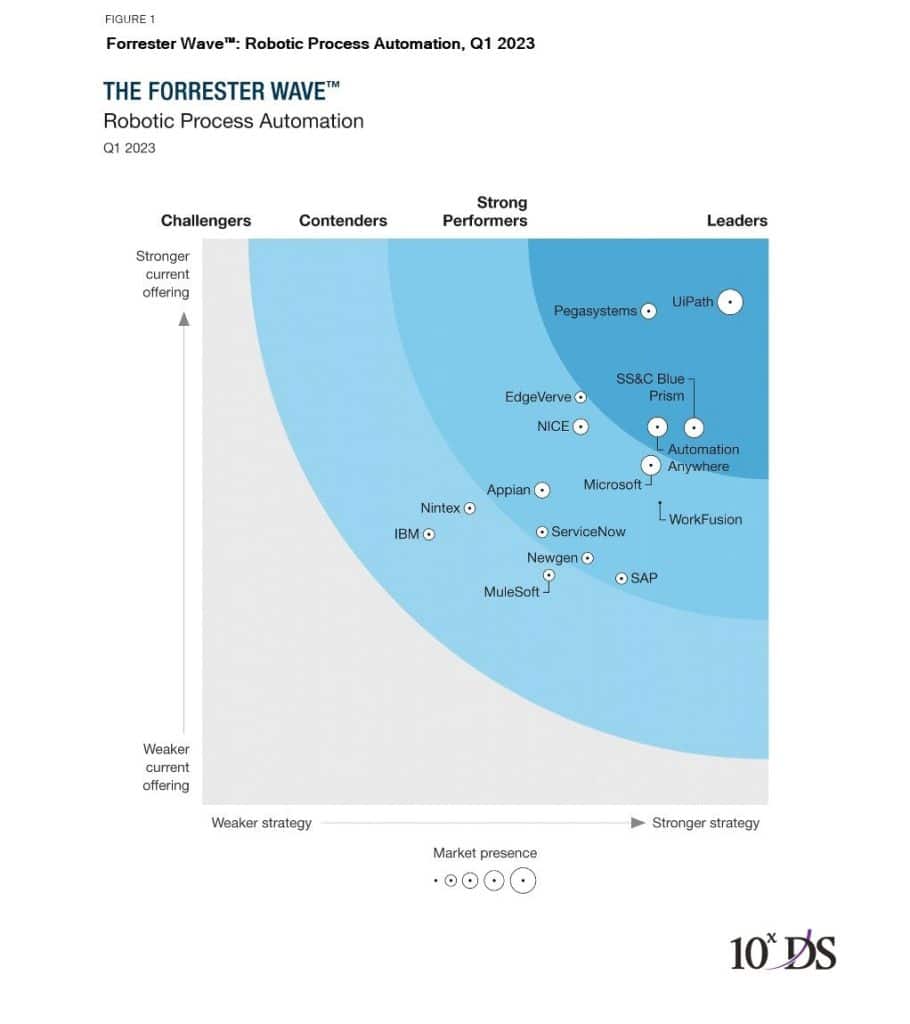 Current offerings:  The height of a provider on the Forrester Wave map denotes how impressive their present offering is. Discovering, evaluating, and building a portfolio of automation solutions; deploying, operating, and analyzing automation; ensuring governance, security, and general capabilities; and assessing solutions against these criteria are all important aspects of these solutions.
Strategy: The strength of the suppliers' strategy is shown by where they fall on the horizontal axis. Forrester analysed the overall concept, the newness of the road map, the price options, the pricing transparency, the partner ecosystem, and the community.
Market Presence: The market presence scores in the report are reflective of each vendor's revenue and number of users.
Specifications for Accepted Vendors
Appian, Automation Anywhere, EdgeVerve, IBM, Microsoft, MuleSoft, Newgen, NICE, Nintex, Pegasystems, SAP, ServiceNow, SS&C Blue Prism, UiPath, and WorkFusion were among the 15 suppliers evaluated by Forrester.
An individual RPA software offering is available from each of these providers. Providers should make software available for sale or subscription.
The ability to make an impact on a global scale At the very least, the software provider has a footprint in three of the following areas: North America, Europe, Asia-Pacific, and Latin America. A minimum of 15% of the vendor's annual RPA product sales comes from each area.
Continual growth in sales of RPA software Each year, the vendors bring in at least $15 million in revenue from their RPA software.
Leaders, strong performers, and contenders
10xDS technology partners UiPath, Automation Anywhere, and SS&C Blue Prism are flying high and performing well as leaders, and Microsoft is a strong performer this quarter. Pegasystems is also a leader, and other strong performers include EdgeVerve, WorkFusion, NICE, Appian, SAP, Newgen, and ServiceNow. MuleSoft, Nintex, and IBM are contenders.