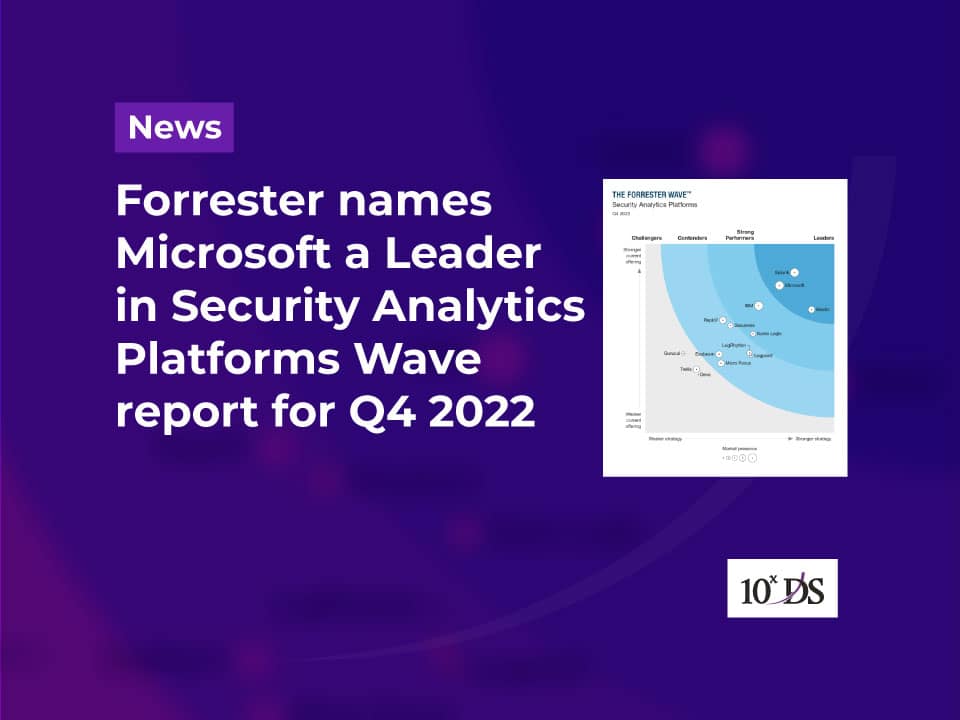 Forrester names Microsoft a Leader in Security Analytics Platforms Wave report for Q4 2022
In the latest edition of The Forrester WaveTM: Security Analytics Platforms, published at the end of Q4 2022, Microsoft has been recognised as a Leader. Microsoft scored a perfect 17 on a scale from best to worst, demonstrating excellence in areas such as partner ecosystem, innovation roadmap, product security, case management, and architecture.
Cloud-native security information and event management (SIEM) solutions like Microsoft Sentinel have become an integral part of a SecOps solution and have evolved to meet the new needs of customers to move faster as the threat landscape continues to proliferate.
Microsoft Security has been recognised as a market leader in seven separate Forrester WaveTM reports, and the company's dedication to investing in novel, interoperable solutions has earned the trust of many business owners.
In this report, Microsoft was rated on how well its various features help customers quickly detect, investigate, and eliminate security threats.
Among the most notable characteristics are:
Allowing users to bring their own machine learning or use Kusto Query Language (KQL) to create their own rules. It also reduces the amount of time spent on repetitive tasks and enables security operations centre (SOC) teams to construct automations that work for their organisation.
All-encompassing threat intelligence that equips users to face the ever-changing cyber threat landscape.
Customers can safeguard their entire digital ecosystems and keep tabs on all of their clouds, platforms, and endpoints with the help of scalable search and storage of massive amounts of data.
Strategy adopted by Microsoft's Sentinel
Microsoft Sentinel is an advanced security information and event management (SIEM) solution. It can gather security information from a wide variety of cloud-based and on-premises data sources. Deep integrations into Microsoft Defender threat protection products provide full coverage across SIEM and extended detection and response, and the comprehensive SOC platform offers user entity and behaviour analytics (UEBA), threat intelligence, and security orchestration, automation, and response (SOAR) capabilities (XDR). In order to keep up with ever-changing threats, Sentinel enables businesses to use cutting-edge AI and automation on a cloud scale.
Microsoft's suite of security solutions stands out from the competition thanks to the native integrations of SIEM and XDR, which enable rapid deployment, improved coverage and context, and quicker incident resolution. Customers who use Microsoft Defender XDR products could get special pricing on data ingestion through Microsoft Sentinel.
Microsoft has made significant investments in new features over the past year, including content for IoT devices, coverage for business applications like SAP, improved SOAR features and streamlined workflow management. These features allow our customers to better secure their digital infrastructure, respond automatically to a wider variety of threats, and create a cohesive, productive SOC.