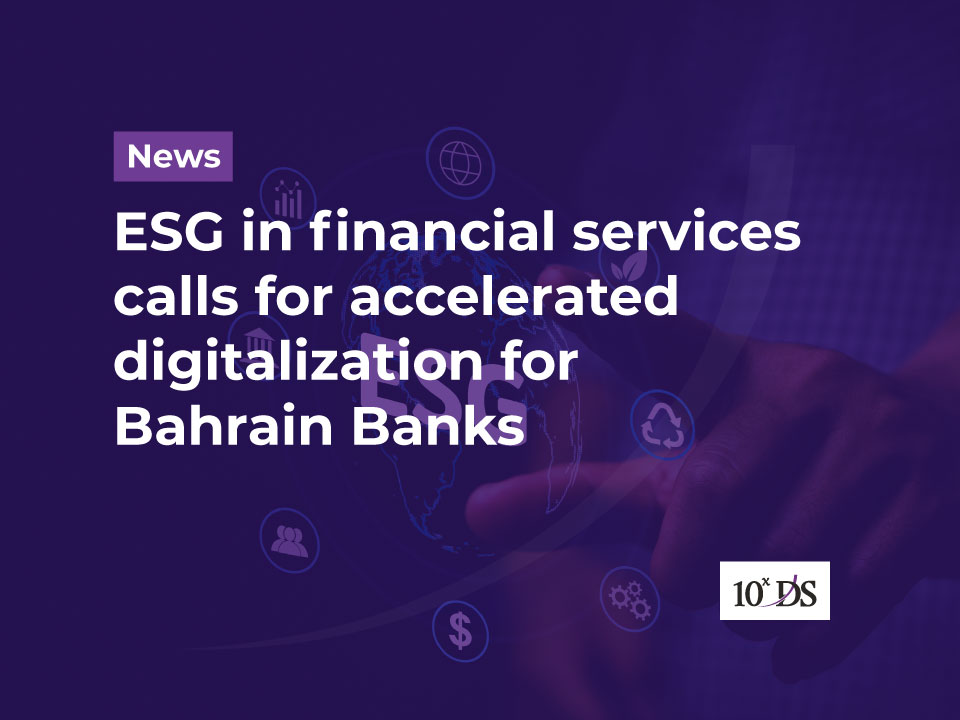 ESG in financial services calls for accelerated digitalization for Bahrain Banks
As one of the three guiding principles of Bahrain's Economic Vision 2030 is Sustainability, Government finances will adhere to the principle of sustainability, upholding a system that is stable and forward-looking. As per the Vision document, Economic growth must never come at the expense of the environment and the long-term well-being of our people, and no effort will be spared to protect our environment. With that there is a sharp focus on ESG (environmental, social and governance) principles for banks and raised awareness of the contribution lenders could make to broader targets by providing green financing. More and more people are paying attention to clean energy today, and banks have begun financing money for solar panels and electric cars.
With ESG being the central theme, Banks are also trying to accelerate their digitalization and going paperless in their offices and branches (physical spaces). Few of the initiatives around this are eKYC and workflow automation for Account Opening Form, Deposit Slip, Loan agreement form, Fixed Deposit Receipt, Card Request Form, Account Upgrade Form, Transfer Request Form, among others. Since Banks have traditionally operated around many forms-based services, a holistic approach is needed to re-look at all the forms being used to bring the workflow automation around those.  10xDS is working with few of the banks in Bahrain on these initiatives with Microsoft Power Platforms.
Microsoft Power Platforms allows workflow automation in a quicker and cost-effective manner. In addition to digitizing and optimizing paper-based business processes, streamlining workflows can save time completing tasks, reduce errors, and help bank employees focus on more strategic and impactful work. Power Platforms use low-code or no-code automation technology to create powerful workflows. The platform offers prebuilt connectors allows to incorporate a range of applications into banking workflows.
Automating forms and processes can help boost productivity, eliminate redundancies, and increase efficiencies for Banking professionals.
Talk to our experts to know more on  workflow automation solutions  that's intuitive, easy to use, and flexible.