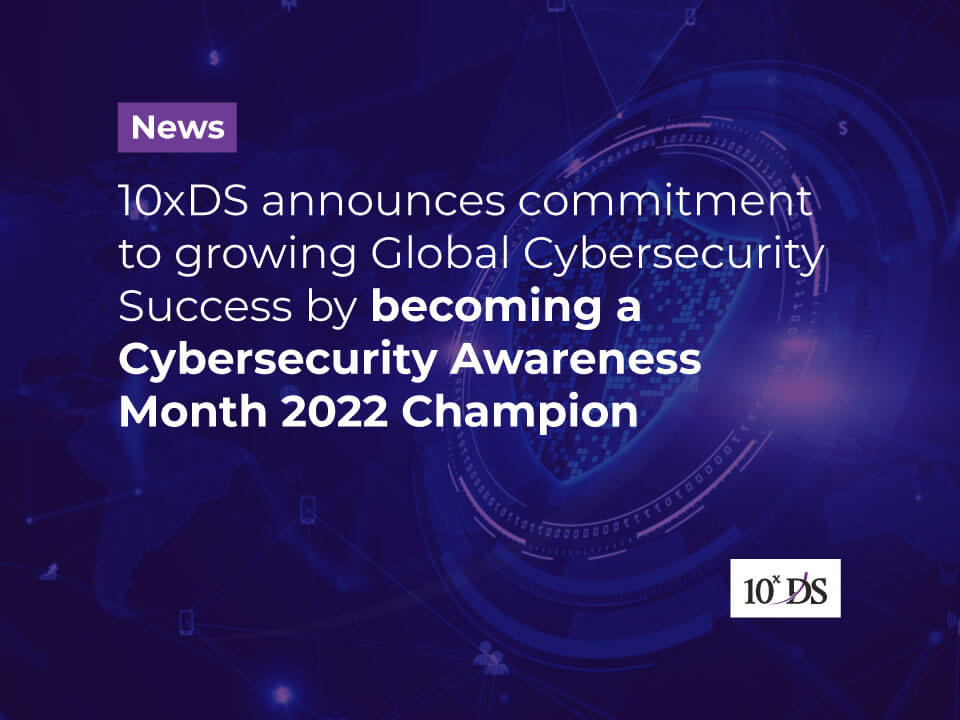 10xDS announces commitment to growing Global Cybersecurity Success by becoming a Cybersecurity Awareness Month 2022 Champion
Cybersecurity Awareness Month is held each October to educate and raise awareness among the people regarding cybersecurity and practices. It aims to empower individuals and businesses to take cybersecurity steps by making cyber more accessible. It also highlights some of the emerging challenges that exist in the world of cybersecurity today and provides straightforward actionable guidance that anyone can follow to create a safe and secure digital world for themselves and their loved ones.
With technology affecting every aspect of life, it has become vital to raise awareness regarding cybersecurity to make a nation prepared in the event of a cyber incident.
We are proud to announce that 10xDS has signed on as Champion for Cybersecurity Awareness Month 2022. The Cybersecurity Awareness Month Champions Program is a collaborative effort among businesses, government agencies, colleges and universities, associations, nonprofit organizations, and individuals.
This year Cybersecurity Awareness Month focuses on the theme 'It's easy to stay safe online.' It includes four major cybersecurity practices, recognizing and reporting phishing, benefits of using a password manager, the importance of enabling multi-factor authentication, and installing updates on a regular basis. Through this collaboration, 10xDS hopes to bring about far-reaching online safety measures that can create an impact on the lives of individuals and business organizations.
We provide a comprehensive package of cybersecurity and IT risk assurance services to identify, prevent, and proactively respond to security threats. With the latest technologies like RPA, AI, ML, and data analytics, our services have assisted various organizations to handle challenges from cyber attackers.
Throughout this October, we have planned several internal activities based on this year's theme. Initiatives will include expert briefings on cybersecurity techniques, weekly surveys, exciting contests, and other team engagement initiatives.