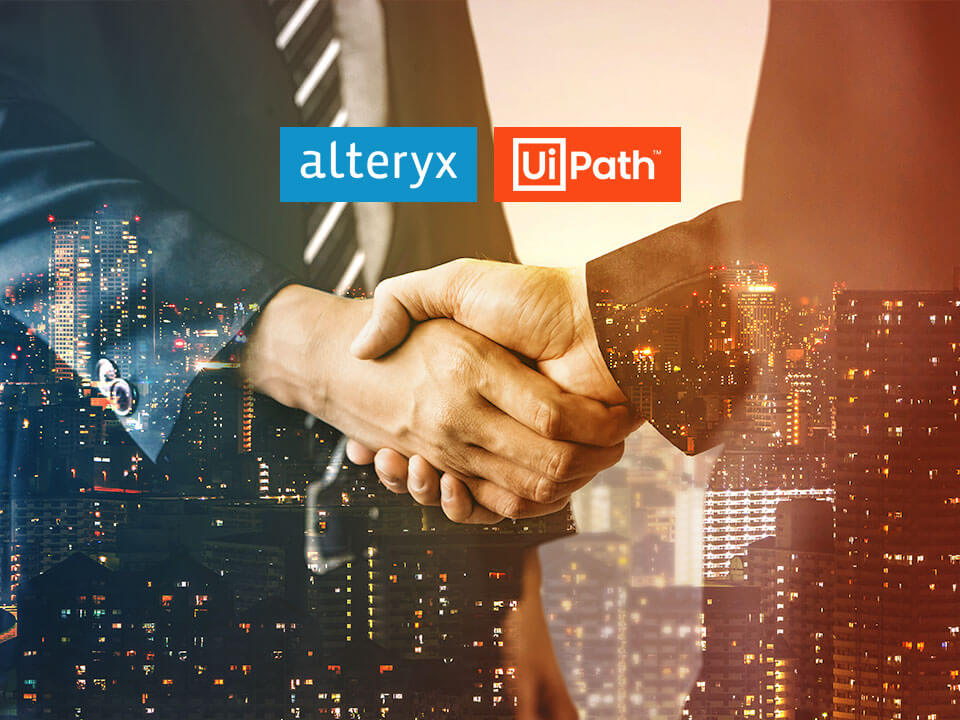 Alteryx – UiPath strategic partnership to boost end-to-end automation across data-driven business processes
Alteryx, Inc, a leading provider of Analytic Process Automation (APA), entered into a strategic partnership with UiPath, a global enterprise Robotic Process Automation (RPA) software company. The technology integration enables organizations to simplify end-to-end automation for faster and transformative business outcomes.
Combining the key APA and RPA capabilities and benefits, the automation companies are offering a solution to help business leaders, analysts, data scientists and data engineers to increase operational efficiency and automate time-to-insight.
RPA augments the capabilities of APA by automating tasks, fetching new and complex data sources for analytic processing within Alteryx system. The RPA bots further automate the human output tasks to the operational systems downstream. The platforms work together first with the UiPath robots collecting and aggregating data from different sources such as mainframes and legacy systems without APIs, unstructured data in documents, website scraping, OCR, and other functions. Using this data, the Alteryx APA Platform then prepares, transforms and blends it with several disparate sources. Finally, it further automates analytics, data science, and machine learning (ML) and artificial intelligence (AI) outcomes.
The activity pack shared by the companies allow users to easily trigger Alteryx workflows within UiPath Studio.
About UiPath
UiPath is leading the 'automation first' era—championing a robot for every person and enabling robots to learn new skills through artificial intelligence (AI) and machine learning (ML). Through free and open training, UiPath brings digital era skills to millions of people around the world, improving business productivity and efficiency, employee engagement, and customer experience. The company's hyperautomation platform combines the #1 Robotic Process Automation (RPA) solution with a full suite of capabilities, including process mining and analytics, that enable every organization to scale digital business operations at unprecedented speed. The company has already automated millions of repetitive, mind-numbing tasks for businesses and government organizations all over the world, including more than 50% of the Fortune 500 and 8 of the Fortune 10.
About Alteryx
Alteryx is a software company involved in providing data storage, retrieval, management, reporting, and analytics solutions to customers across the globe. The company is a leader in analytic process automation, unifying analytics, data science and business process automation in one, end-to-end platform to accelerate digital transformation. The Alteryx APA platform helps the customers deliver high-impact business outcomes.