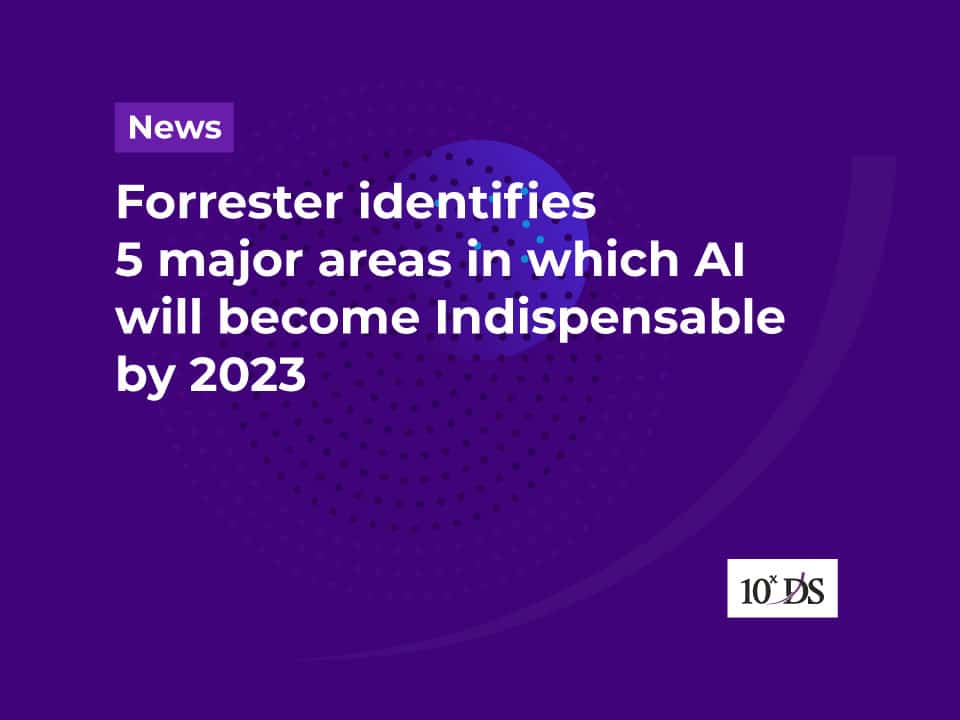 Forrester identifies 5 major areas in which AI will become Indispensable by 2023
As a result of the epidemic, several sectors have begun to rely more heavily on AI. The software, hardware, and services that make up the artificial intelligence (AI) market are expected to generate $432.8 billion in revenue by 2022, up 19.6 percent from 2021, according to the most recent edition of the International Data Corporation (IDC) Worldwide Semiannual Artificial Intelligence Tracker. The market is expected to reach $530 billion by 2023.
The latest AI forecast research from Forrester Research confirms what most people have already seen: Adopting AI has progressed from a trendy, experimental choice to a serious, must-do initiative for businesses
Seventy three percent of data and analytics decision-makers are developing AI technologies, and seventy-four percent believe AI will have a positive effect on their enterprises, according to Forrester's Data and Analytics Survey, 2022.
The paper predicts that by 2023 AI usage would "continue to expand and be more creative, trustworthy, and optimised," and that businesses of all stages of development will have discovered ways to integrate the technology into core operations.
Forrester's AI and ML analyst Rowan Curran shared five forecasts for 2023 enterprise AI deployment based on data.
1. Forrester predicts that 10 % of the Fortune 500 will use AI-powered content generation by 2020.
Advances in transformer networks and pretrained models (especially big language models like BERT and GPT-3) have made generative AI a mainstream topic of discussion.
Forrester predicted that major companies like Baidu and Huawei, which have released CV-powered digital content services, along with startups like Synthesia and HourOne.ai, which use AI to speed up video content generation, and Taichi Graphics, which raised $50 million for CV-powered digital content creation, would dominate the market. Moreover, widespread text-to-image technologies like DALL-E and Stable Diffusion allow content-makers of all stripes (including tech industry analysts) to rapidly produce new material.
In addition, he may have elaborated on the wide variety of content generation use cases, such as creating images for design inspiration or writing marketing copy in bulk or summarising complex textual themes quickly and easily.
2. TuringBots will produce 10% of the world's software and 10% of its software testing.
As Forrester predicted in 2020 with the term "TuringBots," the emergence of AI that can write code was a major trend in 2022, and it will only pick up speed in 2023, according to Curran. However, in the past year, more enterprise-oriented businesses have been integrating [TuringBots] directly into broader development tools, such as by adjusting them in Codex.
These products automatically produce clean code from needs specified in natural language, and the paper claims that reinforcement learning and huge language models have accelerated the creation, accuracy, and deployment of such products. Forrester predicts that by 2023, software development lifecycle automation tools like Amazon's Code-Whisperer, Code Bot, GitHub's Co-Pilot, and Tabnine will handle even more tasks.
3. Forrester claims that only one in every four CIOs will provide board-level updates on AI governance.
It should come as no surprise that by 2023, one in four CIOs and CTOs will be responsible for AI governance, given the growing body of AI laws and the accompanying increase in the demand for trust in AI. Given the critical importance of risk management and regulatory supervision, the Forrester analysis projects that AI governance will join cybersecurity and compliance as a board-level concern.
According to Forrester, 46% of business and technology decision-makers in data and analytics look for partners to execute strategic AI. It noted that companies like Accenture, BCG, Deloitte, EY, and McKinsey provide auditing and executive training on AI governance.
4. According to Forrester, using AI in retail healthcare will cut down on wait times by 25%.
According to Forrester's analysis, intelligent scheduling will be used by retail healthcare providers to help reduce the $150 billion annual cost of healthcare no-shows. CVS's Minute Clinic is collaborating with Google to offer same-day appointments using Google Search, and Walgreens is teaming up with Nuance to offer round-the-clock COVID-19 vaccination scheduling.
As of 2023, AI will optimise scheduling workflows by considering insurance coverage, diagnosis, location, availability, and cancellation risk variables," according to the paper. Ingenious businesses will utilise this information to make up for lost revenue due to unexpected cancellations; clever systems will contact patients on the waiting list whose responses are most likely to be positive. If this issue is resolved, the average wait time to see a doctor will drop from 20.6 days to 15.7 days.
In addition to more gimmicky use cases, this simply speaks to how we are seeing AI creeping into the most fundamental and basic difficulties of some of these domains, according to Forrester. The retail healthcare aspect will be a game changer; cutting wait times for care by 25% would be enormous.
5. Virtual Assistants won't have to try to pass as human
The Forrester analysis/ report anticipated that as conversational AI use cases grow across the business, organisations would stop trying to make their virtual assistants sound human in order to gain customers' trust, especially in the B2B sector.
Forrester discovered that as many as 65% of B2B marketers are now utilising AI-enabled virtual assistants in their day-to-day interactions with clients and staff. Companies have found that customers feel misled when virtual assistants put on an act and pretend to be human. As a result, businesses will embrace honesty by clearly labelling their AI helpers as bots.
Conclusion
The application of AI has become important to the process of digitization. The number of novel uses for artificial intelligence (AI) in the workplace and beyond is projected to grow throughout the next several years. Many companies are already using AI-driven solutions to enhance their operations and customer service. Adoption of AI has grown from being a trendy new initiative to a serious concern for businesses in 2022. There are openings for AI adoption in businesses of all types and stages of development. Organizations are seeing improvements in efficacy and efficiency as a result of this implementation, which is allowing them to make structural changes.
Talk to our experts, if you're interested in learning how to increase the value you offer your staff and consumers through the application of AI technologies.