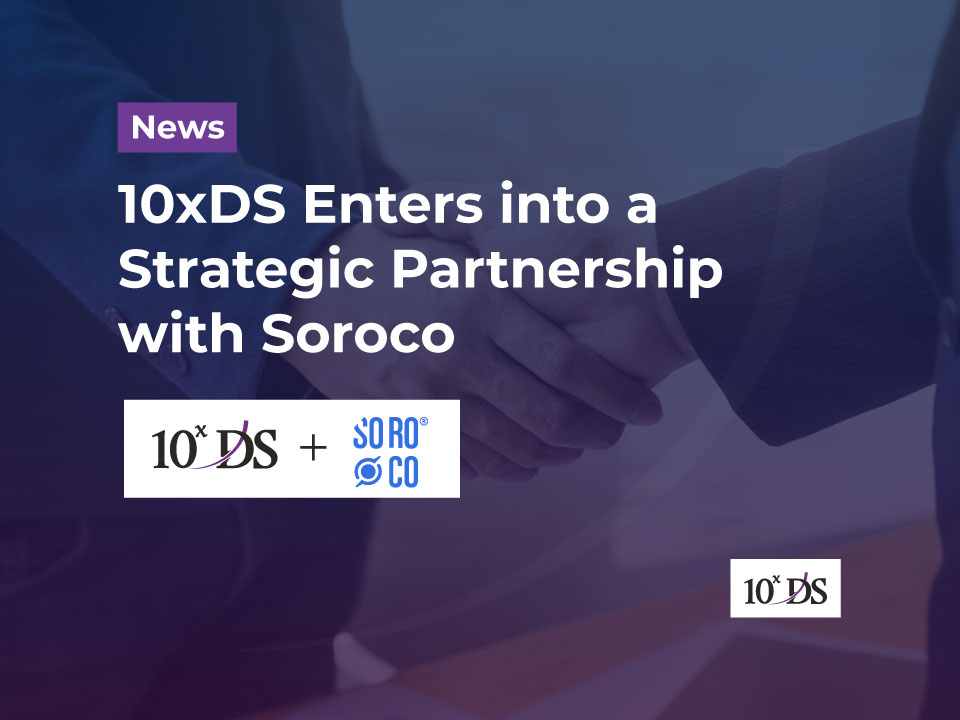 10xDS Enters into a Strategic Partnership with Soroco
10xDS, a Digital Transformation Services and Solutions company, has entered into a strategic partnership with Soroco, the world's first work graph company. Through this partnership, 10xDS and Soroco will deliver greater value to global customers through Soroco ScoutTM , a Leader in Everest's Task Mining Products PEAK Matrix® Assessment 2022, and help them accelerate their change programs.
Today, teams and users spend over 60% of their workday on unstructured interactions across emails, documents, and custom applications outside of systems of records such as CRMs and ERPs. This vast, undocumented, and untapped enterprise data emanating from human-computer interactions is key for driving data-based digital transformation programs with multiple levers such as automation, streamlining variations of work and targeted user training.
As a result of the partnership, customers will be able to leverage Soroco's Scout platform, focused on enterprise-scale needs and serves 1000s of users within each organization. It needs zero IT integration, protects end-user privacy, and is GDPR complaint. Scout discovers work patterns specific to each team and provides AI-driven recommendations on ROI and optimization levers. It is built cloud-native to scale and is available in both PaaS and SaaS.  Daylight's low-code platform empowers business users to rapidly deploy digital solutions to collect, validate, and deliver critical data and information.
About Soroco
Soroco is building the world's first work graph platform — a database of shared digital experiences emanating from our daily work. Today, teams spend over 60% of the workday on unstructured interactions across emails, documents, and custom applications – outside of ERP, CRM, and other systems of record. This massive enterprise data is untapped and undocumented. Our flagship product Scout, powered by the work graph, provides near real-time, structured insights into this last mile of work and helps enterprises accelerate their transformation journey. Unlike traditional solutions, the "work graph" provides a single source of truth. We have operations across the USA, Europe, UK, Singapore & India with a roster of Fortune 500 customers across 30 countries.
About 10xDS
Exponential Digital Solutions (10xDS) is a new age organization where traditional consulting converges with digital technologies and innovative solutions. We are committed towards partnering with clients to help them realize their most important goals by harnessing a blend of automation, analytics, AI, cyber and all that's "New" in the emerging exponential technologies. 10xDS caters services across the Globe with offices in Abu Dhabi(UAE), Manama (Bahrain), Trivandrum and Kochi (India). We have also forged strategic partnerships and collaborations with industry leading technology partners.