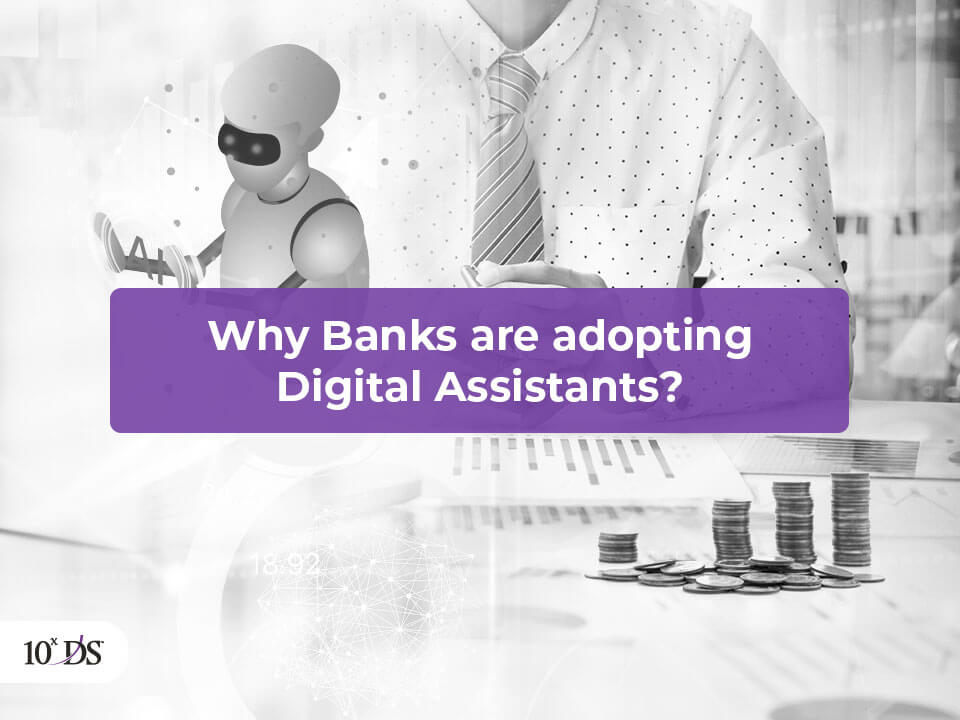 Why Banks are adopting Digital Assistants?
With over 1.5 billion active users, WhatsApp is one of the most preferred mobile messenger apps worldwide and there are 1.3 billion Facebook Messenger users globally. People prefer these communication channels because they are easy and user-friendly. Hence most of the forward-thinking companies are going where the users are.
Earlier digital assistants were primarily used for frequently asked questions with pre-defined answers. However, they have evolved now to cognitive chatbots which enable users to resolve their issues without even interacting with a human agent. Many of the digital assistants now come with pre-built workflows which make it quicker to adopt. ERP integrations make it more and more independent to handle queries without human touchpoints. RPA workflows and document processing capabilities make it smarter and efficient. Conversational Analytics provide business teams with insights.
Digital Assistants enhance banks customer experience and approachability, and this is the reason why they are gaining importance in banking. Most of the customers are asking digital assistants for an answer before approaching a human and they think that digital assistants answer their questions faster than a human and they are utmost satisfied if their issue is solved without talking to a person. 24/7 assistance is something a customer would always be happy about since financial matters need resolution quickly.
Let us discuss a few areas where banks have already implemented digital assistants.
1. Personal Banking Assistants
These chatbots offers functionalities such as Account Balance check, Spend Analysis, New Credit Applications, Inline Credit Scores, Product Clarifications, ATM Locator, ATM Cash Status, ATM Features, among others. Integration with Core Banking, Analytics, Credit Bureaus, Branch & ATM Directory enables them to be efficient. They also have free-form text conversations with NLP and location-based responses.
2. Wealth Management Assistant
Digital assistants track spending habits and analyse credit scores, manage budgets, and tell the customer where they are spending their money. This is possible because of the integration with Portfolio Management System. By analysing market performance, AI-based models can make recommendations and advice for better money management.
3. Loan Service Agent
Integrating with Core Banking, Collections Scheduling and Payment Gateway, Loan Service Agent chatbots offer functionalities like Monthly Statements, Payment Reminders, Payment for Principal, Interest.
4. Customer Support Assistant
Customers always expect 24/7 support banks with digital assistants built into their websites or social media channels have a significant competitive advantage. They attract and retain customers more than their competitors. To be secure in channels, banks use OTP based authentication and they integrate their chatbot with backend systems like CRM, ERP, HRMS, Service Delivery and others to respond to customer queries quickly. These chatbots also possess the ability to handle unstructured data and search at scale using document cognition and RPA based automated workflows to access and process requests in legacy systems.
5. Fund Transfer Automation
From FAQs and account balance information, intelligent chatbots can assist customers with fund transfer. Customer can select the relevant option from the menus or type in the query. Using NLP and ML, the BOT understands the context and customer's intent and initiates the requested process. It also uses predictive analysis and recommendations to predict things that customer may want to know or perform.
6. Credit Card Upgrade
BOT matches the customers' behaviour with new credit card products and recommends credit cards based on the customer profile. BOT asks for the customer details and initiates the upgrade process.
Conclusion
Exceptional customer experience makes banking organizations stand out from competitors and emerging technologies like chatbots offer tremendous potential for Banks to deliver such experiences.
Talk to our experts to help banks offer superior customer experiences leveraging Digital Assistants and other exponential technologies.