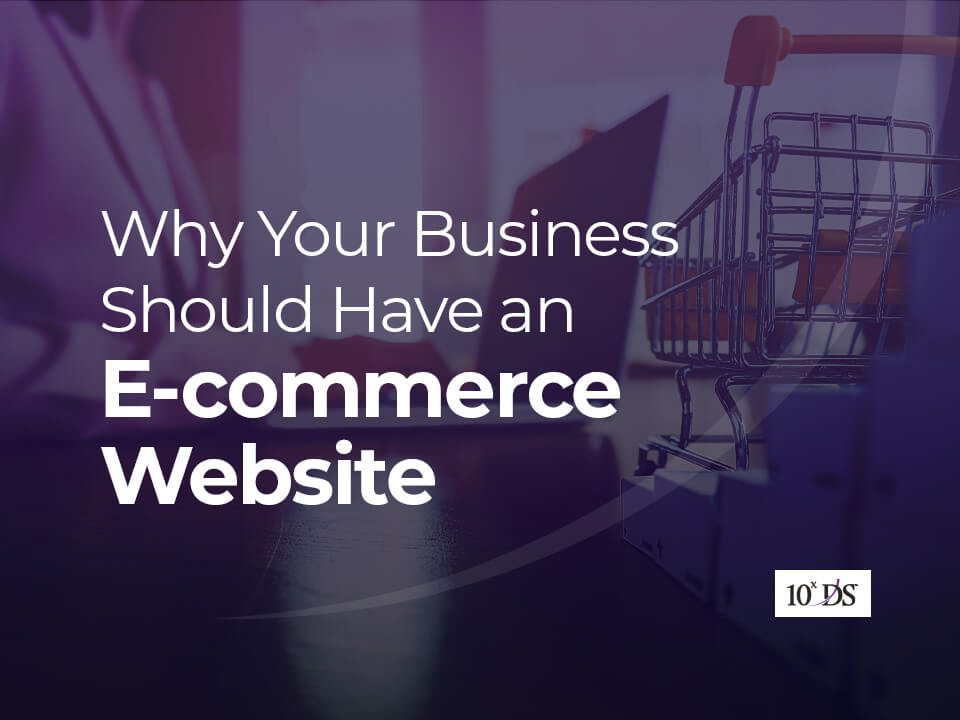 Why Your Business Should Have an eCommerce Website
The number of global digital buyers in the world is estimated to hit the 2.14 billion mark in 2021. This means that approximately 27.2 percent of the total population of the world will be shopping online this year. Interestingly, the number of global digital buyers has been increasing over the last few years and it is expected to grow in the future too.
The above stats clearly indicates that businesses that do not have an ecommerce website are surely leaving money on the table. You are missing out on the opportunity to showcase and market your products to thousands and thousands of potential customers.
If you are still wondering why it is important for businesses to develop an e-commerce website, here are a few reasons that will explain why.
1. Market Directly to Customers
One of the major perks of having an e-commerce website for your business is that it will allow you to market directly to customers and website visitors. There are several businesses that sell products on online marketplaces. If you are following such an approach, it is high time to rethink your strategy.
Selling products to customers directly through your e-commerce website will help you to obtain their contact information. If you have the email addresses of customers, you will be able to customize loyalty programs, offer discounts, introduce new products, and send email marketing promotions.
Most businesses struggle to get repeated buyers when selling products on marketplaces. This is mainly because you are selling in-directly to customers or you don't have direct access to them. Communicating with your existing customers is essential if you want to generate more revenue for your business.
2. Strengthen Your Brand
One of the issues several businesses face when they are selling products on online marketplaces is that the products will be listed in a very generic way. Most marketplaces will impose restrictions on word count and logo usage while adding products. This means that there is zero room for branding or customization when you are selling products on a marketplace.
A large percentage of users who are buying your products from the online store might not even know the name of your brand. All they will remember is the marketplace through which they had purchased the product. If you want to strengthen your brand, then you should ensure that customers will be able to associate the product with your brand.
Businesses that have an e-commerce website to sell products will be able to gain complete control. They will be able to use as many words they want, logo, and customize the way it looks to create a lasting impression on customers. Moreover, this will give you an opportunity to strengthen your brand among potential and existing customers.
3. Attract New Customers Through SEO
Businesses with an e-commerce website will be able to attract new customers to their offerings through the process of Search Engine Optimization (SEO). A recent report published by Business Insider indicated that most online shoppers use search engines before buying products.
So, if you want to attract new customers to your business, your e-commerce website has to show up in the search results. Showing up in search engine results has great value for all businesses because most online shoppers trust search engines like Google.
As a result, they are more likely to buy products from e-commerce websites that are on top of search results. Once you have designed an ecommerce website, you can focus on implementing the best SEO practices, as it will help your website to acquire a higher rank on Google for certain phrases and keywords associated with your products and business.
4. Get to Know More About Your Customers
Businesses with an e-commerce website will be able to gain a better understanding of their audience or customers. You will be able to obtain insightful data on users who have visited your website. Businesses will be able to understand the location, traffic source, session duration, and more with ease.
The traffic sources will give you a clear idea on what sources are bringing in more customers. If you are able to see that certain traffic sources are bringing in more traffic, then you should put money into those channels instead of investing in channels that bring less or zero traffic.
Conclusion
Having an e-commerce website has become an essential requirement for businesses if they want to gain a competitive edge. Ecommerce websites present an excellent opportunity for businesses of all sizes to gain useful insights, acquire loyal customers, and build a strong online presence for their brand.
It has been estimated that e-commerce sales will account for nearly 18.1 per cent of the entire retail sales in the world in 2021. Moreover, e-commerce sales worldwide are expected to grow in the coming years and account for 22 percent of total retail sales by 2023. So, if your business does not have an e-commerce website, your business might fail to stay relevant and successful.
Talk to our experts to learn more.