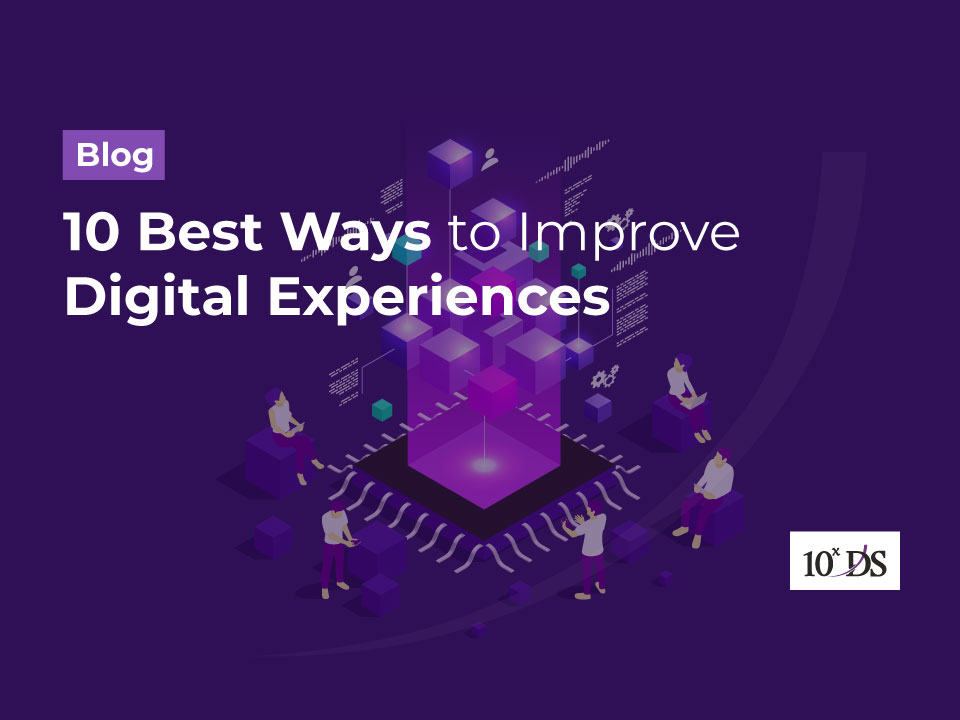 10 Best Ways to Improve Digital Experiences
Customer experience was constrained to physical interactions between the customer and the sales representative until a few years ago. There was a physical location to sell products and services and the only reviews available were through word of mouth or actual product and service experiences.
But advancements in the digital sectors coupled with on-demand necessity owing to the pandemic have led the way for customers to make better acquaintance with the digital side of a store. Here we will be discussing the 10 best ways to improve customer experience and convert visitors in your digital side of the business into valuable leads.
1. Take a Data-Driven Approach
Going digital has a lot more perks than just putting on a digital face to your store. You can now make use of accurate and reliable data. The data you gather by using analytics in your digital store can help you plan and allocate resources.
You can also use valuable insights to understand the current trends and make available the products or services the customers need. Businesses can also plan and execute their marketing strategy using a data-driven approach.
2. Enhance Customer Experience using Feedback
You should always give an option for the customers to reach out to your brand or digital store using an effective feedback system. Monitor feedback and take special consideration to the negative feedback received to improve on the flaws. Actually, negative feedback is just as valuable for growth as positive feedback.
Make adjustments to the way you do your business using online portals and make sure to reach out to the customers informing them of made changes.
3. Track Customer Behaviour on various platforms ( Website, App, or Mobile )
Customers access websites more from mobile devices compared to desktops and laptops these days, so having a compatible design can help grow your digital store or business. Make use of advanced digital techniques to track the customers based on the device they use to access your website or app.
Track customer interactions – Analyse incoming traffic, bounce rate, and difficulties that limit conversion rate. Make changes to the user experience based on the precise metrics.
4. A User-Centred Design Process goes a long way 
Always keep the user in mind when designing the digital side of your activities.
Research customer requirements and come up with a design process that makes it easy and helpful for customers, who are looking for your products or services.
Try to get them engaged with the process and create an organic narrative and this will eventually help you convert leads and also help you grow your brand credibility.
5. Utilize Tools to make Informed Decisions
Digitalization helps you make use of various tools to track business operations and activities. These insights can be utilized to make well-informed decisions on future operations and changes to reflect growth in your business.
Apply analytics to get valuable metrics, automate feedback in case of generic alerts, generate periodic reports for evaluation, assign permission based on relevance, and create and direct various tasks from a central management system.
6. Engage with Customers to Grow Your Brand
Insights from analytics can be used for more than just customizing the digital side of your business. On-demand interaction with customers in real-time can enhance the digital experience and help build brand credibility and improve customer loyalty.
Various digital methods in the form of emails, surveys, and social media chats can be used to interact with your customers. Get to the crux of customer difficulty by integrating a human side to your digital platform.
7. Connect Your Brand Across All Platforms to Create a Seamless Experience
Most of the customers engage themselves on different digital platforms such as Facebook, Twitter, Instagram, and much more. Make sure your brand is connected and engaging with various relevant content on prominent platforms.
Reach out to valuable customers to create a sense of brand image that echoes out to all in need of interactive activities. Reach out, interact, and enhance the user experience of your brand.
8. Improve Customer Experience from Digital Experience
Review different sets of data from customer interaction portals to evaluate customer engagement and bounce rate using several digital processes to resolve customer issues.
A customer often approaches a digital store based on necessity and providing the right content at the right time can help you turn organic traffic into positive leads.
9. Interact with each Customer Differently
Different users interact with different brands differently. Some customers are content with automated online portals while others are biased toward interacting with an automated response unit.
Tackling each customer issue based on their level of comfort can be a hectic and time-consuming event. But thanks to various tools and outreach programs that can be implemented within digital systems these can be addressed effectively.
10. Implement various Digital Touchpoints to increase Customer Interaction
Various digital touchpoints such as websites, web apps, mobile phones, tablets, and much more can expand your digital reach. More digital touchpoint to your business increases the chance of customers using various platforms to interact with your digital brand.
Conclusion
An adaptive design can help you create a seamless experience on all major platforms and lower bounce rates. Timely response for a user query using any digital touchpoints improves customer satisfaction and can help convert potential customers into valuable clients.
How 10xDS can help?
10xDS transforms every aspect of a business, including customer experience, brand reputation, and revenue generation. It leverages emerging technologies such as AI, Intelligent Automation, Analytics, and others to deliver top-notch digital experiences for customers.
With the help of a strong team of Digital Marketing Strategists and SEO specialists, User Experience architects, Creative Designers and state-of the-art technology, 10xDS Digital Agency can create incredible customer experiences and transform how the C-suite approaches business in the digital age.
Talk to our experts to know more!