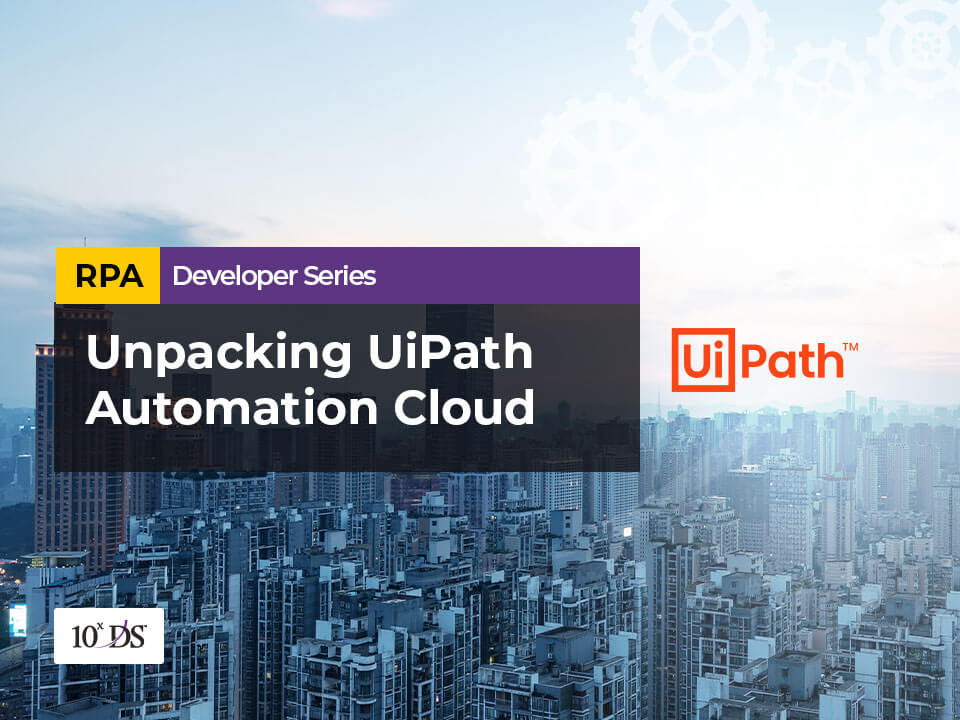 Unpacking UiPath Automation Cloud
Automation cloud is defined as a web-based interface to Deploy, Manage, and Optimize the attended and unattended robots through a cloud-based Orchestrator service. This upgrade from UiPath made RPA as a carry-on tool. No complex installation is required but only a plug and play method resulting in the easiest and fastest way to begin the RPA journey. When it comes to RPA, setting up the infrastructure is a complex task. With that UiPath Automation Cloud (UiPath AC) takes care of the infrastructure and make the life easier for the RPA vendors and as well as for the Clients.
So, what the UiPath Automation Cloud package has to offer? Let us have a look.
1. Free forever to individuals and small teams
Yes, UiPath AC is free for small businesses (< 250 Employees) and individuals using the community edition for production. Two UiPath Studios with 2 attended bots and 1 unattended bot, all managed in Cloud, is available for use.
2. Instant enterprise trial
Enterprise trial comes with 60 days limit where one can try and avail enterprise services such as adding an uptime guarantee, support SLAs, and scalability to add unlimited robots and studios, with multiple tenants to manage them and host them in different regions.
3. Easy, fast provisioning
The coolest thing now is the one-minute signup. Anyone can get their hands-on AC within a minute with no requirement of any local infrastructure.
4. User, robot, and automation management
Inviting a user to cloud account can be done with integrated supporting email invitation via Microsoft, LinkedIn, and Google. When it comes to automation management the term orchestrator pops in our mind. In AC, Orchestrator serves as inbuilt service to manage the robots and automation lifecycle.
5. Dashboard views
The dashboard comes handy for the user to get all the information in one single go. Here monitoring usage, licensing, robot fleet, and automations are illustrated in a structured manner.
6. License management
License management panel helps us in managing the robots and studio license in a simpler way. Especially when it comes to the enterprise version, allocating licensees between tenants can be done easily.
7. Audit Trail
Audit plays a vital role by logging each and every action across the organization, providing business alerts and logging of robot's action. Everything is logged within the automation cloud.
A sneak peek on UiPath Automation Cloud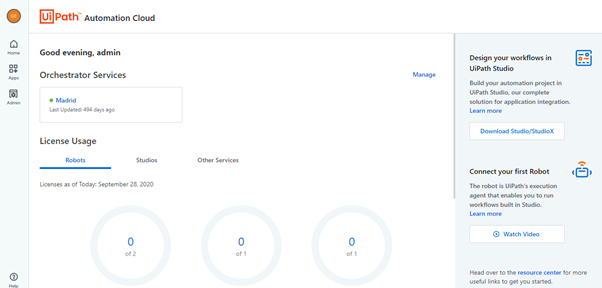 Hence the UiPath Automation Cloud serves as a next-generation platform by taking every aspect to the cloud, increasing the mobility of software programs and integrating with other software tools.
Source: UiPath
Watch this space to get updates on UiPath related news. Talk to our experts to deliver UiPath Solutions to automate your processes and drive greater ROI.