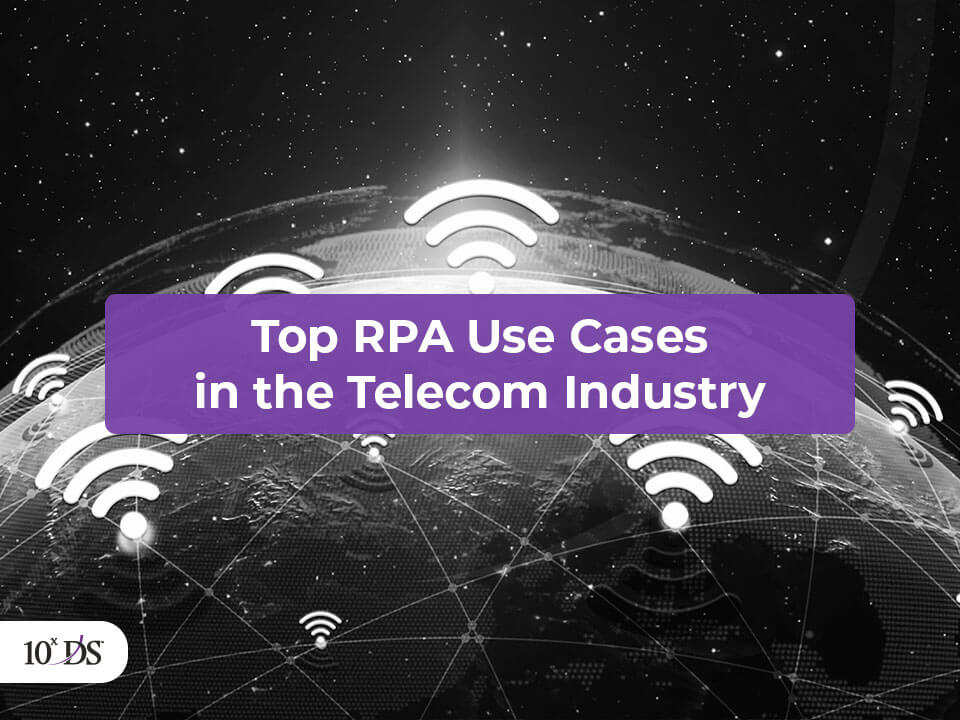 Top RPA Use Cases in the Telecom Industry
The telecom industry runs on many critical rule-based processes that can benefit from emerging technologies like Intelligent Automation and Robotic Process Automation (RPA). As the accuracy and reliable outcome of these repetitive processes are vital for telecom services providers to ensure the right delivery, automating them with the help of RPA can help to achieve the goals consistently. Manually handling the typical tasks in the telecom sector can often lead to errors, which can significantly affect customer experience. Automation will reduce error rates, improve data quality, and lead to better customer service.
Telecom companies also need to be equipped to deal with increased service demands when the need comes. The use of RPA can help them to be ready with scalable resources, which leads to superior operational efficiency while helping to reduce the costs. In fact, Robotic Process Automation can help to automate a wide range of time-consuming and perennial process for telecom providers. Below are some of the most noteworthy use cases of RPA in the telecom industry.
1. Network Management
Adequate network management is crucial for ensuring maximum uptime and higher customer satisfaction rates. The growing dependency on the internet and user demands for data has made it very challenging for telecom providers to deliver a steady service. This is because service providers need to navigate complex applications, enter the data manually, and retrieve huge volumes of customer information to ensure the efficiency of their network infrastructure.
RPA can help to tackle these challenges by automating repetitive tasks such as event and diagnostics management. This, in turn, will allow network engineers to focus on the more complex processes and guarantee superior coverage.
2. Data Transformation
The telecom industry relies on a huge volume of consumer data that is stored in diverse file formats. The back-office staff is usually responsible to manage the data and work on the various applications, systems, and databases for efficient service delivery. RPA-powered tools can help to transform all the data into a uniform and structured format, which will make it easier for the back-office staff to work on them.
RPA can also be coupled with AI software to analyze customer patterns and predict user behavior based on structured datasets. This can thereby help to deliver telecom services with much higher accuracy.
3. Billing and Invoices
Processing invoices and work orders is an important part of all businesses, and telecom companies are not exempt from it either. Using RPA bots can help to manage the periodic invoicing and order processing jobs, which allows telecom providers to use their resources for other revenue management aspects. RPA software can also help to monitor networks, prepare backups, and send emails automatically.
Another great benefit of adopting RPA in telecom is that it can help to reduce the operational costs by maintaining reliable data integrity and security. Telecom service providers can benefit from automated billing and manage the payments more productively for much fewer costs.
4. Customer Management
Managing customer data manually can be a taxing and time-consuming job, especially for customer on-boarding and off-boarding. It requires navigating through the applications, updating the applicable fields, retrieving and updating customer information, and more. Using RPA tools can help to streamline the process and help telecom providers to maintain better clarity on their customer data. RPA bots can automatically add/remove customers to/from the service as required.
Automating customer on-boarding and off-boarding process also helps to reduce the chances of manual errors, save time, and lessen the costs. Besides, RPA can also help to create a backup of all the system configurations for each customer, which can be beneficial in case of an emergency.
5. Customer Support
a) Responding to Partner/Customer Queries
RPA can interpret emails, respond to the frequently asked questions, and redirect the complex queries to the back-office staff for the needed action. This makes it easier for telecom companies to manage correspondences with their partners and independent agents. RPA software can also help with customer service by answering common queries and forwarding important calls to the support staff immediately.
These actions help back-office employees to offer an accurate and functional solution to the partner or customer queries promptly. This, in turn, boosts the overall efficiency of the telecom service provider and ensures better partner/customer experience, which ultimately leads to increased profits.
b) First Call Resolution (FCR)
First Call Resolution refers to how effectively the customer care service resolves the problems or queries of a customer the first time he/she calls, without needing any follow-ups. FCR is a metric that not only allows companies to evaluate their customer satisfaction, but also helps to drive customer loyalty and measure employee efficiency that can contribute toward profitability.
With the help of RPA software, the customer care staff can get all the relevant information about the users in real-time, which can help to offer the right guidance and solutions to their problems. RPA tools can also perform various actions to accomplish desired tasks, such as retrieving customer data, updating fields, and rekeying information.
6. Generate more sales
One of the key KPI for telecom companies average Revenue per User; it is a way of measuring the revenue generated per customer, which allows telecom companies to refine their predictions of overall productivity and growth. RPA technology can help telecom service providers to analyze user behaviour and identify different sales opportunities by evaluating customer data. RPA software can assess how a customer responds to certain promotions and sales campaigns, which can help to drive better cross-selling.
RPA bots will also offer real-time information about the consumer to the staff during their calls. This allows the employees to pitch more focused deals and offers to ensure higher close rates and increased deal size.
7. Competitor Price Tracking
Understanding the market culture and evaluating pricing strategies of competitors is vital for all businesses to thrive. As the competition in the telecom industry is growing by the day, companies need to be equipped with the right tools to track competitor prices and be transparent about their pricing to their customers.
RPA can help telecom providers with a detailed comparative price analysis by monitoring market round-the-clock. The software bots can be configured to track at individual, category, or brand level as well, which can help telecom companies to get a deeper outlook of their competitors as well as the market trends.
Real-world 10xDS Telecom Use Cases
1. Quality Acceptance Check for Customer Onboarding
10xDS developed an Intelligent Automation Solution for the quality acceptance check process that is mandatory before honouring SIM card requests from customers of a telecom company. The automated process is designed to make the process 5 times faster. The RPA BOT logs into the internal application and navigates to verifier page to verify customer information in the application with the details extracted from the ID proof. The BOT certifies or reject based on validation results as match or mismatch and sends a daily status report with a consolidated summary for the internal processing team. The solution enabled enhanced customer experience with guaranteed SIM activation within committed timelines
2. Revenue leakage identification by validating bills in ERP and Billing systems
10xDS developed an Intelligent Automation Solution for the quality acceptance check process that is mandatory before honouring SIM card requests from customers of a telecom company. Identifying mismatches between ERP as per the customized plans for each user and billing module was manual intensive and error-prone and not identifying these mismatches resulted in revenue leakages. BOT picks up backend reports, logs into ERP and verifies payment details against customer ID. The BOT further logs into Billing System and verifies payment details against customer ID and finally, BOT prepares a report on mismatches and sends to the concerned user for further action. With automation validation of each record were made possible with 90% reduction in Average Handling Time.
Conclusion
Robotic Process Automation is known for its scalability and flexibility, which comes quite handy for telecom companies. Telecom service providers can use RPA technology to automate many of their regular tasks to draw better sales, higher customer satisfaction, and ensure enhanced operational agility, all of which lead to superior ROI.
Talk to our experts to learn more about how Intelligent Automation and RPA can help to overcome the common challenges in the telecom industry and lead you to success.