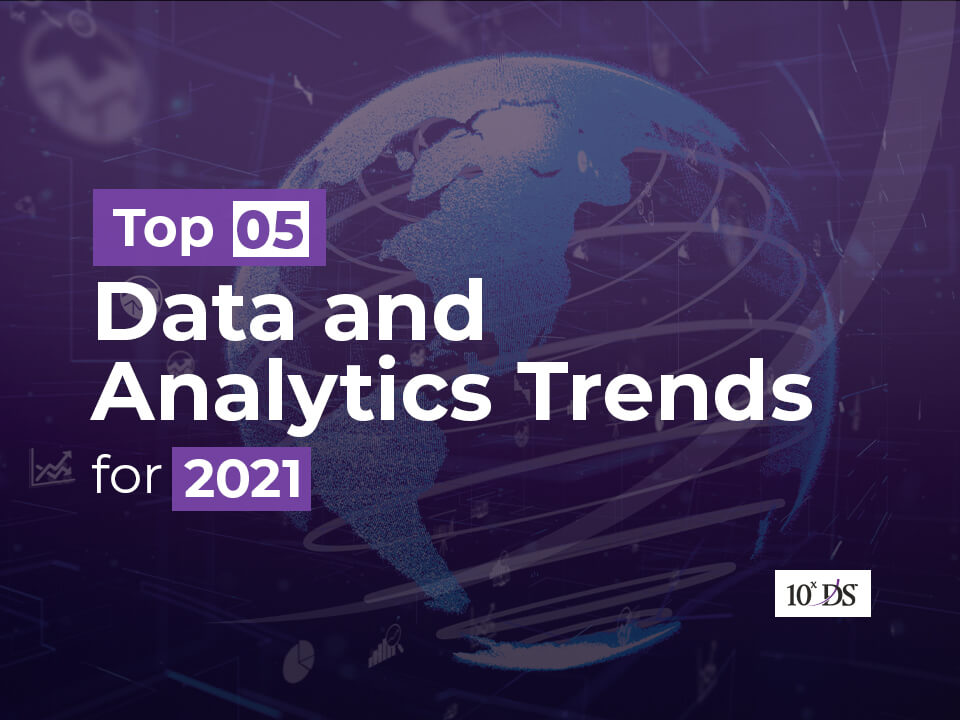 Top 5 Data and Analytics Trends for 2021
Data analytics help businesses to stay ahead of their competitors by offering them a better understanding of the market. It is safe to assume that several companies will go blind and deaf without data analytics. Both small and large-scale businesses have started to adopt this innovative technology to grow their business. As a result, several experts believe that a 5-time increase may be possible in the data analytics infrastructure by the year 2024.
It is crucial to note that data analytics is not the only technology that has gained immense popularity over the years. Natural language processing, machine learning, and several other artificial intelligence-based technologies have become quite popular among several companies.
Data Analytics Trends For 2021
A number of data analytics trends have become very important for several businesses after the Covid-19 pandemic. Our entire world has gone fully digital since last year and the amount of data produced is bigger than ever. It is pretty evident that data analytics will continue to play an integral role for businesses in the post-COVID-19  world. So, let us take a look at the data analytics trends that will surely dominate 2021.
1. Decision Intelligence
Businesses need to make smart and intelligent decisions if they want to succeed in today's digitally competitive market. Machine learning and data science can help businesses with decision making. Decision Intelligence can be defined as a composite field that contains data science and artificial intelligence along with the concepts of managerial science and decision making.
This means that people who make important business decisions like shareholders and corporate heads will be able to gain key business insights from machine learning algorithms. Approximately 33 per cent of companies from all over the world are currently using Decision Intelligence. So, if your business is not using decision intelligence, you should consider giving it a try.
2. Augmented Analytics
It was estimated that the augmented analytics market will be worth approximately 18.4 billion dollars by 2023. There is no denying that augmented analytics have been heavily used by several businesses, which suggests that it may soon hit the 18.4 billion dollar mark. Augmented analytics is capable of enhancing data analytics that is already being used by companies.
Augmented analytics does this by finding an innovative method of sharing, developing, and creating data analytics with the help of artificial intelligence and machine learning. Businesses will be able to easily automate several analytics capabilities like building, creation, and analysis of data models. In addition, augmented analytics make it easier for users to explain data insights and interact with data.
3. Data Cloud Services
The amount of data created daily in our world is estimated to be around 2.5 quintillion bytes. Most big and large-sized businesses like Google will be able to easily handle data without any issues. However, that's not the case with small-scale businesses, as storing and managing data may seem quite hard for them. This is what resulted in the growing popularity of cloud services for data analytics.
DaaS or Data as a Service is a cloud service that makes use of cloud computing to offer data analytic, data integration, data processing, and data storage service to businesses by using a network connection. Several sources claim that nearly 90 per cent of large businesses will be using DaaS to generate revenue from the data obtained from the year 2020.
4. Data Stories
Data analyses make use of several data analytics dashboards to display data to business analysts and other decision-makers. However, data stories have gained immense popularity in the last few years. Most businesses would love to see an interactive story that effectively displays the journey of their company instead of seeing data and facts on a dashboard.
This is why data stories are sure to become more popular in the coming years, as most people love story representations. Even someone with little or zero domain-specific data analytics knowledge will be able to easily understand data stories.
5. X Analytics
Data analytics is actually limited to a single data type or form at present, and data is in tabular form. The data that comes into our mind when we think of data analytics will be rows and rows of numbers in a spreadsheet. However, it is important to remember that a business will have data in the form of audio, text, video, and more.
Businesses who wish to remain relevant and stay on top of the competitors will need to analyze these data too. This is where X analytics comes into play. In simple words, X analysis refers to textual analysis, audio analysis, and video analysis. Several sources claim that about 75 per cent of the Fortune 500 companies will be using  X analysis in some form by the year 2025.
Conclusion
These emerging and popular data analytics trends will surely change the way several businesses operate. In fact, making use of these data analytics trends will surely give you an edge over your competitors and help your business to prosper in the future.
Talk to our Analytics experts to know more.