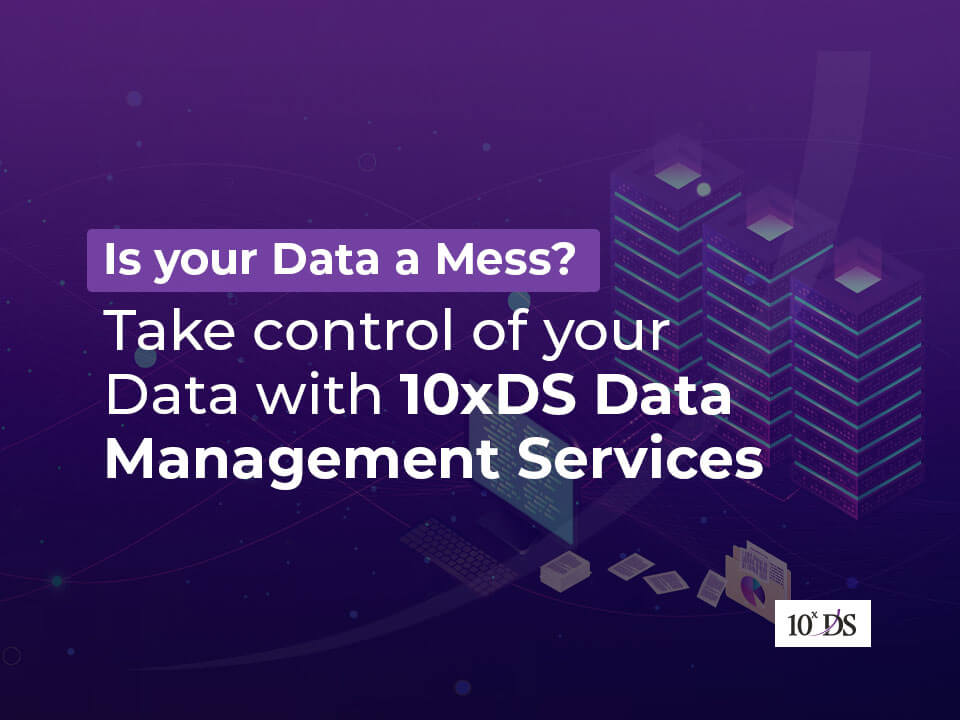 Is your Data a Mess? Take control of your Data with 10xDS Data Management Services
Today, data is undoubtedly the most valuable asset. From tracking performance, measuring customer satisfaction, driving supply chains to forecast market trends, the list where data is used to glean key insights is endless. For a modern enterprise to function coherently and seamlessly data is crucial and when it is unavailable or lost, taking critical business decisions becomes difficult. Sometimes companies have data but after implementing analytics solutions, they do not audit the implementation to ensure ongoing data accuracy. This in turn leads to several inaccuracies, gaps in tracking, and sometimes even missing information. Data when inaccurate can severely affect a brand, leading to incorrect decisions, additional cost for tools and resources to correct the data, that could all have otherwise been avoided.
Having accurate data is crucial for correct decisions and to create a feedback loop. This feedback helps an enterprise to clearly understand the areas where they are behind, and by how much. This helps the company management in the drive to close the gaps and get ahead of the competition. Even innovations are driven by data, making operations across the enterprise systematic and seamless. However, having a huge volume of data and managing it can be overwhelming if the process of collecting and storing data is not well planned and streamlined. This will create a huge mess for the organization to handle.  As the very data which helps to solve problems will become a big problem itself.  For many organizations, data management can be a significant undertaking, especially when they do not have a specific team or adequate know-how or expertise in managing data.
Data Management Services
Now, this is where quality, professional, and world-class data management services come in. Organizations should look at analytics consulting companies offering data management solutions that enable to take full control of their data. This helps organizations to become well-organized with enhanced accessibility, making data-critical processes streamlined and simple. Exponential Digital Solutions (10xDS) offers data and analytics services including Information Management, Big Data, Business Intelligence and Advanced Analytics solutions for assisted and semi-automated decision making.
Data Management Consulting
At 10xDS, we have a strong data management consulting team, which outlines a plan and strategy based on the specific and unique needs of the organizations. Here is the process. 
1. Identifying Requirements and Business Objectives
10xDS consultants study the existing infrastructure of the organization and identify where the organization currently stand, holistically assess their needs, and benchmark performance. We also consider the vision and mission of the organization towards embracing the latest digital solutions for data management. They try to sketch out a roadmap for data management solution implementation aligning with the business objectives.  Some useful questions include:
What are the enterprise's overall objectives?
What data is required to cater to these objectives?
What types of insights and information are the enterprise looking for to make progress against such initiatives?
2. Creating strong data processes
When the team has identified how the data will be used, now its time to set the processes in place for collecting, preparing, storing, and distributing the data in the organization. First and foremost, it is necessary to identify the owners and stakeholders assigned for each of the data management activities.
3. Finding the correct technology mix
The next step involves identifying the right tools or platforms or technology solutions suitable for building the data management strategy. Here the consulting team, after careful analysis, helps in suggesting the right hardware or software needed to establish a strong data infrastructure for the organization.
4. Establish data governance
Next comes another important step of establishing data governance. Our consulting team helps in creating policies and procedures for proper data usage. These policies and procedures should be communicated to everyone in the organization, not only to the owners and stakeholders. Data governance includes ensuring data quality, data security, data privacy and data transparency.
5. Training and execution
The final step involves ensuring that data is used effectively. Sometimes, this can be a huge challenge because data owners may not necessarily be data experts. It's a crucial part of the data management strategy to provide the necessary knowledge and skills to the team to analyze and understand the data. It is important that everyone in the organization understands the company's data management strategy and how well to perform their role.
Conclusion
In order to drive efficiencies, it is critical for organizations to become more purposeful with data. Organizations should be looking at establishing a strong foundation with a sound data management strategy. Whether it is establishing Master Data Management solutions, modernizing an existing one, breaking down data silos, or streamlining processes, 10xDS can help organizations update their data solutions, create policies and procedures, and create an environment that ensures data is properly collected, prepared, stored, analysed, distributed, and accessed.
If you want to gain further insights into 10xDS Data and Analytics solutions and how we can help get your data management efforts off to a running start, talk to our experts.