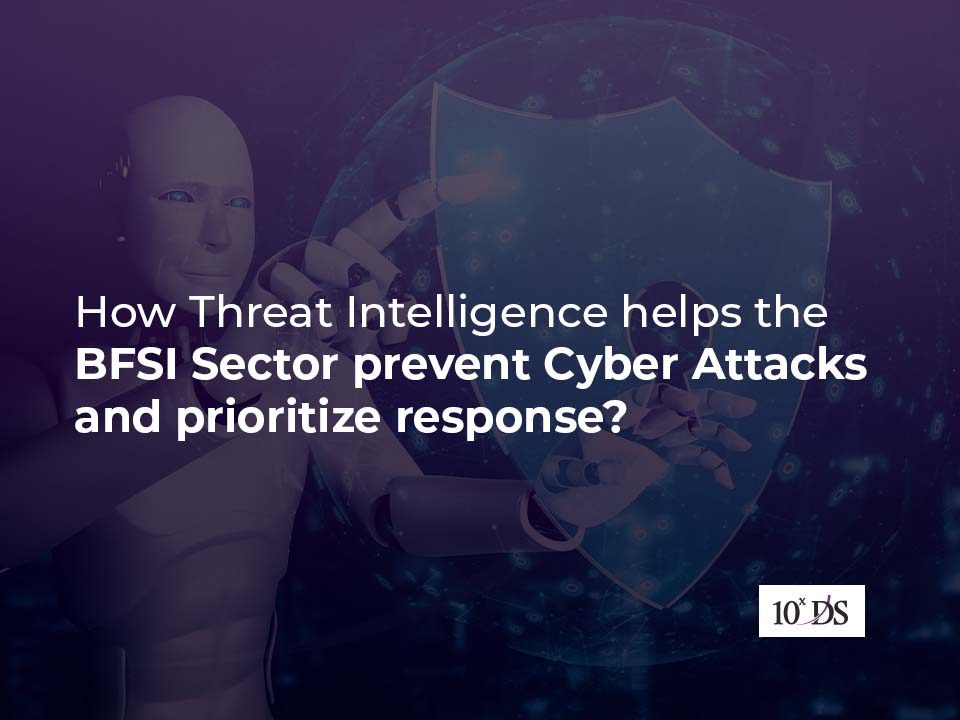 How Threat Intelligence helps the BFSI Sector prevent Cyber Attacks and prioritize response?
Cybercriminals and threat actors have started to adopt new techniques and tools for evading modern security controls, making life difficult for several organizations. Especially the financial services industry is and always has been one of the hot targets of cybercriminals more than any other industry. The Data Breach Investigation Report shared by Verizon identified privilege misuse and phishing misuse as two of the most common threats for financial institutions. According to the 2021 Verizon 2021 Data Breach Investigations Report, phishing attacks increased by 11 percent, and attacks using ransomware rose by 6 percent.  Other important aspects to highlight are that 85 percent of breaches involved a human element, at the same time more than 80 percent of breaches were discovered by external parties. A wide range of techniques is used by threat actors for stealing login credentials from both employees and customers. The login credentials will be later used to steal money.
The 2019 PTI Report from PhishLab indicated that phishing attacks are very common in the financial services industry. It was reported that approximately 28.9 percent of the total phishing attacks target financial organizations and their customers. That said, phishing is just one of the common cyberthreats faced by financial institutions. There is a type of malware called mobile banking trojans that can compromise mobile banking applications and steal the banking credentials of users.
Another type of attack, which is popularly known as ATM jackpotting, is also quite common in the financial services industry. This technique is used by cybercriminals to defraud or steal money from banks and other financial institutions. In short, financial institutions from all over the world face a large volume of cyberattacks. As a result, some of these attacks end up being successful. Financial institutions are also a common target of state-sponsored and highly advanced hacking groups.
The Security Intelligence Report released by Microsoft a few years back clearly indicates how some of the financial institutions in the United States became targets of an Advanced Persistent Threat (APT) group that was sponsored by the state itself. The APT group used an obfuscated backdoor implant that was delivered through a spear-phishing email. The highly targeted attack was to transfer large volumes of money into foreign bank accounts and for executing fraudulent transactions.
As mentioned earlier, advanced types of cyberattacks like the ones mentioned above are very common in the financial industry. This is the major reason why financial institutions have to use modern and cutting-edge cyber defense solutions.
Another study that was released by Ponemon (Cost Of Data Breach Study) identified that financial institutions fall prey to a higher rate of data breaches suffered when compared with other industries. Another study conducted by Accenture indicated that cybercrimes account for about 18.3 million dollars per year for financial institutions on average.
How Financial Institutions can stay ahead of Cyber Threats
The incoming onslaught of cyber threats against financial institutions has forced them to make considerable investments in cybersecurity solutions. The unfortunate part is that we are living in a world where cybercriminals refine their TTPs (tactics, techniques, and procedures) constantly. This means that you can never be sure that your institution is safe from cyberattacks.
It is true that financial institutions spend a lot more money on cybersecurity when compared to similar-sized companies in other industries. They are also forced to constantly ensure and maintain a higher level of cybersecurity. Still, financial institutions won't be able to invest in all types of security technologies that are currently available in the market.
Even the largest banks, insurance providers, and other financial institutions in the world need to prioritize resources to defend themselves against the common cyberattack that may hit them. This is where threat intelligence comes into play. Threat intelligence enables security professionals to make faster and better decisions on where to focus their resources, time, and attention.
Threat intelligence For BFSI Sector
Research conducted by Imperva revealed that approximately 55 percent of security professionals receive more than 10,000 alerts every single day. The report also stated that about 27 percent of security professionals get over 1 million alerts in a day.  Since financial institutions are a hot target of cybercriminals, it is safe to assume that security professionals in the field will receive over 1 million alerts per day.
Threat intelligence makes it possible for security professionals in the BFSI sector to reduce stress by allowing them to prioritize resources and time effectively and efficiently. Some of the most common use cases are as follows.
1. Vulnerability Management
Threat intelligence enables vulnerability management professionals to easily and quickly remediate vulnerabilities on the basis of the risk that they possess to organizations.
2. Security Operations
Alert fatigue is a condition that affects several security professionals. Threat intelligence helps them to disregard false positive alerts, which can waste thousands of analysts' hours every year.
3. Incident Response
A constant barrage of alerts and threats are faced by incident response analysts, which makes prioritization essential. Threat intelligence can identify important threats and discard less important ones, which will help analysts to focus their expertise and time on where it is needed most.
Conclusion
It is critical for financial institutions to collaborate with experts and peers in their industry to share threat information in reliable, safe, and quick formats. Contextualized attribution and rapid insights are integral for accurately assessing risk exposure and deciding what needs to be done. Active forms of tactical and strategic collaboration have become essential for financial institutions all over the globe. It's high time that the organizations in the BFSI sector start leveraging Threat Intelligence to maintain a deeper level of defense.
Talk to our cybersecurity experts to know more about Threat Intelligence and how financial organizations can manage their digital risk more effectively and protect their critical data assets.