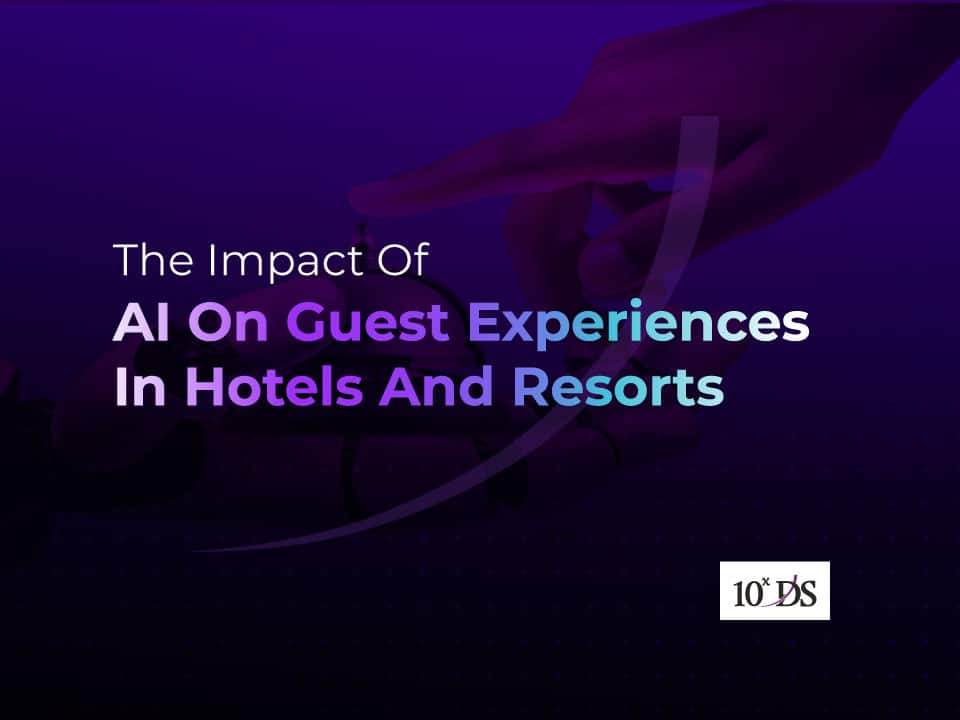 The Impact of AI on guest experiences in hotels and resorts
After years of digitalization efforts, the hotel sector now possesses a mountain of data. Nowadays, AI is being integrated into the technology used in the hospitality business to aid hotel operators in analysing data, producing good results, and influencing visitor interactions. 
The increasing sophistication of technology has caused widespread disruption in virtually every market around the globe. Many hotel chains have started leveraging AI to improve personalisation and provide guests with an experience that goes above and beyond their expectations.  
By definition, AI is any computer programme that can carry out activities that would normally need human intellect. The sophistication of the systems is proportional to the quality of the code that runs them. AI technologies of today can understand human speech, translate languages, detect objects, learn new behaviours, provide answers to inquiries, and even make judgments. 
Hotels and resorts will have a wealth of new prospects for both their customers and their proprietors thanks to advances in artificial intelligence. 
AI and the Hospitality Business
There is a tremendous quantity of data produced daily by a hotel. There are data points for everything from guests' preferences to their orders and billing. This is why AI algorithms are proving so useful in the hospitality industry for reducing costs, boosting quality of service, and streamlining processes. 
Artificial intelligence gathers information from authoritative sources and uses pattern recognition to make sense of it. Combining data from several sources, including photos, voice recordings, videos, and text, AI can provide invaluable insights to the hospitality industry. 
While Staying at a Hotel, Where Can You Find AI Being Used?
Today's hotels utilise AI to enhance the visitor experience, automate mundane operations, provide individualised marketing communications, anticipate utility consumption spikes, and increase income. 
Now, let's take a look at some of the more particular AI-powered solutions that you would see at a hotel today. 
1. Assisting Customers Using Technology
When it comes to routine inquiries, AI is gradually replacing the need for human assistance. Consider the most frequent inquiries made by hotel visitors. Keys to the wireless network? Is there a way to get more towels? When does a neighbouring restaurant, beach, or theatre open/close?  
By analysing the full context of a discussion rather than simply the keywords being used, digital concierges can now manage more interactions with guests. It's also helpful for hotels that have a small staff but yet want to provide visitors with a contactless option. 
2. Chatbots
They've been around for a while, but chatbots only recently become mainstream. We've seen them in a variety of online and mobile formats. Chatbots can be pre-programmed to answer frequently asked inquiries from visitors. Both guests and staff at the hotel may save time by avoiding the same inquiries.  
3. Voice-Activated Spaces & Internet of Things
Voice-activated gadgets are now commonplace in this age of Alexas and Siris. Natural Language Processing (NLP) powered by AI is used in voice activation to decipher spoken commands. By using AI in this way, hotels can provide more customised service to their guests. Using internet-connected technologies and artificial intelligence (AI), hotel operators are making their establishments more desirable to repeat visitors. 
Just think how convenient it would be to use your voice to control the lights, the blinds, the TV, and the air conditioning in your home. Isn't it nice to not have to get out of bed to call for room service? 
4. Analytics
Another area where AI has had an influence in the hotel sector is through the use of data analytics. Artificial intelligence (AI) and machine learning algorithms are being used to data from the hospitality industry to generate actionable insights with a tangible commercial benefit. Algorithms based on machine learning can aid decision-makers in the hotel industry by studying patterns and trends. 
With cutting-edge data analytics, hoteliers can provide guests with more pertinent offers and design more unique stays.  
5. Insights into the Future
Apart from simple customer service, hotels are now using AI for predictions. Artificial intelligence (AI) aids organisations in sifting through mountains of data to find insights about customers or possible problems with operations. 
If you had two days' notice of an expected increase in utility use, you could easily prepare for it. With the use of predictive analytics, hotels may anticipate their customers' needs, streamline daily operations, and increase revenue. 
Before today, it would have taken too long to see any results from a large-scale, in-depth investigation of this intensity. But, AI has given predictive analytics a boost through the use of sophisticated modelling strategies and cutting-edge software. The good news is that AI can analyse your data to forecast booms and busts that might have an effect on your company. 
This potent skill may be used in various settings, from stock prediction to running the business. Imagine how simple it would be if you were alerted about understaffing, had scheduled holes filled, and were given suggestions on how to fulfill anticipated visitor demand. 
6. Sending Emails Automatically
There has been a major change in the way hotels operate because of email automation. Rather than manually sorting through hundreds of emails, hotels can now recognise and handle reservation requests in a moment, all thanks to Natural Language Understanding algorithms. 
Let's take a closer look at why hotels should use technologies driven by AI.
1. Room Amenities can be Upgraded
AI is improving the hotel stay for guests by incorporating smart technology into in-room conveniences. By sending a text message to a digital concierge, a guest may control their accommodation remotely or request room service using only their voice. 
2. Enhancement of Reaction Time
By drastically reducing the time it takes to resolve client complaints and answer queries, AI is revolutionising the hospitality industry. Resolving guest complaints quickly has been shown to improve service ratings and bring in additional customers. In order to maintain the dialogue and create loyal customers, AI can help with reputation management, surveys, and best-in-class reporting to keep track of ratings and guest reviews. 
3. Reduced Workloads
By using automation, hotels may take use of AI gadgets in guest rooms and online. Having AI take care of routine activities or answer commonly asked questions frees up hotel staff to concentrate on providing visitors with more meaningful and memorable experiences.  
4. Customized Deals
Data is key for personalised guest experiences. AI can help hotels learn about their visitors' individual likes, dislikes, and habits by analysing mountains of guest data. As a result, AI can create and promptly offer personalised suggestions according to each visitor's expressed and inferred preferences and interests.  
5. Modified Costing System
Seasons and special events are major factors in the hotel industry, which affects both demand and cost. With the use of real-time market data, hotels are implementing dynamic pricing strategies to boost occupancy rates and maintain profitability. Owners and managers of hotels may take advantage of current market trends and maintain high Revenue per available room (RevPAR) at reasonable rates by employing AI-driven predictive analytics. 
6. Reviews and Guests' Satisfaction
The potential of artificial intelligence–enabled guest response systems is frequently motivation enough for any hotelier to adopt the technology. AI-based solutions, such as digital concierges, can intuitively ascertain when it is most appropriate to inquire about satisfaction or provide an opportunity for evaluation.  
7. Enhanced Issue Resolutions
The use of AI can speed up the resolution of issues while simultaneously increasing the satisfaction of hotel guests. As AI develops to handle more nuanced visitor experiences, this is only expected to get better. 
8. Operational Expenses Cut in Half
AI's ability to automate many procedures effectively means less work for humans and faster replies. Because of this, productivity in the workplace is increased. In fact, when utilised in guest-supporting roles, the majority of hotels believe that AI considerably decreases operating expenses. By learning about their guests' likes and dislikes, hotels may better tailor their suggestions and boost both revenue and customer happiness.  
Conclusion
In the future, AI and machine learning will improve several facets of the hotel industry, such as guest loyalty, suggestion accuracy, and overall experience quality. In addition, high-tech analytics and suggestion engines will aid hotels in gaining useful information. 
It is evident from the AI powered technologies currently employed in large hotel chains that the future of AI will only become more and more advanced and guest centric; thus, hoteliers must continue to embrace new opportunities to keep up with consumer preferences and industry trends. 
As Artificial Intelligence (AI) services and solutions providers, 10xDS helps businesses understand and determine the different AI solution approaches to choose from to modernize their processes.
Talk to our AI experts to help you with the perfect AI technology adoption that suits the needs of your business to accelerate growth and performance.