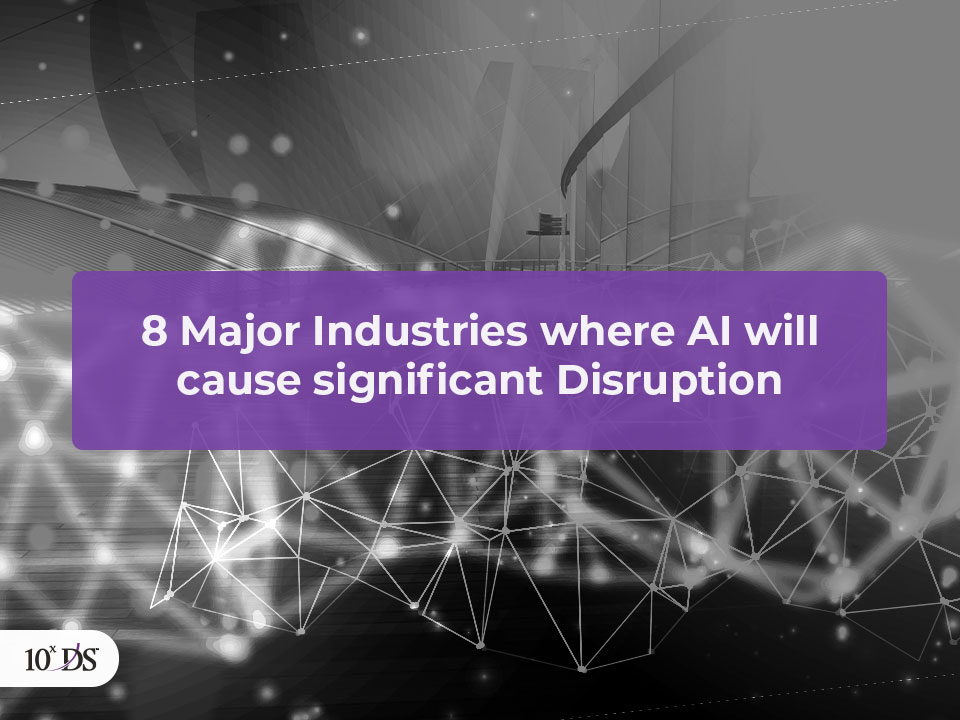 8 Major Industries where Artificial Intelligence will Cause Significant Disruption
Such is the influence and widespread disruption of Artificial Intelligence (AI) technologies that it is difficult to imagine an industry that will not be transformed by these technologies.  Undoubtedly, AI technologies are redefining how work is conceived and performed in industries across the world. Advanced AI technologies like Neural Networks, Machine learning, Deep learning, Chatbots, Natural Language Processing (NLP) and others can help businesses gain better strategic insights into the areas of opportunity. Adopting AI offers several sure-fire benefits to organizations such as personalization to users, enhanced process automations, augmenting decision-making, accelerating deployments and more.
Let's look at 8 major industries where AI is causing significant disruption:
1. Healthcare
Healthcare is one of those industries where AI has boundless possibilities to optimize processes, gain higher efficiency, and increase the quality of patient care. AI powered platforms can mention possible treatments for patients, Digital Nurse Avatars can interact with patients, voice recognition systems can help in medical transcription, smart billing can enhance revenue cycle, clinical decision support to aid doctors and several others. AI offers tremendous help automating basic administrative tasks improving operational efficiencies, allowing healthcare providers to focus more on clinical outcomes and providing better patient experience.
Read: 6 Real World Automation & AI Use Cases in Healthcare
2. Banking and Financial Services
AI is already creating a tremendous impact in the Banking and Financial Services sector, addressing some of the pressing problems, be it back office operations, payments, sales, risk management, regulatory compliance and others. Now, most Banks are embracing AI, realizing the substantial benefits these technologies present. Some of the popular use cases include personalized insights and AI biometrics in conversational banking, Anti-fraud & risk management, and smart contracts in credit underwriting.
3. Insurance
The insurance industry faces daunting problems of large workforce engaged in routine and monotonous manual works. It is an industry ripe to be disrupted. AI technologies have become prominent to address these challenges effectively. Some of the popular examples include Customer experience and coverage Personalization as AI enables a seamless automated buying experience using chatbots to pull social media and geographic data of customers. AI also allows carriers to customize coverage for specific products, enabling on-demand insurance. Virtual claims adjusters can help expedite claims settling process also decreasing the likelihood of fraud. Behavioural Policy pricing is another area where use of AI is gaining popularity, for instance reducing premiums for people with a healthier lifestyle in health insurance or safer drivers having to pay less for auto insurance.
4. Telecom
The Telecom industry is well suited to adopt AI technologies to overcome some of the frustrating issues affecting their productivity. Telcos are harnessing the power of AI to tap into the huge volumes of data in order to gain actionable insights for streamlining operations, providing better customer experience and creating new products and services. Some of the popular use cases include AI-driven predictive analytics using sophisticated algorithms and machine learning (ML) techniques to forecast future results based on historical data. Analysing the data, telcos can provide better services. Operators can monitor the state of equipment, look out for possible failure based on patterns, and resolve issues in the telecom hardware such as cell towers, power lines, servers and even set customer top boxes, by detecting various signals indicating the probability of failure. Another function the Telcos have turned to AI for automation is customer support. Virtual assistants help cater to the massive number of different types of support requests such as installation, set up, troubleshooting, maintenance and more. AI enables self-service capabilities by showing customers how to operate, work and troubleshoot on their own devices.
5. Logistics
Artificial intelligence (AI) is taking up the pace and gaining an increasingly prominent role in the logistics industry, with a huge potential to bring in disruption.  areas of network planning and predictive demand are getting improved with AI capabilities. First and foremost, AI enhances predictive capabilities helping companies become more proactive by leveraging which can help with capacity planning and accurate demand forecasting. Using an AI based technology like computer vision, logistic companies can see things in a new way to easily monitor moving cargo across the world.  Autonomous vehicles using AI will bring in a tremendous change in this industry in terms of lane-assisting, highway autopilot and assisted braking.
6. Retail
The retail sector is finding some fresh and innovative ways to optimize their processes. AI is getting increasingly popular across the product lifecycle – from assembly, post-production sale to customer support. Popular CRM applications use AI tools for account insights, lead prioritization, automated data entry, ad personalization, and more. Cognitive computing offers several order management and customer engagement capabilities. For instance, a recommendation engine is a great example where AI uses information provided by consumers to tailor specific product recommendations.
Some major manufacturing companies have been using neural networks to monitor production plants and improve efficiencies. In Retail logistics and delivery, AI sensors help robots navigate the best travel path for delivery. AI based check-out-free technology allows sensors to track which objects customers pick up and put in their basket to automatically charge customers. Fraud detection is another area where AI is being used to protect customer's digital transactions, analysing thousands of purchase patterns.
7. Transportation
Transportation is one of the major industries AI has taken off over the years. The best example is the innovations in self-driving cars and semi-autonomous vehicles. The main issue with the transportation industry is the difficulty to model according to a predictable pattern. This is because there are a lot of factors such as unpredictable traffic, human errors, or accidents.  This is where AI becomes very useful, predicting appropriate actions based on observed data. AI models significantly reduce human errors and transportation analytics assists in minimizing effects of driving hazards in crowded urban areas. Moreover, AI helps in monitoring safety regulation compliance. State-of-the-art AI based technology can enhance operational efficiency for logistics transportation determining the optimal route scheduling with minimum wait times, traffic detection to adjust the route in real time and more. AI based Traffic prediction techniques can help assess traffic conditions and forecast using traffic monitoring data.
8. Manufacturing
AI is poised to radically change the manufacturing industry through machine-learning algorithms, pattern-recognition tools and several technologies transforming manufacturing factories of the near future. AI process can be used to inspect parts in manufacturing automatically read and follow CAD instructions and more to build parts and various other things with little or no programming understanding required.
Download Case Study: 10xDS AI Solution enabled Faster and Accurate Data Capturing from Construction Designs (CAD) for O&G Company
Conclusion
The market for AI is going to grow significantly over the near future. AI technologies can be applied to several industries and the world will be looking out for specialists in data science, artificial intelligence, machine learning and others. AI can be best leveraged to work alongside humans to increase process efficiencies and create more opportunities for humans to work on meaningful tasks without getting overwhelmed. AI will have a tremendous impact in industries, and it will be quintessential for large enterprises, industry influencers and decision-makers to develop better AI capabilities to stay ahead of the curve.
Want to gain further insights into our AI services? Talk to our Automation Experts!