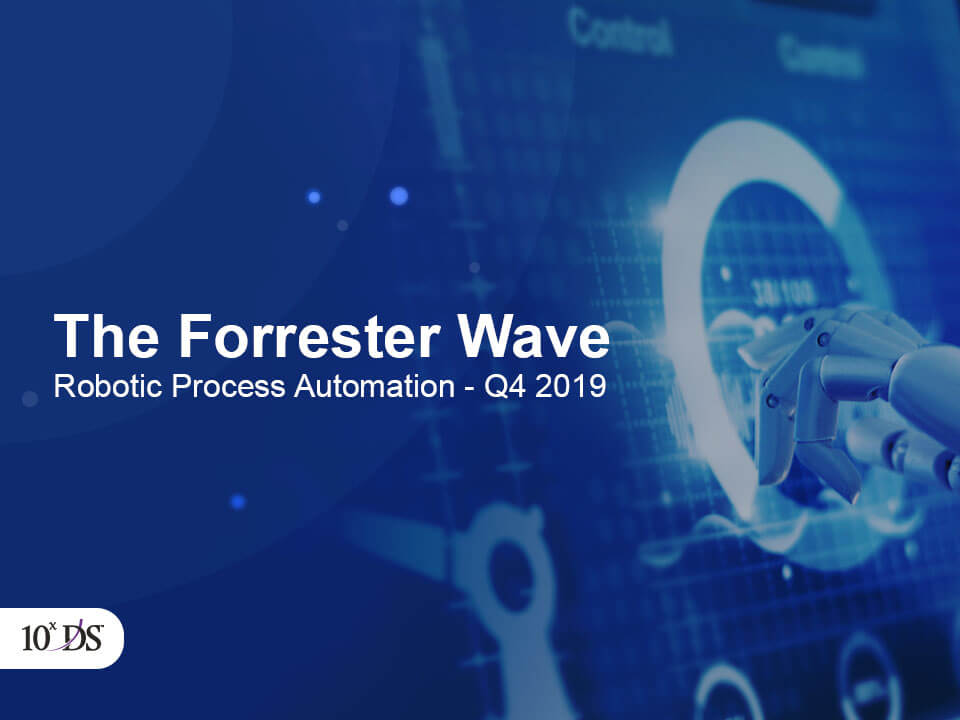 The Forrester Wave: Robotic Process Automation, Q4 2019
Forrester, a leading global research and advisory firm., recently released the Forrester Wave™: Robotic Process Automation, Q4 2019 report. The report evaluated Robotic Process Automation (RPA) providers based on a 25-criterion evaluation process. Some of the major criteria included bot development, desktop functions, product roadmap, RPA/AI platform integrations, access to capital, innovation, market approach, and others. The advisory firm identified 15 most significant vendors including: UiPath, Automation Anywhere, Blue Prism, Kofax, Kryon, NICE, among many others.
In the report, one of the interesting observations of Forrester is that RPA software suites have embraced exponential technologies like AI to augment automation capabilities to become Intelligent Process Automation platforms. Customers across the globe are looking for solutions beyond automation, leveraging AI components such as text analytics, conversational intelligence and Machine Learning (ML) to be used in combination with RPA.  The report also emphasized the importance of RPA customers to evaluate providers based on the following criteria:
1. Scaling experience, capability, and pricing based on digital work performance
Enterprises undergoing digital transformations are creating Automation centres to manage and gain control of RPA point solutions and create innovation hubs. State of the art RPA platforms support the digital transformation journey with central management to connect several types of process automations, multitenant solutions that support shared services, and pricing models and orchestration that enhance the efficiency of the software bots.
2. Analytics and platform openness
RPA has already proven itself as a tremendous success at task automation. However, what AI presents to RPA is the ability to create smarter digital workers but are so far unproven. So, this makes it essential for customers to enable AI frameworks and integration points that are well organized, centralized, and modern. It is also highly essential to implement a robust partner ecosystem.
3. Proven desktop analytics and process assessment
Another aspect that needs consideration is the use of machine learning, human input and output provide for data set that can identify candidate tasks for automation. There can be a greater understanding and broader view leveraging the data set in combination with the event logs from the applications the bots are working with.
4. Human-in-the-loop support
Another very important criteria for choosing providers is the attended-mode RPA tools that can design human-to-robot communication. More than just an interaction, a simple call, and response which only professional bot programmers are building it, leading platforms are building much convenient and easy-to-use low-code designer interfaces for rapid design in the business and new UI environments for full employee robot control.
The Forrester Wave divided and categorized RPA providers into four categories: Leaders, Strong Performers, Contenders, and Challengers. The leaders are performing well, achieving the best scores in the Strategy and Market Presence, and current offerings categories.
RPA Leaders and Strong performers
 Our technology partners UiPath, Automation Anywhere, and Blue Prism are flying high and performing well as leaders. Softomotive, another 10xDS technology partner, is a strong performer, based on the evaluation of their products WinAutomation and ProcessRobot.
UiPath, having a strong financial backing, is handling its growth spurt in a well-organized fashion, as per the Forrester reference customers. The company is now headquartered in New York and has an employee strength of 3,000 employees. UiPath has a revamped robot community, an AI integration fabric, a native Microsoft Azure software-as-a-service (SaaS) solution, a mobile interface for Orchestrater, a process discovery collaboration tool and several other features with a comfortable Windows-oriented environment.
Automation Anywhere, 10xDS technology partner, continues innovation and market expansion having strong trained partner ecosystems and remains one of the most recognized names in RPA. The Automation Anywhere Enterprise A2019 designer is persona-based and provides an easier design environment for business users and developers to collaborate on both simple and complex use cases. The clients prefer Automation Anywhere for its thin client architecture, ease of use, ability to easily connect automations, low cost of ownership, among others.
Blue Prism, 10xDS technology partner, offers secure, scalable and central control. With more than1,300 customers, the company focussed more on unattended use cases, with continued emphasis on IT-led enterprise-wide deployments. Blue Prism Labs offers an AI lab with the first efforts targeting document-centric use cases, computer vision, and attended scenarios. Blue Prism is leveraging the deepening Trust Portal partnership and recently acquired Thoughtonomy additions for human-in-the-loop use cases. Clients prefer Blue Prism for their robust approach for ongoing changes, enterprise-ready features and supporting documentation.
Softomotive, 10xDS Technology Partner, now headquartered in UK has a sound market positioning, with a business model focused on rapid deployment, good price points, attended use cases, and small-to-midsize businesses, with a growing presence in large enterprises. Forrester references refer to Softomotive as a company providing solid, flexible and easy-to- use offering for less complex use-cases.
10xDS Strategic alliances and Collaborations
10xDS is in strategic alliances and collaborations with RPA industry leaders such as UiPath, Blue Prism, Automation Anywhere and Softomotive. By leveraging RPA solutions from the leading technology companies 10xDS is successfully delivering world class business solutions and services to accomplish various demands of our clients and deliver superior results. Partnering with these industry leaders help to understand the emerging technologies and create innovative solutions to satisfy the complex needs of various industries.
Excited to know more about our Robotic Process Automation (RPA) and AI services? Talk to our Experts!