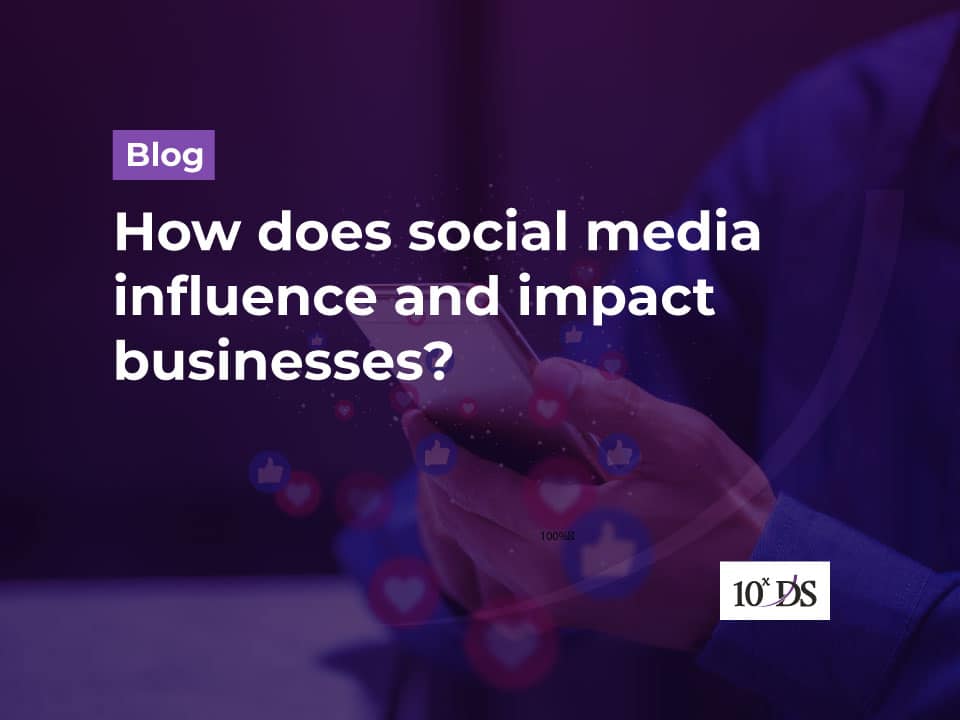 How does social media influence and impact businesses?
Businesses can engage with customers, advertise products and services, and learn more about the industry thanks to the widespread use of social media. Social media networks like Facebook, LinkedIn, Twitter, Instagram and others have made it possible for businesses to interact with customers in real time all over the world, resulting in increased brand awareness and sales. Attracting the right customers with the right information at the right time and showcasing your product or brand to potential customers at the right moment are both facilitated by these social media channels.
Here we will look at the effects, impact and influence of social media on companies.
1. You get to share your experience and story.
By using social media, brands may connect with their target audience on a more personal level, spread the word about what they do, and increase sales. It gives the brand more credibility because consumers can identify with the company's experiences. To get your message out, you need to develop material that is both high-quality and acceptable.
2. Dedication to a Particular Brand and Increased Loyalty
Every company's ultimate goal is to have its brand be the one customers automatically choose above others out of blind trust. Customers that have entire faith in a brand will buy that brand's products or services without being swayed in any way. When a business builds trust and rapport with its clients, it earns their loyalty.
Because it allows businesses to connect with their clients on a personal level, social media marketing is a crucial component of digital advertising. It cuts out the confusion caused by having multiple parties (retailers, wholesalers) between the brand and the consumer.
3. Communications are easily facilitated.
At first, communication between the corporation and its consumers was restricted to the annual product launch party. However, with the rise of social media platforms, communication between businesses and their customers has become more frequent, simple, and rapid. Customers can now communicate with a business directly via social media sites such as Facebook, Twitter, Instagram, etc. Customers are not limited to venting their frustrations but may also easily provide constructive comments on a product or service in real time.
4. It's hard to undo the damage done by an offensive comment.
Nothing on the Internet can be timed. The recall value of social media users is higher than that of users of other mediums, meaning that a damaging tweet or post made by a brand on social media will remain in the minds of consumers indefinitely. Many companies lose money as a direct result of careless behaviour on social media.
5. Enhanced influence of the consumer
Users have more influence over brands in social media marketing. Customers' opinions carry weight in the marketplace. Through social media, consumers may voice their opinions about a product openly and safely without worrying about repercussions. It disempowers corporations and gives control back to their customers. Therefore, companies should exercise greater caution while promoting their wares online.
6. Draw a larger crowd and audience.
Almost everyone on the planet has at least one social media account. Attracting clients from all around the world with a minimal initial investment is made possible by using social media marketing, making it a highly efficient method of digital advertising. What's more, the platform allows you to communicate with your target audience regardless of where they may be located.
7. Competition
The highly competitive nature of the social media marketing sector ensures that every player gives 100%. Furthermore, it motivates companies to maximise their efforts in order to gain as many customers as possible.
8. Causes buzz to spread and increases brand awareness.
The word about a company can be spread rapidly and efficiently with the use of social media. 72% of consumers examine internet reviews before making a purchase, according to a study by Qualtrics (a business organization). Therefore, companies can boost sales and forge a deeper connection with new clients through word-of-mouth marketing.
Raising brand recognition is essential for expanding the customer base. The key to success in social media marketing and content campaigns is to consistently remind your target audience of your business through the use of unique and visually appealing content that stands out from the competition. Projecting a positive image and connecting with your audience can boost engagement and turn potential customers into buyers. Growing your company's presence on social media sites like Facebook, Instagram, and Twitter depends on maintaining your audience's faith in you.
9. Saving money on advertising and marketing
Using the principles of direct response advertising, social media marketing can raise brand exposure within a specific demographic at a reasonable cost. It helps firms save money on overhead and boosts their bottom line.
The effect of social media advertising on local companies
The use of social media is paying dividends for small companies. It provides a channel for companies of all sizes to connect with their target markets and raise product awareness. Because of this, small firms have been able to establish a distinct identity in the minds of their customers.
In this global online community, borders don't exist on social media. Small businesses benefit since they are better able to reach out to clients all around the world. For such companies, marketing on social media is proving to be a worthwhile investment.
Conclusion
So, whether you're a new business owner or an established one trying to expand, don't overlook the power of social media in your marketing strategy. It could be the most efficient approach to getting your message to the people who really need to hear it so that your company can flourish.
Talk to our experts. Contact the professionals at 10xDS Digital Agency to know more about how to establish your brand, enhance your efforts in social media outreach, and take it to the next level using our social media marketing and branding tactics!