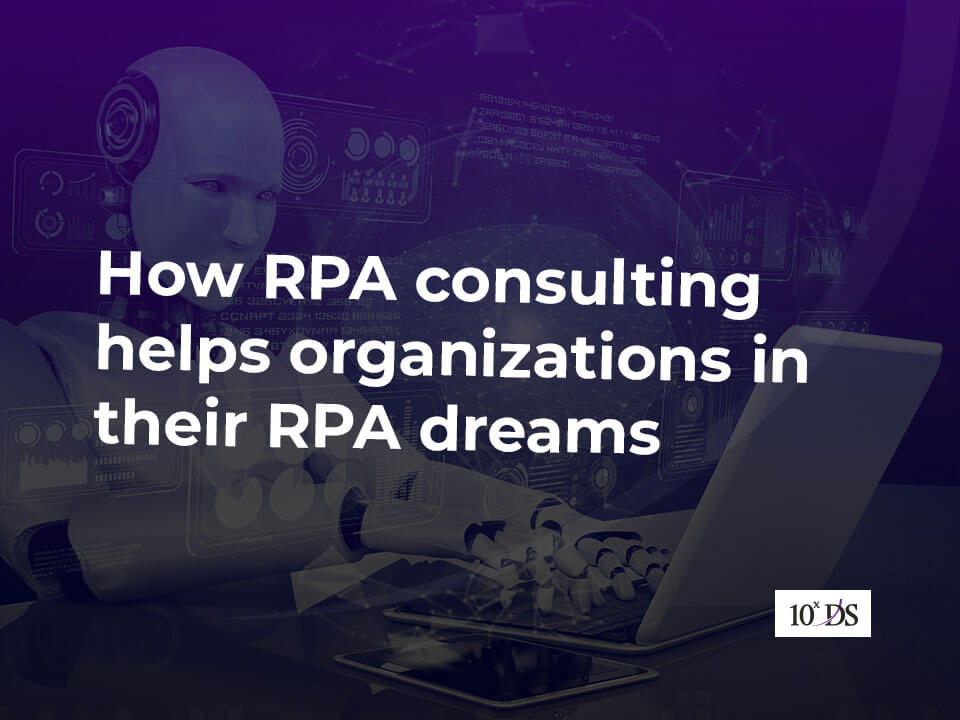 How RPA consulting helps organizations realize their RPA dreams
Robotic Process Automation (RPA) is considered a lifesaver for many companies entangled with legacy applications and disparate systems involving critical and repeatable processes managed by an army of personnel. RPA helps undoubtedly to automate such processes to achieve a reduction in manual effort, improve average handling time, minimize errors, all of which will result in capacity creation which will enable organizations to service more clients with the same workforce delivering better customer experience.
However, any organization considering embarking on an RPA journey needs to consider a holistic approach rather than taking a piecemeal approach which means automating just one or two processes and trying to sustain it and garnering ROI (Return on Investment) with it. With such an approach the cost is going to be high, and expected ROI cannot be gained. However, if you are considering all the processes from a single function and gradually all functions of an organization it would be ideal and in order to plan this, and this is where RPA consulting will be of immense help. A consulting exercise would help towards process assessment across the organization to build a pipeline, understand the feasibility, know the efforts of development, and then create a plan for its digital transformation initiative.
In this exercise, Business consultants try to understand the client's objectives. They then try to sketch out a roadmap aligning with the business objectives and find the right opportunities for automation. The team discusses the processes and procedures in detail and examines the process documents, samples and reports. They document the current state and work out a future state for concurrence from Business teams and Management.
There could be many processes that are highly automation-friendly, and some might need tweaks here and there to make them more automation-friendly and this step is called process re-engineering. Once all the processes are listed, documented, re-engineered, feasibility is assessed and recorded. Along with Business and Management, based on certain criteria, priority is assigned for each of the processes for automation. There could be few processes with less priority and less ROI, and these processes can be kept aside for the future. Some organizations may also want to see a pilot done for one process from this list with certain success criteria to measure success after automation.
An organization has an automation strategy and roadmap now so that they can start the journey with an end in mind. The RPA tools that is the best fit for the organization can be decided during the consulting exercise. Cost of ownership, maintenance requirements, available support programs, among others could become few pointers for the tool selection and validation. Building of In-house RPA Support teams or outsourcing whichever is suitable for the organization based on skill availability and cost can also be decided. Once the program starts, there could also be a toll-gate check to measure the pace and direction of the automation program.
Consulting in any organization is important to ensure that you have access to people with expertise, experience, and domain knowledge to help make the right decisions and avoid blunders.
RPA consulting not only helps understand RPA as a technology but also shows how it could be relevant to a company's growth strategy. They also provide organizations with the potential impact, result, and risk factors of the implementation beforehand. In the end, what organizations want is value. Value creation occurs when the quality of services received is high compared to their cost.
Choosing the right consulting partner to achieve business transformation or process automation is first step to success. Talk to our RPA consulting experts to know more.