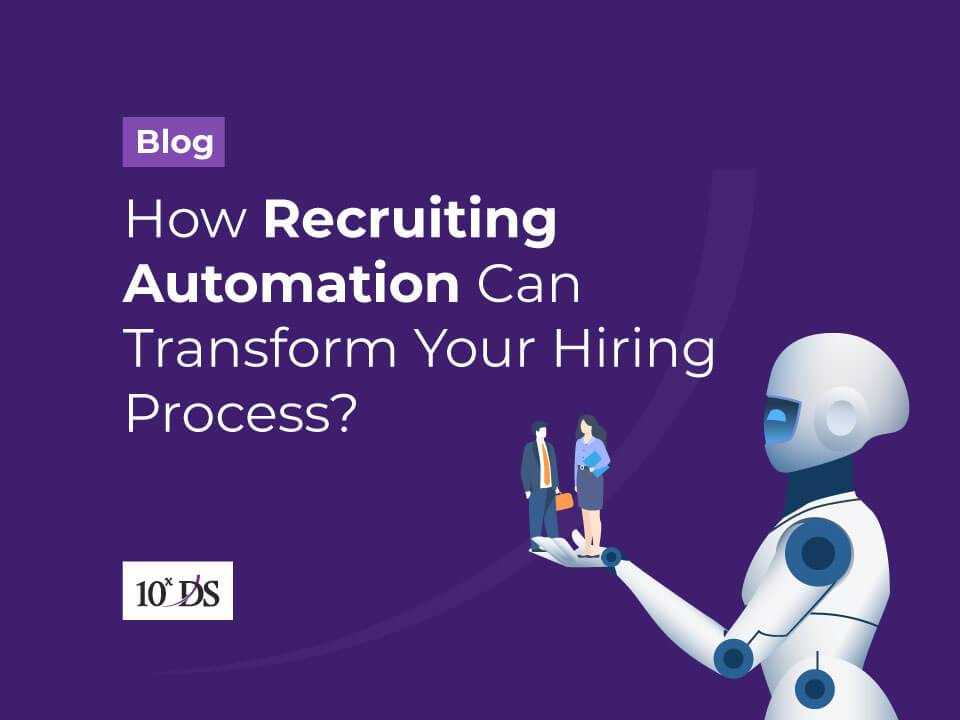 How Recruiting Automation Can Transform Your Hiring Process?
Automation can make work easier not only in selected scenarios but also in the case of human resource management. There are several options to automate the recruiting process and thereby free up your HR team from a series of monotonous tasks that kill their time. When the HR team can be freed from the rigorous tedium of monotonous and redundant tasks, it helps them to save time and focus on other important aspects of their work. The time saved can be effectively reassigned for other major tasks.
Let's go through the benefits of recruiting automation and a few different ways on how to do it.
Some Benefits and Use Cases of Recruiting Automation
1. Automated sourcing to speed up and minimize time-to-fill
Hiring a candidate involves an unending number of procedures, starting with writing job descriptions to profile reviewing to selecting the ideal candidate. By automating some of these tasks, companies can minimize the time to fill the vacant roles.
For high-demand jobs, sourcing remains a problem. Today's talent acquisition challenges are more difficult due to the increasing number of Gen-Z workers, the increase in job portals and job postings being posted further on social media and the internet. Information is becoming more dispersed, the market is experiencing a shortage in key skills, and there is increasing competition. If properly configured, a Robotic Process Automation software searches for resources that match the JD when hiring. BOTs scan job portals in a matter of seconds to locate suitable candidates. They then provide a ranking list to the HR team and a quick review. Organizations can build a stronger employer brand by using the right conversational recruiting chatbots.
2. Automation in pre-screening
Instead of manually and individually conducting pre-screening for each applicant, companies can automate it by setting the whole process against the pre-screening questions. For instance, if the company is only looking out for experienced hands, it can set the question 'do you have previous work experiences?' in the pre-screening. Only those candidates with experience will cross this pre-screening phase and be allowed to take part in the next rounds of interviews.
3. Facilitating unbiased hiring practices
By using AI and Automation in hiring, the human intervention required is very minimal in most cases. Screening the candidate and evaluating their assessments can all be done with minimal human intervention. This is one of the major advantages of automating hiring practices. This will also ensure that everyone gets equal chances and hiring will be purely on the basis of merits rather than anything else.
It is difficult for HR managers and Hiring managers to shortlist the best candidates from a large applicant pool. Hiring managers and HR managers must be aware of the biases and moods that may affect the selection process. If these factors are not addressed, an organization could lose a great candidate. An AI-based speech-to-text solution can be used to convert interview conversations into texts and analyze them in order to determine the strengths and qualifications required for the job. This makes it easier to rank candidates without being judgmental and more appreciative. Social media analytics can also be used to verify the candidate's social presence and activities.
4. AI is better at screening candidates, to expedite the process.
The HR or recruitment team must spend time reviewing all applications and CVs for a single hire. They also need to match the application with the job requisition.
An AI-based solution can work as an efficient Application Tracking System. Imagine that your company received 500 resumes for a few vacant roles posted online. It is going to take at least a couple of days for the HR team to review all these resumes manually. An AI-based solution is a good choice to screen CVs, application forms and rank them according to suitability. It also keeps a large data bank for future reference. They can instantly communicate with the matching skillsets for recruiters. AI can combine job seekers' actions and behaviors to better understand the intent and analyse the possibility of joining. Robots are capable of scheduling interviews and notifying applicants.
5. It improves HR team's productivity
Hiring is just one of the several tasks that HRs perform, but it consumes a significant amount of their time. By minimizing the time spent on hiring, the HR team can concentrate on other important tasks like performance assessment, onboarding, payroll-related tasks, and more. This will not only improve their productivity but also the overall productivity of the company.
6. Streamlining Video interviewing Process
Telephonic interviews are old-fashioned and not helpful when it comes to identifying the right candidates. Video interviewing is considered to be a better option for everyone these days. It enables the HR team to pick up the right talents more easily. It is not really necessary to conduct video interviews for all candidates. The HR team can prepare a few questions and send them to the candidates. The candidates can then record themselves answering those questions in the automated system itself. Once this one-way interview is completed for all the shortlisted candidates, the recruiters can review them quickly and cherry-pick the most matching profiles. They can then conduct two-way video interviews for those who were selected and finally narrow down the best from them.
7. Face-to-face interview scheduling
The HR does not have to schedule face-to-face interview sessions for each applicant. Instead, they can share their calendar with the candidates with the available time slots for the interview. The candidates can go through this and block their preferred slots. There are two advantages to this. Firstly, it saves the HRs' time. Secondly, it makes it more convenient for the candidates as they can book their own interview slots rather than being given one.
Microsoft Teams is one the most widely used organizational tools due to its wide range of functions and communication options. Microsoft teams offers advanced interview scheduling allowing features for the HR team to schedule multi-day interviews and handle last-minute replacements. It also improves communication throughout the process.
8. Pre-employment test platforms for better assessments
Pre-employment tests are conducted for most jobs these days. It helps HRs understand the calibre of the candidate. By making use of advanced pre-employment test platforms, recruiters can carry out the assessments with ease.
Conclusion
Using automation in recruiting can help companies cherry-pick the most efficient candidates after screening hundreds of them rather than manually screening a very limited number of profiles. It makes the work easier for the HR team, convenient for the applicants, and cost-effective for the company.
Want to gain further insights into our Recruiting Automation use cases? Talk to our Experts on HR Digital Transformation!