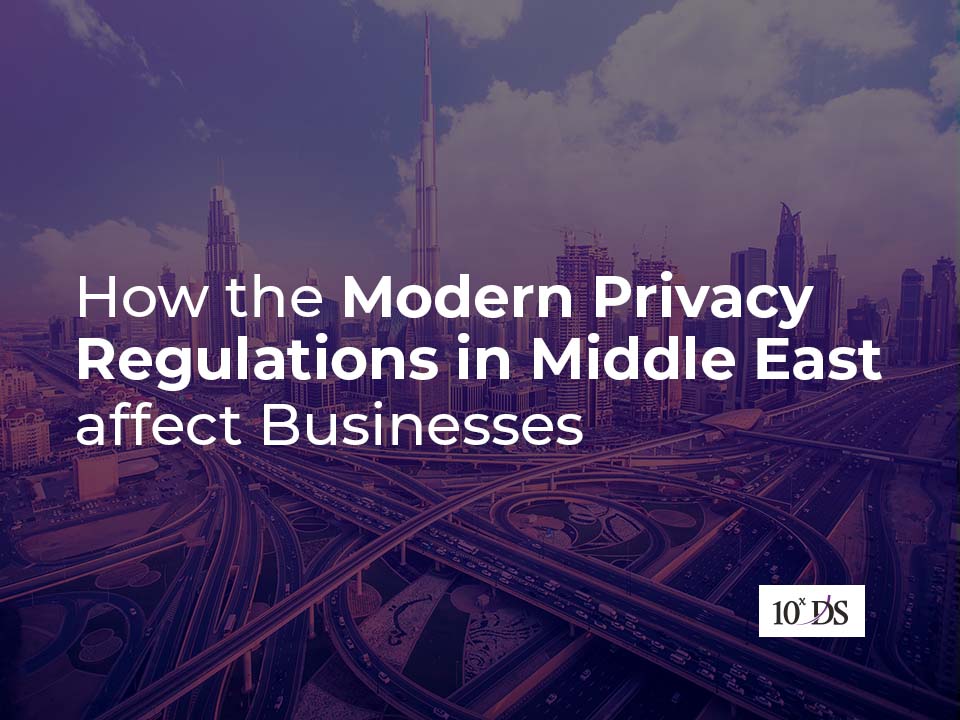 How the Modern Privacy Regulations in Middle East affect Businesses
Businesses in the North Africa and the Middle East regions have slowly started to experience the operational and regulatory pressures, which U.S. and European companies have been facing in recent years. We saw the introduction of 6 new data privacy laws in the last few years. It has also been reported that 88 fines were issued by the Dubai International Financial Centre in late 2020 after the new laws became effective.
The newly introduced regulations come in addition to several existing laws in the United Arab Emirates, Saudi Arabia, and many other countries. These laws impact several companies in the Middle East and North Africa (MENA) region, just like General Data Protection Regulation (GDPR) does for companies in the European Union (EU). Many countries in the Middle East have started accelerating regulatory oversight over data protection. At the very same time, several businesses in the region are looking for guidance on how to uphold compliance, implement data privacy frameworks, and evaluate risk. It has become quite difficult for companies to meet all requirements mainly due to the multitude of complexities involved.
The introduction of modern privacy regulations
The Kingdom of Saudi Arabia (KSA) and the United Arab Emirates both announced the introduction of modern privacy regulations over the course of just seven days back in September 2021. The decision made by two countries in the Middle East has resulted in a considerable change in the data management regulation in the region for millions of residents and thousands of companies.
The first country in the Middle East region that announced and adapted the modern privacy regulations was Bahrain. The country offered a critical opportunity for businesses operating in the region to adopt a privacy program. It has been reported that the personal data protection law of KSA or the data law of UAE will rise to the detail or complexity of the GDPR of the EU.
How will this impact businesses
Businesses that are operating in the middle east will need to offer a set of data privacy rights to their customers. These privacy rights can be divided into three separate categories, and they are called Informative rights, Corrective rights, and Restrictive rights.
1. Informative Rights
Informative rights will include the right to portability or access. In other words, businesses will have to give customers a personal data copy according to informative rights.
2. Corrective Rights
Corrective rights or the right to erasure or rectification is another category. This category of rights gives customers the option to update or delete their records if necessary.
3. Restrictive Rights
Restrictive rights will enable individuals to have control over how their data is being used by organizations. This can be either in the form of opting out of the purchase or preventing their data to be shared with a third party.
Consent and preference management is estimated to become a lot more regulated along with privacy rights. This will in turn have an impact on direct marketing because organizations in the region have been following the practice of reaching out to customers through shared or purchased lists with zero or little consent.
How to prepare your business
The first and foremost thing that businesses in the Middle East regions should do is to begin a data sanity practice. Here are a few ways on how you can prepare your business to stay compliant with modern privacy regulations.
Identify what information on prospects and customers they are currently holding
Collect only the information they need for a certain purpose (practice data minimization)
Check if the collected information was sourced from a third party or directly from the customer
Identify why data was collected along with understanding its future use
Delete data that are no longer required, and the ones required by the law
These are just a few initial steps that will help organizations in the middle east region to support the privacy rights of customers and build trust.
Compliance challenges and role of Intelligent Automation
As we have seen above, the modern data privacy protection laws and regulations in the middle east region will have strict requirements for complying with personal data security and privacy. Now, the challenges to comply with these laws and regulations can cause severe headaches for the leadership of these enterprises, and some may not have yet been prepared for these changes. There may also be a lack of a process and system in place for effectively dealing with the increasing volume of customer requests, managing their consents to fulfill the rights of data subjects, as this can become increasingly difficult.
Hyperautomation, Intelligent Automation or RPA can automate repetitive, rule-based tasks within existing applications and can help reduce the administrative costs involved in managing privacy compliance.
Here are some of the benefits of leveraging automation:
Hyperautomation, Intelligent automation or RPA can be easy to use for users, offering greater ROI for companies, without spending on costly infrastructure investments.
Intelligent Automation can significantly reduce the risk of errors, enabling companies to diligently follow the defined steps, also reducing security risks.
These software bots can automate the mapping of structured data, identification and classification of personal information in an enterprise, among others.
How AI offers enhanced Protection of Data
With automation ensuring compliance to the data privacy laws and regulations, Artificial Intelligence (AI) can take data protection and security measures to the next level. AI can quickly analyse, detect, and block cyberattacks based on an extensive behavioural study.
AI and Machine Learning (ML) can alert the network admin or user when there is an unusual behaviour observed while running an application or service in the system or network. From blocking malicious websites, disallowing suspicious actions, and restricting unauthorized data transactions automatically before they are executed, AI comes in handy in several ways to ensure data protection.
Moreover, AI systems can work as a "privacy concierge" in organizations for the network infrastructure and system to identify, redirect, and process privacy data requests, even the complex ones. This way the process is expedited, much faster than doing it manually.
Companies can leverage AI to classify data and manage it in an organized way. Incorporating AI systems can help organizations to easily review existing business data as a central management unit and then update privacy standards as and when required.
Another key use of AI is in the handling and processing of sensitive data requests all by itself. Apart from preventing such data to fall into the wrong hands, AI also eliminates the chances of having human errors, ensuring better data protection and privacy compliance.
Conclusion
The impact of the new data protection laws and regulations will affect nearly every business in the Middle East and several organizations will have to mandatorily implement new policies to ensure data privacy and protection. The new policies must address the gaps, reflect the new requirements, and be designed in such a way that they can be adapted when the regulations change.  As companies start getting familiarized with the laws and compliance requirements, they have also started understanding the importance of adopting emerging technologies such as Hyperautomation, Intelligent Automation and AI to address the challenges of data privacy compliance and protection. It's high time that organizations start investing in such technologies to ensure better privacy for their sensitive data.
How 10xDS can help?
Our expert team at 10xDS can help deploy Intelligent Automation and AI solutions to automate various processes for implementing specific data protection and compliance requirements. These solutions are specifically designed and implemented to enhance control and oversight, reduce the expenses and efforts required for implementing various aspects of the laws or regulations.
Talk to our Experts to gain further insights into our Automation and AI services.