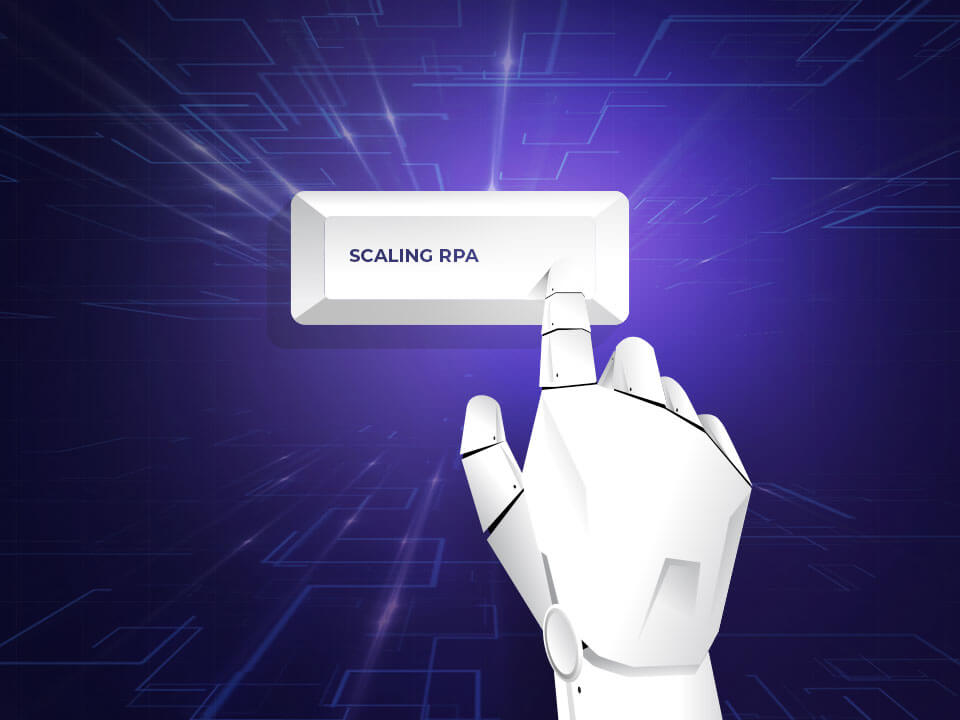 Keys to Successful Scaling of Robotic Process Automation (RPA)
Successful scaling of Robotic Process Automation (RPA) in organizations is still a challenging and tedious process mainly hindered by several organization level issues. Over the past few years, we are witnessing greater RPA adoptions, enabling organizations to increase the efficiency and effectiveness of processes by lowering overheads and gaining higher productivity. RPA is different from conventional technologies as this emerging technology can be seamlessly integrated with existing infrastructure without incurring higher cost. Ordinarily, organizations implement RPA in one department and then scale across other departments. But there are some barriers to successful deployment when organizations try to implement RPA on a large scale. A more fundamental approach can be embraced considering the key factors like process, department, people and technology for successful RPA scaling.
Let's go through the key steps which help in successful RPA scaling:
Key Steps in RPA scaling
1. A well-defined process
Defining process includes developing clarity of purpose, creating blueprint of process implementation and conflict resolution. Developing clarity of purpose helps individuals in the organization to understand RPA scaling as a digital transformation approach helping them to focus on higher value generating tasks. Creating a blueprint of process implementation helps to identify the business areas that can be automated using RPA in the organization. It also helps in developing the RPA scaling design. Analyzing the blueprint of the process helps better identify processes that are cross functional and resolve potential conflicts by collaboration of different departments.
2. Strong technologies & innovation
Organizations need a variety of technologies that leverages automation in use-cases in order to scale. Many organizations have complex operations often handling unstructured data in documents or emails. These unstructured data must be then converted into structured data. An integrated system using a strong mix of technologies such as intelligent Optical Character Recognition, Machine Learning and others can help in successful RPA scaling.
3. Interdepartmental collaboration
As a part of RPA scaling, many cross functional processes will be automated. Interdepartmental processes involve complex tasks which may lead to conflicts. IT and business teams, working together, can build a Centre of Excellence (CoE) to effectively provide process re-engineering and technical assistance to support the RPA scaling process.
4. Empowered people
Before implementing RPA in an organization, it is necessary to have subject matter experts in your team. Training RPA developers and analysts early on can significantly reduce the anxiety of employees to adapt to emerging technologies. For successful RPA scaling, a team must be dedicated exclusively for maintaining and providing governance and best practices. The team which handles governance should look after the overall scaling process and ensure employees are well aware of the upcoming changes. Best practices must be understood and followed throughout the organization.
Conclusion
A fully-fledged RPA scaling for an organization may not be the easiest tasks to achieve. However, organizations can successfully scale by following the key steps in RPA scaling process which incorporates a well-defined process, strong technologies, innovation, interdepartmental collaboration and empowered teams. By establishing 'total automation' for all ideal process candidates, an organization can achieve greater reduction in cost, increased productivity, availability, reliability and performance. Successful scaling of RPA will position the organization well ahead of the curve and help them dominate in their niche in the future. With the successful implementation, organization will have a strong central RPA Centre of Excellence and the departments automated with have greater visibility and outputs.
Want to gain further insights into RPA scaling and how we can help – Talk to our Automation Experts!