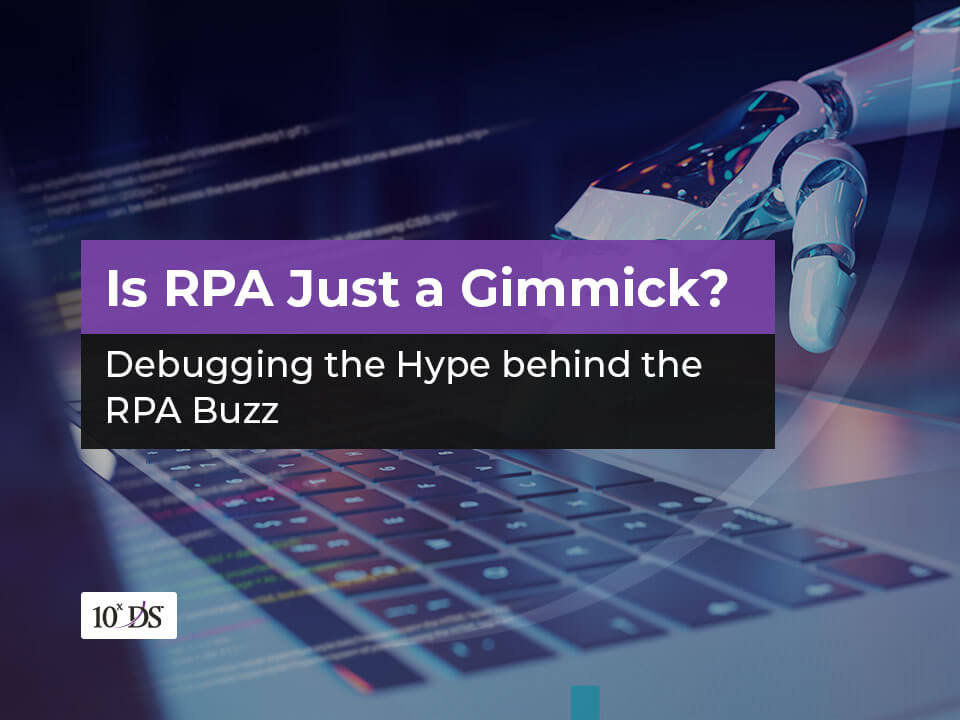 Is RPA Just a Gimmick? Debugging the Hype behind the RPA Buzz
Robotic Process Automation (RPA) is one of the most talked-about technologies these days. It promises to "transform" traditional business processes and make them more efficient, while also boosting employee productivity and leading to better cost savings.
However, is RPA worth the hype? Does it actually deliver what it claims?
Every company wants to drive better operational efficiency by streamlining different business processes. Where many organizations are turning to RPA solutions to increase competence in business and overcome the gaps in the ir manual operational systems, others are still skeptical about using automation tools and the efficiency of RPA.
The RPA market has many vendors to choose from today, and it should have solved the problem somewhat. Yet that makes leaders who are yet to start their digital transformation journey more confused.
In this blog we tried to have a detailed look at some of the common myths that we have encountered.
1. Employees are averse to RPA; they fear job loss
When RPA BOTs take over certain activities, that doesn't mean that an employee is going to lose his/her job. Sometimes it just means that Robotic Process Automation helps people do their jobs more easily. RPA improves jobs and employees move up in value chain rather than spending their effort in mundane boring tasks.
2. Robots – They cannot work in tandem with people
RPA is a software which imitates what people do. A proper handshake between human and robots are very much possible. This has become more structured now with Human in the Loop (HITL) implementations. RPA BOTs initiates a task, processes it until a point where humans are needed, and once the human processing is completed, they further take it up from there to complete it. It can also be properly timed like BOTs doing all the work during non-working hours and when the employees start their work it can be processed further.
3. RPA is a complex thing to crack
RPA may sound a complicated technology, but in essence, it is just a type of software that performs certain rule-based tasks automatically. This could be copying data from a particular source to fill a form or assigning different roles based on the "if this then that" logic. This means that RPA can help to automate many of the repetitive everyday tasks in a company and free up the employees to focus on other aspects of their jobs.
4. RPA implementation is costly
RPA requires financial investment initially but unlike other technology, it is a non-invasive technology which can be implemented without disturbing the current IT and Business landscape. When implemented in a COE scale, the ROI is faster and better.
5. RPA benefits are negligible
Improved productivity, enhanced quality, and increased compliance – these are the benefits of RPA and they, in turn, reduce re-work, retain customers, and saves penalties from regulatory bodies. The RPA solutions we see today have evolved greatly from what it was in like a couple of years ago. Those who have adopted RPA solutions reported that they saved more than 18,000 work hours by automating repetitive admin-based tasks, such as form filling for insurance claims. That is why experts believe that the RPA market will net $12 billion by 2023, which was around $5 billion in 2019.
6. Only simple tasks can be automated with RPA
Intelligent Automation, which is a combination of Robotic Process Automation (RPA) and artificial intelligence (AI) technologies which together empower rapid end-to-end business process automation and accelerate digital transformation. Extracting even handwritten texts from scanned images for further entry into ERPs and processing is now possible with Intelligent Automation solutions.
7. It is challenging to implement and sustain RPA
It is reported that as many as 30% to 50% of initial RPA projects fail. This does not reflect on the capabilities of the technology though; instead, it indicates that those companies that did not find any positive outcomes missed out on something important during the implementation of RPA in their business model. Properly scanning the processes across the organization, transforming the processes to make it automatable and then adopting a phase-wise implementation and COE establishment will yield better ROIs. Improper implementation of RPA can in turn demand manual maintenance and control as the bots may often run into errors, which should have never happened, and this can be overcome with proper documentation.
So What Does That Mean for Your Business?
Adopting RPA tools to handle repetitive and regular rule-based task would provide a lot of value to your business. However, it is not something that can be switched on to "magically transform everything". It is a software application that runs on a script and should be implemented accordingly. RPA bots cannot simply adapt to the situation or modify themselves either, which means that you should configure them as per their intended purposes and specific user interfaces.
It is also important to educate your employees about the use of RPA to automate the specific business processes. This will help to ensure proper administration of the bots as well as the processes where they are implemented. You should also realize that you might need to employ different RPA tools to automate different processes, so it would be better to start slow and scale up as needed.
Conclusion
RPA technology is evolving constantly, and more and more players are entering the market to cater to the varied needs of enterprises. That is why you should choose an RPA solution, which couples the technologies like Artificial Intelligence, Process Orchestration, Machine Learning, and Optical Character Recognition to benefit your needs to the maximum.
Talk to our experts to learn more about RPA and see how you can deploy it effectively and with a planned approach to streamline your business processes.