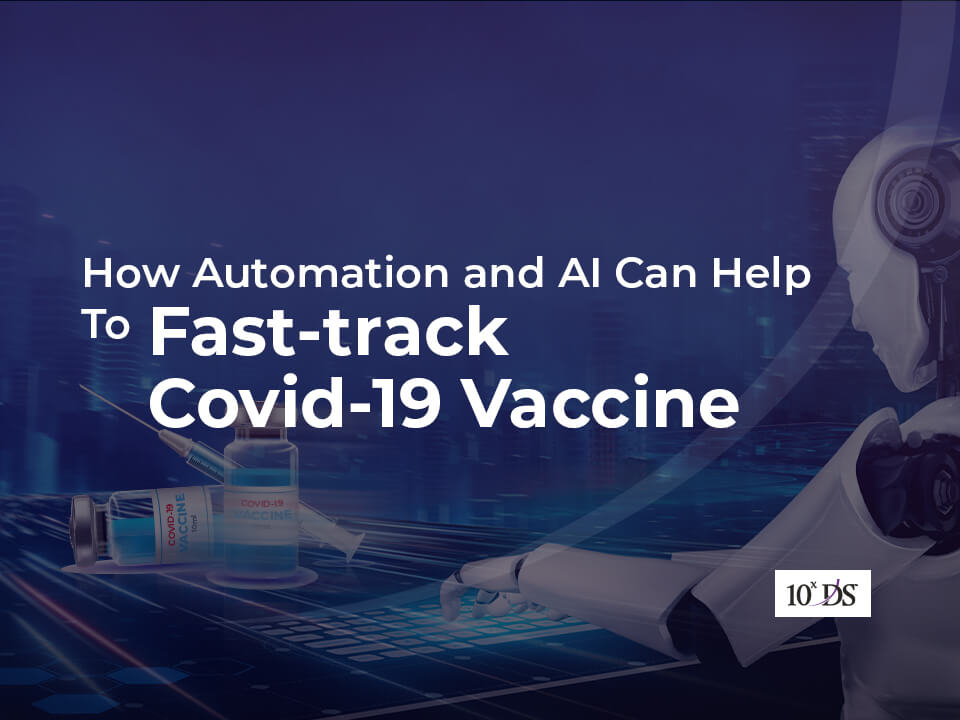 How Automation and AI Can Help To Fast-track Covid-19 Vaccines Rollout
Machine Learning, Artificial Intelligence, Natural Language Processing, and other advanced technologies have been used against the battle against Covid19 since the early days of the pandemic. Artificial Intelligence was helpful in tracking the spread of Covid19, which made it possible for governments and health care providers to considerably reduce the number of positive Covid19 cases.
In addition, AI has been used to scan through an overwhelming number of scientific papers and data to look for treatment options that work. AI has also played an integral role in helping healthcare organizations all over the world to develop vaccines for Covid19 pandemic. AI and several other exponential technologies are currently used for managing the complex supply chain for Covid19 vaccines.
How Automation Can Help In The Rollout Of COVID19 Vaccines
The process of vaccine distribution has multiple elements, which requires a great deal of effort and time from healthcare workers. Workers in the healthcare industry will have two focus more on two vaccine distribution elements. The first one is that they will need to physically administer the vaccine dose to patients.
The second is to evaluate the condition of patients to make sure there are no adverse reactions. The increased demand for the Covid19 vaccines to be made available to the public will surely increase the strain on workers in the healthcare industry. That said, the process of automation can reduce the stress of healthcare workers and help in the Covid19 vaccine rollout.
1. Determine Eligibility Quickly
As most people are probably aware, Covid19 vaccines are delivered to healthcare organizations in tiers of eligibility on the basis of risk factors like age and occupation. Healthcare organizations that are involved in Covid19 vaccine distribution will be able to reduce the stress on their workforce by providing an intuitive self-service experience to patients.
The intuitive self-service experience offered by the organizations will make it possible for patients to determine their eligibility to get the Covid19 vaccines according to the CDC prioritization guidelines. As a result, healthcare workers will not have to waste their time and energy checking the eligibility of thousands of patients.
The IVR (Interactive Voice Response) system or chatbot will direct patients to either make an appointment or ask them to sign up to get notified once they become eligible for the Covid19 vaccination.
2. The Use Of Multi-Channel Solutions To Send Reminders And Make Appointments
Managing and making appointments for patients is a simple and straightforward process, but it can take a considerable amount of time. This is why several healthcare businesses rely on automated systems to create and manage appointments. Another reason to use automated systems for the process is that they are very efficient at handling this.
When you take into factors like the sensitivity of the Covid19 vaccine in terms of temperature and its limited availability, notifying the public about appointments can be considered as an essential – time and cost-saving measure. This is where an efficient digital multi-channel solution comes into play.
Healthcare organizations that are using multi-channel solutions will be able to easily and quickly remind patients about their Covid19 vaccination appointment. In addition, these solutions will alert patients if there are any changes related to their appointments. This will in turn help healthcare workers to save a considerable amount of time, which can be used to focus on other important tasks.
3. Creating Virtual Waiting Rooms
No one would like to stay in crowded waiting rooms or to stand in long lines outside a healthcare facility in the middle of a pandemic. Healthcare organizations will need to come up with an efficient way to get patients in and out of the facility without putting their health at risk. This is another area where automation has helped healthcare organizations.
Most organizations wanted to add more healthcare workers to manage the number of patients who are coming to their facility for Covid19 vaccination. However, healthcare organizations have now decided to use virtual waiting rooms to offer up-to-date information regarding waiting times and to automate tasks.
You will be able to find a number of applications, which will make it possible for healthcare facilities to manage the flow of patients with just email and text messages. The best thing about systems like virtual waiting rooms is that they are capable of efficiently delivering updates to patients without involving staff or workers.
4. Secure and Automated Solutions to fast-track Vaccine Management
Several leading organizations providing solutions leveraging emerging technologies have been helping the community with their Covid19 Response Programs. For instance, recently, Information Builders (ibi) and Blue Prism, a global leader in the field of intelligent automation, are entering into a partnership to offer a secure and automated solution to fast-track vaccine management for Covid19. This collaboration will maximize the benefits of augmented data and intelligent automation, offering healthcare providers the intelligence required to make complex decisions a lot faster.
Conclusion
Most health organizations are greatly focusing on tracking the efficiency of the Covid19 vaccine. In addition, organizations are also checking if there are any adverse effects to patients who have undergone vaccination. This means organizations will have to collect plenty of follow-up data.
Manually collecting the follow-up data from thousands of patients is very difficult. Fortunately, such information can be collected from patients through follow-up surveys that can be automated through email, SMS, and other channels.
Talk to our experts to understand how to employ AI, RPA, and other emerging technology solutions to streamline your business processes and drive better value for your employees and customers.