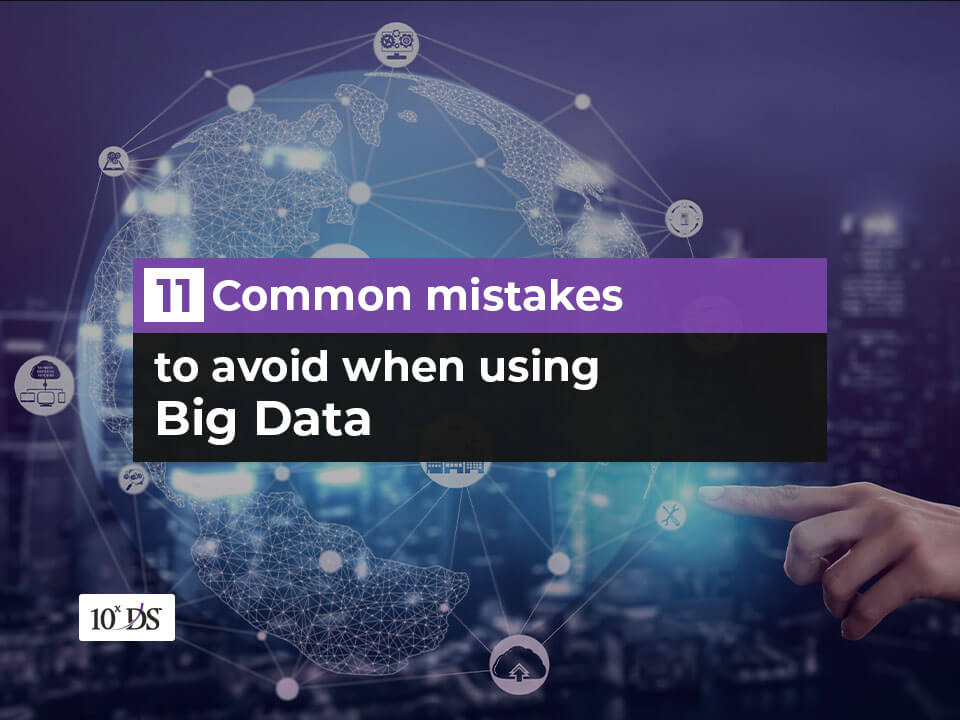 11 Common mistakes to avoid when using Big Data
With the help of the latest technologies, businesses of all sizes have access to rich, granular data about their customers and operations, which is a key strategic asset for them. However, understanding what to do with the massive volumes of data can be difficult and costly for the businesses and even with the right tools at their disposal, it can be overwhelming.
There are very high chances of businesses making mistakes with their data sets with so much complexity around big data.
The most common Big Data mistakes and the best ways to correct them
1. Collecting unplanned data causing breakdown in analysis
Many businesses start their big data initiatives with an incredibly large amount of data collection, without realizing how it will help them. Such a huge amount of raw data does not yield any value apart from utilizing time and resources and leading to stalled projects and breakdown in analysis. A good advice to avoid this pitfall is to create a big data roadmap focussing on critical short and long-term business decisions which will help everyone understand what information can bring value to the business. It is ideal that for the first foray of big data, a business should start with a well-defined initiative. The data should clearly support the business's hypotheses or refute it.
2. Not having central oversight
Not having a central oversight to collect data will lead businesses to end up with duplicate data, columns being used incorrectly or just bad input, all leading to poor quality or inaccurate data. Hence, it is imperative that every business has a role or committee with the mandate to ensure data hygiene in the organization, keeping it clean and giving the required training to users.
3. Allowing data to sit in a silo
There are a lot of businesses collecting and storing data without actually doing anything with it to gain valuable insights from them. So, instead of letting the data to sit on a silo, businesses should start using it to unleash the power to improve operations, inform your product road map and solve perennial obstacles.
4. Limited and short-term focus on ROI
For effectively managing the valuable business asset of customer data, businesses need technology to simplify data collection, auto-scale as data volumes vary and enable core operations, including AI, all while allowing for customization. A common mistake which businesses make is to look for short term ROI from these technologies rather than focussing on their long-term value and benefits they present to the business.
5. Lack of trained personnel
Big challenge businesses have is having tons of data without knowing how to properly analyse it due to lack of trained personnel. For example, predictive maintenance tools like sensors collect large amounts of data that sometimes do not get analysed. Businesses need people who are good in not only sharing insights from data but also in driving organizational change.
6. Not using data to progress
Some businesses become complacent in doing the same thing instead of using data to progress over time. Businesses need to train their employees to follow the latest practices and how they can be smart with data by organizing it, analysing to see the patterns and make the functional improvements.
7. Investing in complex tools and excessive data
Many businesses start using big data solutions even when their datasets are small. Even though all businesses should use data analysis to make their decisions, numerous problems do not require the complex tools associated with Big Data. Also, before investing in time or money to get big data, businesses should check with machine learning experts to understand if the data that is pursued for is likely to improve results and whether the data set is correct.
8. Lacking a dedicated Business Intelligence team
After collecting data easily, many businesses find it hard to get value and insight from the data simply because they haven't invested enough resources in setting up a dedicated BI team which will help them collect, analyse and share data in ways to drive progress.
9. Neglecting data security and governance
While working with big data, businesses should ensure that proper data security and governance is in place to mitigate the security risks around it. To achieve this, businesses should follow an ingenious approach and unified system of controls and processes to secure big data, which should include what data they have, securing control of privileged users and auditing data manipulations.
10. Not moving all the data to Cloud
With companies like Amazon offering cloud storage and management with better infrastructure,  compact security at a fraction of the cost, businesses tend to lose a lot from economies of scale if they do not move their data from on-premise to public, private or hybrid cloud. Apart from this, Cloud also provides flexibility to businesses to use thousands of servers during month-end when there are spikes in numbers and the option to scale down for everyday tasks.
11. Not defining the right KPIs
As businesses are subject to constant changes and dynamics, they should try not to hold on to old Key Performance Indicators (KPIs) used to measure success in the past. Instead, the businesses should use the latest and relevant technology to make advanced big data analytics tools reflect the current performance indicators and identify what drives the business forward.
Conclusion
Big Data helps businesses create new growth opportunities and entirely new business categories by combining and analysing industry data which includes products and services, buyers and suppliers and consumer preferences.
10xDS is driving digital transformation by leveraging our expertise on data and analytics technologies and deep sector experience to enable organizations make effective strategic decisions.
Talk to our experts to get started with your Big Data journey for gaining insights leading to better decisions and strategic business moves.