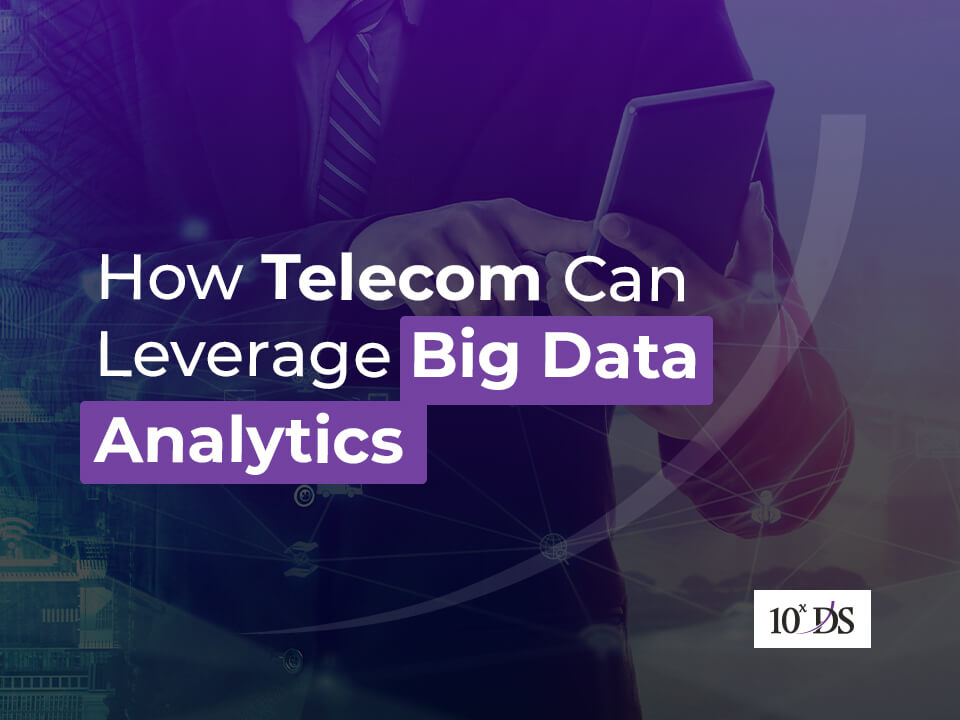 How Telecom Can Leverage Big Data Analytics
A recent study revealed that a telecom company serving approximately 8 million prepaid mobile customers generates 30 million CDRs (Call Detail Records) in a single day. This means that the Call Detail Records generated by such a company annually will amount to almost 11 billion. However, if the same company offers fixed lines and post-paid services, then the amount of generated data will be a lot higher.
A huge amount of data is being produced by connected devices, social media networks, government portals, customer behaviour, billing information, call data records, and more. There is no denying that there has been quite an increase in data volumes over the last few years. Fortunately, telecom companies will be able to transform this challenge into an excellent opportunity with the effective utilization of big data analytics techniques. The wise use and effective analysis of the captured data will help companies to find valuable insights.
Let us take a brief look at how companies in the telecom industry will be able to leverage big data analytics.
1. Better Customer Insights
The use of big data analytics will enable telecom companies to transform enormous amounts of unstructured and structured data into valuable and actionable customer insights. For instance, the data generated by customers can be used to establish customer centric KPIs, develop targeted offers, and even create 3600 customer profiles.
Apart from that, telecom contact care centres will be able to make use of predictive analytics, which is based on expert inputs, technical logs, and customer information to offer an enhanced customer experience.
2. Reducing Fraud
Telecom fraud continues to be one of the major reasons for the revenue loss of several telecom companies. The cost of telecommunication subscription fraud is estimated to be over 12 Billion dollars a year. Most telecom companies have started using fraud detection systems to prevent the issue. The fraud detection systems based on data mining algorithms help businesses to identify suspicious behaviour and fraudulent customers in real-time.
Another major threat for telecom companies is IRSF (International Revenue Share Fraud). The CFCA (Communications Fraud Control Association) recently reported that the telecom suffered 4-billion-dollar losses due to IRSF. There are IRSF detection systems that can help telecom companies to prevent such losses.
3. Churn Prediction
One of the critical challenges faced by most telecom companies is customer retention. Industry trends give you a clear idea that there has been a churn of 20 to 40 percent in the telecommunications industry annually. Acquiring new customers is more expensive to companies than retaining existing ones.
Machine learning algorithms and customer churn analysis make use of the collected data like customer usage, complaints, transactions, and more to gain better insights on customers. This will make it possible for businesses to easily identify customers who are more likely to leave them.
Advanced techniques like data mining are capable of determining decision trees and unseen patterns. This will help businesses with long-term forecasting and detect customer value loss early. This will in turn enable telecommunication companies to identify factors that influence the decisions of customers and even identify potential churners.
4. Monitoring and Management of Network Operations
The telecom industry has already started leveraging the power of big data analytics for the effective management and monitoring of network operations. In addition to that, big data analytics will be used to create predictive capacity models, which will be later used to plan network expansions.
Telecom companies will be able to use the data, which offers the correlation between network capacity and network usage to identify the highly congested areas in their network. This analysis will surely come helpful to telecom companies when they are planning for capacity expansion.
Telecoms will even be able to run specific promotions or campaigns for areas in networks with high or excess capacity. The predictive capacity models can be developed also based on real-time traffic and analytics.
5. Operational Analytics
The telecom industry will be using big data analytics for crucial business operations like cybersecurity, network management, to cut down usage risks, and to minimize revenue leakage. Telecom companies will be able to eliminate revenue leakage and fraud with the help of Big Data-based solutions.
These innovative solutions will help telecom companies to easily analyse both structured and unstructured data. This will in turn enable them to get a better understanding of customer behaviour.
6. Network Security
Network security is another common concern in the telecom industry. Optical fibres are widely used for networking these days, and several issues related to data leakage are being reported regularly. Telecom companies will be able to analyse data related to such risks, which will help businesses to respond to breaches, detect incidents, and mitigate risks with ease thanks to big data analytics.
Conclusion
Big data analytics solutions are significantly changing the way that telecom operators manage their processes and operations. These solutions are key for improving the revenue of telecom companies, to better understand customers and offer them enhanced service. The benefits of using big data and analytics are substantial and its adoption is going to steadily increase over time.
Talk to our Analytics experts to learn more on how Big Data analytics capabilities can help telecom companies to better manage their daily operations and grow revenue.