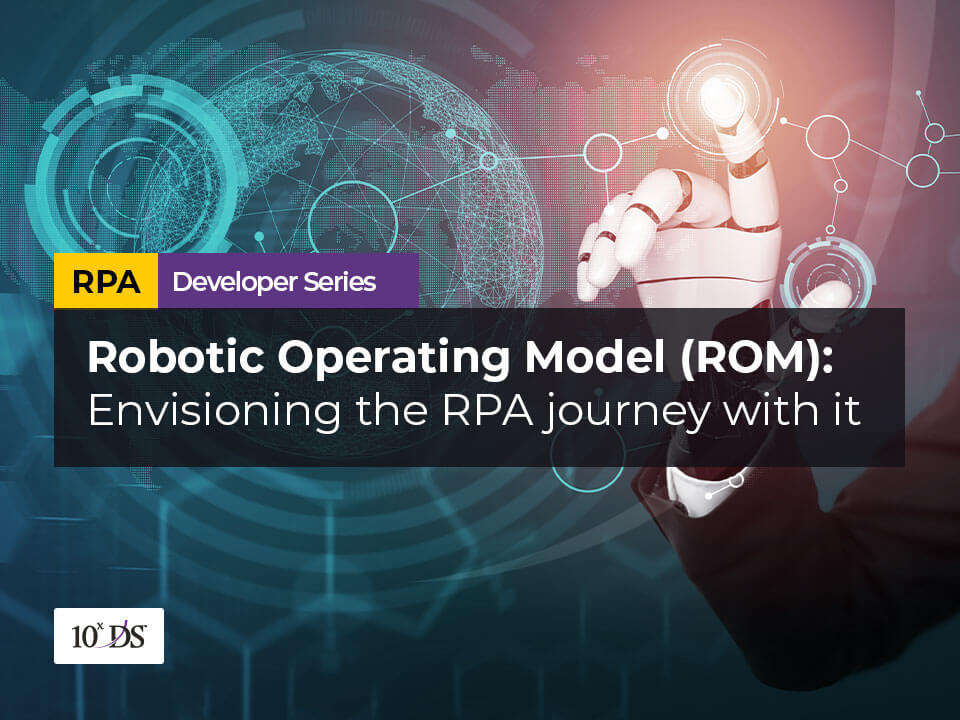 [Developer Series] Blue Prism's Robotic Operating Model (ROM): Envisioning the RPA journey with it
Having a clearly laid RPA objective in tandem with organizations' strategy and vision is the first and foremost step for any organization embracing RPA journey. There are frameworks offered by RPA platform leaders to help in this journey. Blue Prism has an industry-leading approach to deliver maximum business benefit through scaled deployment of Robotic Process Automation. This is termed as the Robotic Operating Model (ROM).
Need for ROM
Blue Prism ROM provides the foundation and support to help clients to discover, deliver and service the Digital Workforce (DW). It helps clients in outlining a strong technology platform on which they intend to build their new virtual teams. Adherence to the ROM ensures an RPA CoE delivers maximum ROI, rather than stagnating. It helps to make RPA solutions available at a faster pace with ease and also enables organizations to scale in a gradual and sustainable manner.
Foundations of the Operating Model
The well thought through seven foundations for this operating model comprises of:
1. Vision
This is a foundation that covers the creation of a vision for the Digital Workforce that associates itself with the corporate strategy and works towards attaining the aligned business objectives.  These visions are forward-looking to support the long-term intelligent automation initiative along with the anticipated benefits.
2. Organization
ROM focusses on the organizational design and its definition in such a way that right from the inception the program projects to maximize the delivery capabilities. Blue Prism always aims at supporting organizations to provide benefits through RPA by the right structure for their program.
3. Governance and Pipeline
Process Discovery and Governance are the two core areas that this foundation covers. It involves assessing and selecting processes to build a viable automation pipeline and implement governance for a managed and secured Digital Workforce.
4. Delivery Methodology
Blue Prism has a delivery approach that is optimal and focussed beyond just software development. It defines the ideal delivery approach and set in policies for rapid and efficient automation in a coordinated and repeatable manner.
5. Service Model
A service model layer clearly demarcates the development and business as usual activities and reinforces the need of support to continuously expand and nurture the automated solutions carried by the Digital Workforce.  This is done with a primary main to help organizations efficiently deploy and handle those automated processes post 'go-live' coupled with rigour around reporting and scheduling around such solutions.
6. People
This foundation focusses on building teams with the appropriate roles and skills to help build and run a successful Digital Workforce. Blue Prism also provides a requirement list that has a set of responsibilities that aims towards running a productive Digital Workforce.
7. Technology
The technology foundation provides necessary advice and support on how to build and maintain a durable and scalable platform for your digital workforce. It defines growth strategies to deliver maximum business benefit.
Conclusion
Any strategic initiatives would require preparation for it to be successful; RPA is no different. Robotic Operating Model has been designed to be completely integrated with an organization's existing change management system, hence, eliminating the need for additional procedural and government obligations. An operating model is necessary to deliver strategic benefits and gain the rewards of freeing up the workforce.
How 10xDS can Help
10xDS experts deliver Blue Prism digital workforce designed to automate complex and end-to-end operational activities and processes across functions and Industries. Talk to our experts to drive Digital Transformations with Blue Prism Robotic Process Automation (RPA)