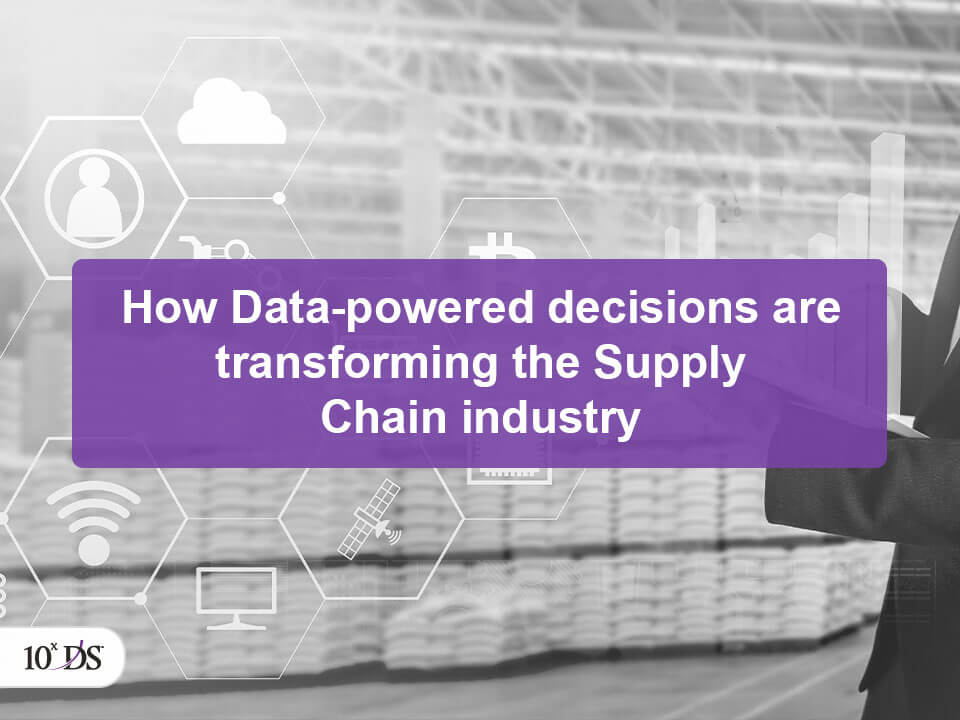 How Data-powered decisions are transforming the Supply Chain Industry
Supply Chain is heavily dependent on various factors such as seasonal differences, consumer preference, weather changes- and others. Managing these factors minutely and effectively will help to curtail costs, manage demand volatility and to make the process more visible for stakeholders. helping organizations become more successful. Big retailers and online stores dealing with a sizeable inventory cannot survive without using the benefits of the latest technologies.
1. Understanding Customers
Customer analysis enables businesses to take key business decisions via market segmentation and predictive analytics. Understanding customer behavior, buying patterns, lifetime value of customers helps in predicting their future purchases from historical purchase data. This is further used to make personalized customer experiences by predicting preferred items, locations and when the specific customer is visiting the store next. For example, Netflix used a wealth of data and analytics providing insight into the viewing habits of millions of international consumers and they commission original programming content that appeals each of them.
2. Planning Promotions
Big Discount Days are a common occurrence and a big success in e-commerce channels these days. But planning these events require large amount of data and analysis. With the use of Big data and analytics methods, companies get answers to critical questions like when to run a promotion, how to segment customers, and whom to target a product. The consulting firm, RedSeer reported that e-retailers like Amazon and Flipkart achieved a record of $ 3 billion of Gross Merchandise Value during their Great Indian Festival 2019, a 6-day promotional campaign in India.
3. Managing Inventory
Weather patterns to holidays, many things dictate the potential demand for items. Keeping inventory in stock for the products in demand is a major factor to increase revenue. Kroger, one of the world's biggest and most profitable grocers used analytic capabilities to gain insights into shopper behaviour and trends and is using that data to make merchandising decisions.
10xDS real-world Use Cases
Case 1: Sales Trends and Forecast using Analytics
10xDS helped a leading Food & Beverage chain in Middle East gain better visibility into KPIs and transform insights into sales forecasts.
Business problem:
The client was faced with the challenge of finding a way to get a consolidated and aggregated view of the business performance across the required dimensions.  Daily reports generated out of the Point of Sale (PoS) data lacked visibility into various performance indicators. The leadership team of the client wanted better visibility of sales to business and a better way to monitor their key KPIs.
How we helped
10xDS interviewed the management and understood their decision-making processes and various data indicators in detail and implemented the solution by:
Developing an analytics solution which reads the daily PoS data from various establishments across the Middle East.
Cleansing and transforming the data and feeding them into a central repository to aggregate the various KPIs
Combining the data with the public data feeds related to the restaurant across the various social media platforms and other public information like weather, local holidays and more to understand the sales trends and brand sentiment.
Developing a simple and intuitive and powerful dashboard using PowerBI to provide insights on various KPIs.
Value created:
Gaining more visibility into the key numbers and indicators, the client is able to streamline budgeting and sales planning to improve sales performance.
With greater visibility into the KPIs, sales prediction is made better with enhanced accuracy.
Implementing our analytics solution, the client can perform brand sentiment analysis to gain greater insight into what people are saying and how they feel about the company and brand.
Case 2: Customer Analytics Solution for a Retail division in Middle East
10xDS helped a leading retail conglomerate to understand their customer better, by using advanced analytics techniques – customer segmentation, propensity forecasting and lifetime value to provide customers a seamless buying experience and to increase the sales.
Business Problem:
A single promotion for the entire customer universe did not yield desired sales
Tailored promotions for each customer segments were not possible due to lack of customer segmentation
No scoring mechanism was available to provide the right kind of promotions for the specific customers
Insights on customer spending habits and visit patterns were not available for the sales team for targeted promotions to enable better conversions
How we helped:
Conducted Discover workshop with the company to understand the business problems and to understand the data collected from customer visits
Developed and implemented a solution with features listed below:

A customer segmentation module that segments customers based on RFM (recency, frequency, monetary) model
A customer propensity model which forecasts the next visit of the customer
Customer Lifetime Value (CLV) based on past purchases (historical CLV)
Value created:
Sales increased by 3x times due to tailored promotions
Insights from customer buying patterns enabled the company to ensure adequate stock
Frequent customers were identified for rewards programs to enhance buying experience
How 10xDS can help
10xDS is driving digital transformation by leveraging our expertise on data and analytics technologies and deep sector experience to enable organizations make effective strategic decisions. Our strong portfolio of data and analytics services includes Information Management, Big Data, Business Intelligence and Advanced Analytics solutions for assisted and semi-automated decision making.
Talk to our Experts to leverage our Analytics COE and jump on the data-driven culture.