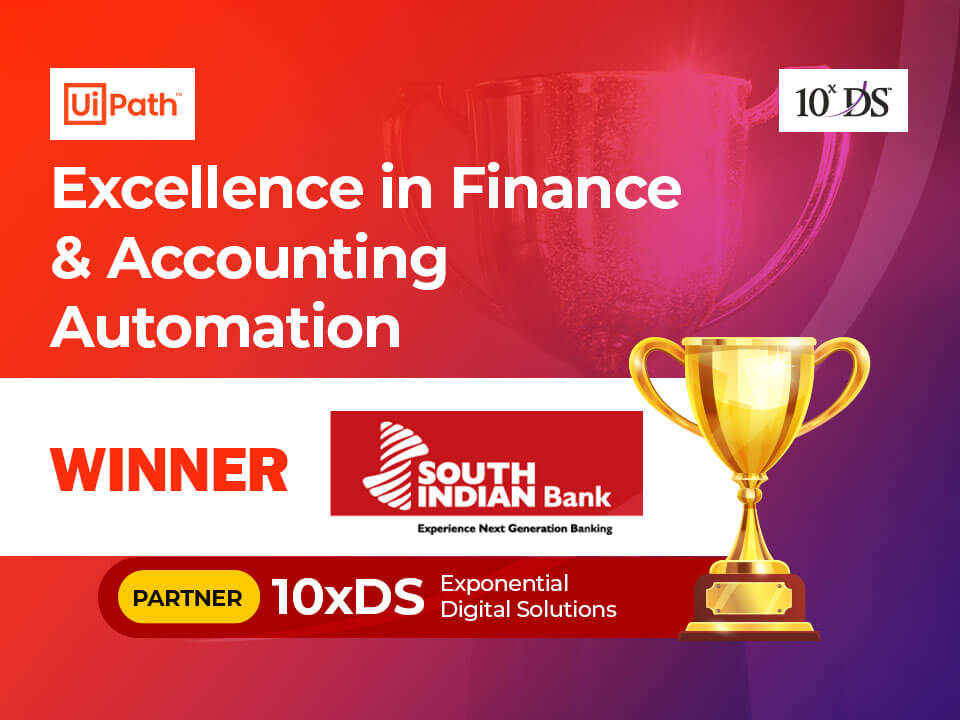 South Indian Bank bags the UiPath Automation Excellence Award 2020 partnering with 10xDS
South Indian Bank (SIB) wins the prestigious UiPath Automation Excellence Award 2020, for the category of 'Excellence in Finance & Accounting Automation' partnering with 10xDS – Exponential Digital Solutions. The UiPath Automation Excellence Awards aims to recognise and celebrate the game changers of Automation in various categories.
Holistically assessing the needs of the Bank, Team 10xDS helped SIB create a robust RPA ecosystem by automating many processes. The solutions simplified and streamlined the time-consuming processes, enabling adherence to regulatory guidelines, reducing risks and better monitoring of processes.
10xDS is privileged to be a valued partner for South Indian Bank helping SIB in achieving their Automation programme. The award is a testament to our commitment and our team's vision and leadership.
About SIB
SIB is one of the leading and earliest private sector banks in India, having one of the largest branch networks.
About 10xDS
Exponential Digital Solutions (10xDS) is a new age digital transformation company where traditional consulting converges with digital technologies and innovative solutions. We are committed towards partnering with clients to help them realize their most important goals by harnessing a blend of automation, analytics, AI and all that's "New" in the emerging exponential technologies.