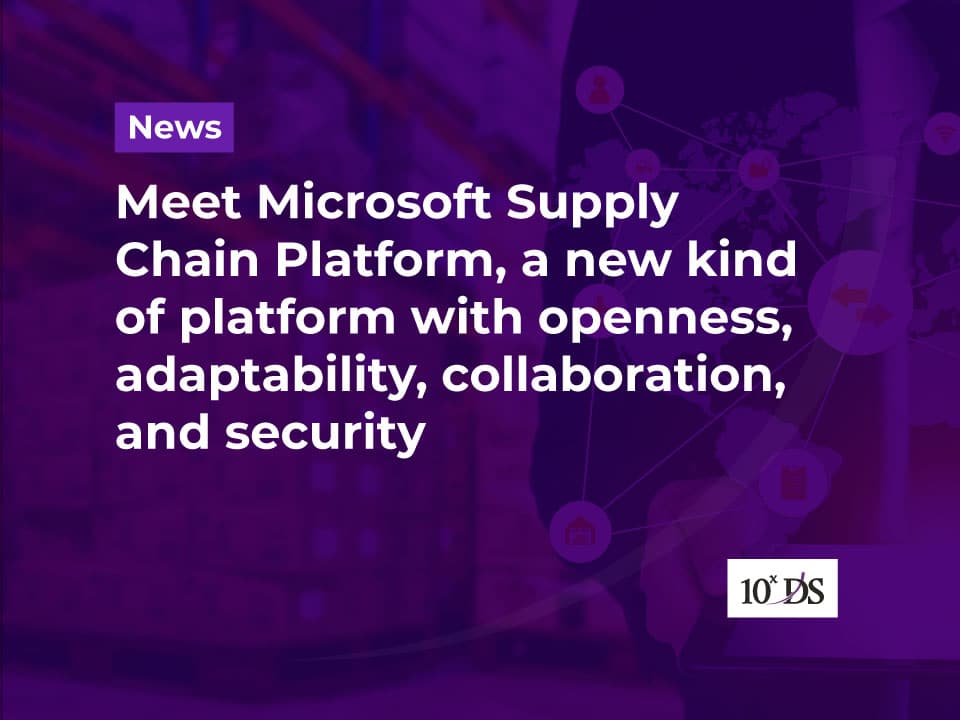 Meet Microsoft Supply Chain Platform, a new kind of platform with openness, adaptability, collaboration, and security 
Supply chain reliability is a top priority for businesses around the world. If there is one thing that businesses have learned over the years, it's that they need to always be ready for the unexpected. It is no longer effective to use the past as a guide when making decisions about the future. Consumer preferences shift frequently, whether as a result of shifting economic conditions or rising awareness of the need to tread lightly on the planet.
At the Microsoft Supply Chain Reimagined Digital Event there were discussions on how supply chain have moved into the C-suite because they are so critical to gaining a competitive edge in the modern business world. Practitioners of the supply chain, both within Microsoft and among their customers, mentioned that the disjointed ecosystems of supply chain technologies needed to be addressed. This is crucial for allowing for real-time, end-to-end supply chain visibility. Because of a lack of insight, customers have a hard time consolidating data in order to foresee and prevent disruptions.
The Microsoft Supply Chain Platform was unveiled in November 2022 to help with these issues. According to Microsoft, businesses can unify user experiences across disparate planning and execution systems with the help of an open, extensible, and adaptable platform. The Microsoft Supply Chain Center is the hub of the Supply Chain Platform, giving users a centralised location from which to oversee a wide variety of supply chain-related metrics. The preview release of Microsoft's Supply Chain Center is now accessible.
Connecting with existing Ecosystem
The majority of companies still manage their supply chains without a unified platform, instead using a mishmash of legacy systems and point solutions that may or may not work well together.
Sixty-five percent of executives say that not having access to real-time supply chain data is a technological barrier to their supply chain operations, and only eleven percent have a cutting-edge, integrated digital solution for their supply chain, according to recent research from Harvard Business Review Analytic Services commissioned by Microsoft.
According to Microsoft, through their Supply Chain Center, they will be assisting businesses in meeting this challenge. To name just a few examples, it can integrate and standardise information from Microsoft Dynamics 365, SAP, Oracle, Overhaul, C.H. Robinson, FedEx, FourKites, and many more. An adaptable, open platform allows them to get the most out of their current setup without having to shell out for anything new. In order to better assess risks, businesses now have near-real-time visibility into data across their entire supply chain.
By establishing Supply Chain Center, Microsoft hopes to facilitate companies' adoption of new supply chain solutions in a phased fashion, allowing them to digitally transform individual functions within the supply chain while guaranteeing that any such solutions will be compatible with the company's current infrastructure. The key is to maximise output while minimising input.
Improve Supply Chain Transparency
Once companies have conquered the data visibility barrier, they can use the Supply Chain Platform to draw actionable insights from their consolidated data in order to foresee stockouts, ship delays, and avoid overstocking. Tracking orders from the time they're placed until they're delivered to the customer allows businesses to anticipate and head off potential problems. Only through the use of a single, unified platform can the entire process be seen and monitored.
The platform helps companies to anticipate any parts shortages in their supply chain using the Supply Chain Center's AI-powered supply and demand insights capabilities, which harness data flowing from the rest of the platform, and take steps to proactively mitigate them and deliver on their promises to customers, dealerships, and partners.
Almost a third of businesses have trouble with internal supply chain teams not working well with external partners, according to the research conducted in conjunction with Harvard Business Review Analytic Services. The supply chain team can quickly implement these suggestions by collaborating internally or with external suppliers using Microsoft Teams capabilities right from within the Supply Chain Center, eliminating the need to switch between different applications.
Become more adaptable in order to satisfy market needs
According to Microsoft, with the Supply Chain Platform, businesses can easily modify their operations to meet their evolving requirements. With Dynamics 365, businesses can optimise inventory with a real-time view of inventory across channels, reduce delivery lead times by running material resource planning (MRP) frequently throughout the day in a matter of minutes, and keep order promises by reserving inventory for high priority orders.
By rapidly deploying pop-up warehouses with robotic automation, businesses can gain flexible capacity to better meet seasonal demand, and warehouse workers can gain additional agility by using the mobile warehouse app to carry out the warehouse processes.
Boost effectiveness and productivity
The current state of operations is disjointed and rigid for many producers. Microsoft believes that their new Supply Chain Platform allows businesses to increase efficiency, cut expenses, and boost profit margins all while enhancing the working conditions of their employees through the use of intelligent automation. With Dynamics 365, businesses have a powerful tool for creating a streamlined, intelligent manufacturing process that is also user-friendly on the factory floor thanks to a streamlined, touch-friendly execution interface. With Microsoft Power Automate's new process advisor features, businesses can gain valuable insights into where optimization and efficiency gains can be made through low-code automation by identifying process bottlenecks.
Native integration with any manufacturing execution system (MES) without having to replace it is a great way for businesses to increase visibility on the production floor. Artificial intelligence-driven, capability-matching production scheduling allows them to make the most efficient use of their tools and resources.
More than a third of businesses had trouble finding qualified workers with supply chain expertise, according to a study conducted by Harvard Business Review Analytic Services. The Supply Chain Platform provides frontline workers with holographic work instructions that increase safety, efficiency, and quality. Collaborate in real-time with subject-matter experts using mixed reality and Teams' in-built features to boost output while minimising wasteful travel.
Enhancing Security and long-term viability
There has been a dramatic increase in both the number and complexity of environmental threats that businesses must contend with. There has been a tripling of the attack surface area due to the proliferation of unmanaged devices on the Internet of Things (IoT), ICS, and OT. Any serious business must make protecting these gadgets a top priority. By enhancing cyber security, physical management, and endpoint security across their entire supply chain network with multiple levels of security and continuous updates and patches, the Microsoft Supply Chain Platform helps businesses create a secure supply chain and detect and prevent any cyber threat.
Sustainable design, sourcing, manufacturing, and fulfillment are just some of the sustainability initiatives that can gain momentum with the aid of the Supply Chain Platform. Retailers can improve their return processes in a sustainable manner by using the Supply Chain Center's order management tools, which include out-of-the-box connectors to FedEx. With the help of accommodating carriers, businesses can switch to accepting returns without boxes, reducing packaging waste and facilitating the shipment of multiple returns in a single outing.
Supply Chain Center's rules-based fulfillment orchestration engine helps businesses fulfill orders in a way that is good for the environment while still keeping their word to customers. For instance, a rules-based setup permits businesses to strike a balance between reducing emissions and satisfying service-level agreements (SLAs), such as making sure packages get delivered on time.
Dynamics 365 allows businesses to adopt responsible and environmentally friendly purchasing policies. They can use sustainability scoreboards to help them make data-driven decisions about how to alter their supply chain to better meet their sustainability metrics and objectives.
Promoting circularity is another approach to sustainable operations. Reducing carbon emissions essentially boils down to reusing or recycling products rather than discarding them after their initial purpose has been served. Companies may find a new source of income as a result of this.
Collaborate with customers to drive supply chain innovation
Partners can leverage Microsoft Supply Chain Center, Dynamics 365 Supply Chain Management, Microsoft Azure, Teams, and the Microsoft Power Platform, along with their own industry and domain knowledge, to build out comprehensive solutions on the Supply Chain Platform.
10xDS is a Microsoft Gold Partner because of the company's expertise in providing advice and support for Microsoft's many offerings. We are well-versed in Microsoft's products and services and can help you determine which ones will be most useful for your business.
Talk to our experts to learn how to speed up development, improve efficiency, and enable innovations with Microsoft products and services.