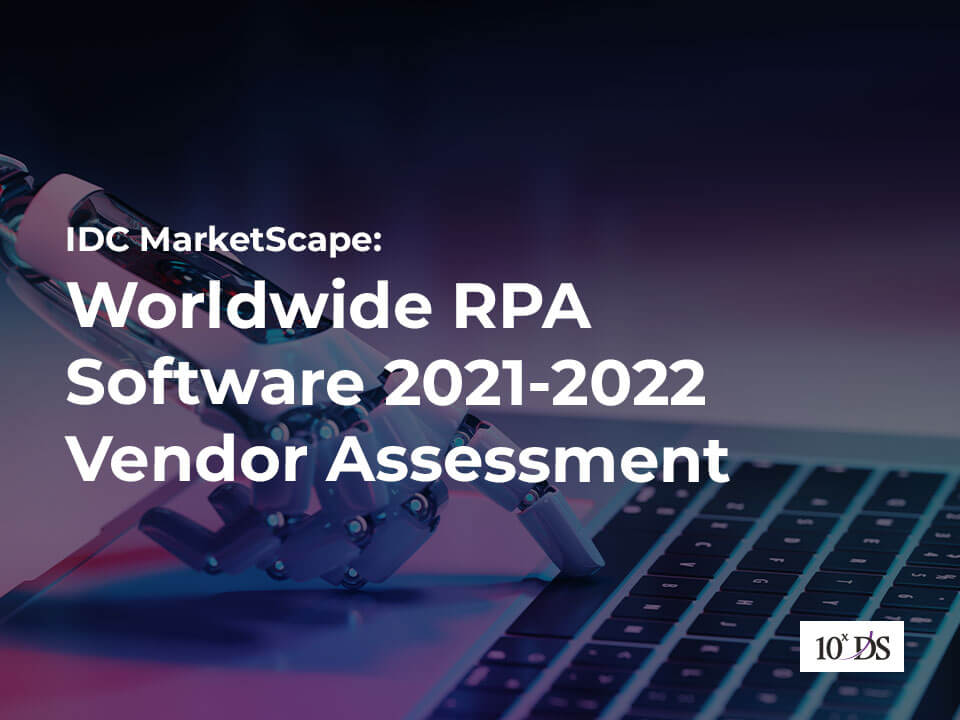 IDC MarketScape: Worldwide RPA Software 2021-2022 Vendor Assessment
The IDC MarketScape, which is the ICT industry's popular and leading vendor assessment tool, offers comprehensive quantitative and qualitative technology market assessments of ICT vendors for a wide spectrum of technology markets across the globe. This year, IDC MarketScape for RPA recently evaluated 12 companies with RPA offerings providing pure-play RPA software platforms and RPA capabilities of multimodal automation platforms. There were 10 evaluation criteria categories including RPA capabilities, innovation strategy, and customer satisfaction. Of the twelve technology companies that were evaluated, UiPath, Automation Anywhere, Blue Prism, Kryon, and EdgeVerve Systems were recognized as the Leaders. The other seven including Microsoft, Kofax, SAP, IBM, Appian, Pegasystems, and Nintex were named as Major Players.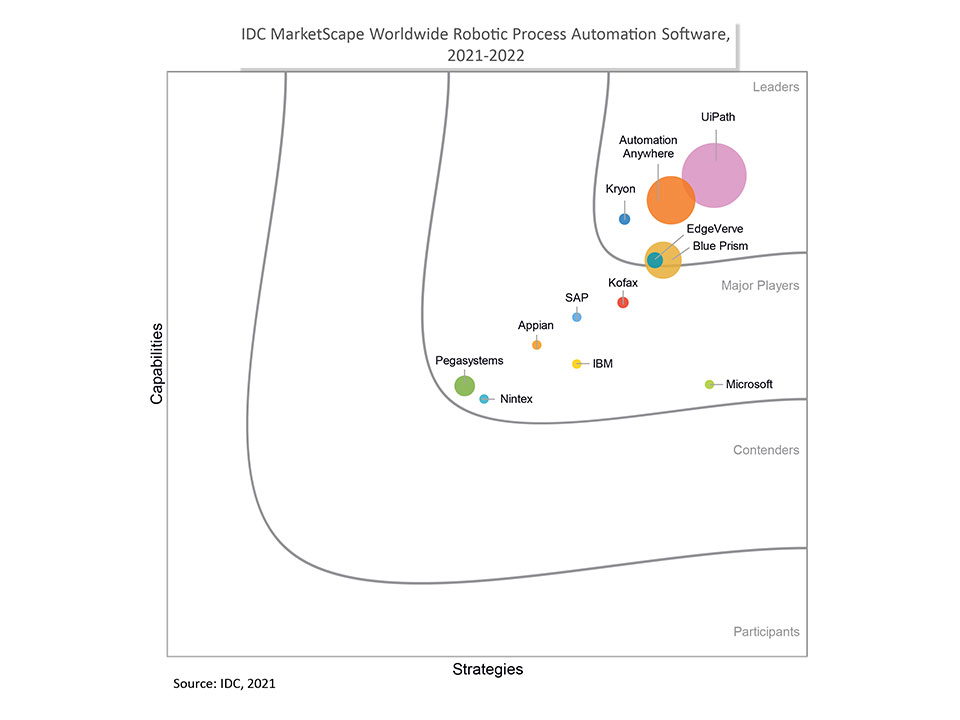 The primary goal of the IDC MarketScape vendor assessment is to understand when the robotic process automation (RPA) software is critical to an enterprise's automation strategy, and which vendors should the enterprises consider for adoption. There are several factors considered while evaluating the vendors, including the range of capabilities required, user-friendliness, security, runtime efficiencies, pricing of the solutions, whether adoption is strategic or tactical, the developer roles needing support, the capability of integration and interoperability with other automation technologies, among others.
The vendor inclusion criteria were designed to properly depict the vendors that are accurately representative of any given RPA buyer's selection list. Some of the inclusion criteria considered were: having RPA capabilities as part of a sustainable business, whether RPA is offered standalone or is part of a larger technology portfolio, ability to support and scale to meet the needs of large to enterprise-sized organizations, operations in North America and at least two additional regions, among others.
Again, there are several factors to be considered for enterprises to make the right decisions about RPA adoption. According to a global survey conducted by IDC on the RPA adopters, 89% of people said RPA met (54%), exceeded (26%), or significantly exceeded (9%) expectations. Vendors that exceeded or significantly exceeded expectations offer RPA platforms that provided higher satisfaction levels to business users with simpler development experiences.
As RPA platforms gain prominence and greater adoptions, we will see far more enterprises utilizing this technology to enable and drive automation-based innovation across processes, helping individual workers and smaller teams to work together.
About IDC MarketScape
IDC leverages the IDC MarketScape model to offer a systematic assessment of several providers participating in the global network consulting services market. IDC MarketScape offers evaluations based on its comprehensive framework and several parameters used to assess providers relative to one another, and also considers those factors that are most conducive to success in the respective markets.