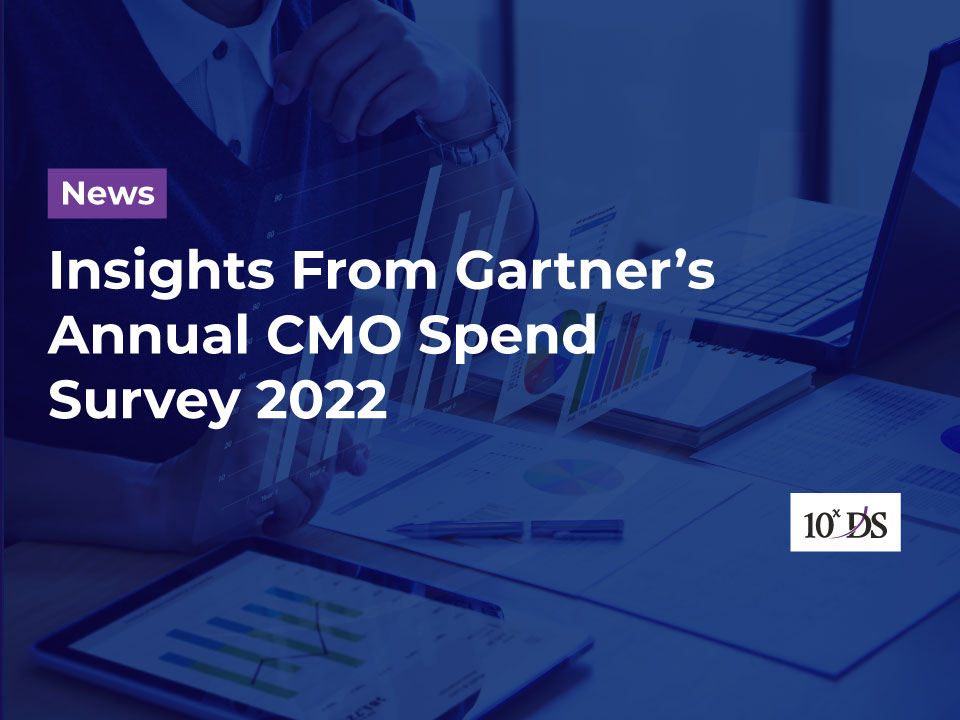 Insights From Gartner's Annual CMO Spend Survey 2022
Gartner's annual CMO Spend and Strategy Survey examines marketing budgets, spending, and strategic priorities. It aims to show how CMOs deal with a variety of fiscal, geopolitical, and cultural realities. Are marketing budgets now recovering after record lows in 2021? How are CMOs allocating budgets to ensure that enterprises can grow in these uncertain times? Although they are making strides towards recovery from their historic lows there is still much to be done. This is mainly because a multitude of cultural and geopolitical challenges have appeared. This raises the question of how the marketing plans will adapt. Gartner's CMO Spend and Strategy Survey give a snapshot of current marketing budgets, strategic priorities, and spending. The budgets are rebounding from record lows, and CMOs remain optimistic, despite possible signs of future disruptions.
Marketing budgets are getting better as they rise back
According to the Gartner's survey results, the budgets are starting to recover with marketing spending increasing from 6.4% up to 9.5% across nearly all industries. This is a substantial increase, but budgets still fall behind pre-pandemic levels. Between 2018 and 2020, the average budget was 10.9% of company revenues.
Travel and hospitality, financial services and tech product companies are the most notable, with budget increases of 10.4%, 8.4%, and 10.1%, respectively. However, consumer goods CMO spending decreased from 8.3% to 8.0% between 2021 and 2022. Consumer goods brands are being hit hard by inflationary pressures, rising costs-of-living and low consumer confidence.
There is optimism despite future disruptions
Survey respondents believed that inflationary pressures would have a positive effect on investment and strategy in the coming year. Marketing has often been caught unaware by budgetary shocks in the past. However, it is also important that 2022's optimism see some positive end results. It is imperative that companies and CMOs take the time to prepare for this uncertainty. This includes creating scenario plans and considering the possible downstream consequences of disruptions.
Customer Journeys are experiencing a drastic shift
CMOs are moving from digital-first to hybrid multichannel strategy. Online channels make up 56% of 2022 marketing budgets, but offline channels account almost for half of available budgets (44%). This is a more equal split than in previous years. Social advertising is the most popular digital spending category, closely followed by digital display and paid search. Marketers will continue to choose social advertising as a viable option in 2022 because it offers highly targeted messages on a large scale.
Its "back-to-basics" for Marketing 
Budget allocations to marketing priorities are shifting towards core marketing capabilities as buyers move on to new buying paths. CMOs were asked about their top three investments in marketing, and they indicated that they are spending the majority of their budget on operational areas and programs.
Campaign management and creation (10.1%)
Brand strategy (9.7%).
Marketing operations (9.6%).
This is a return to the core value proposition of marketing: to increase awareness and engagement through compelling brand marketing and campaigns that connect customers to deliver results. When CEOs are asked what issues they want their CMOs to focus on in 2022 (Gartner's 2022 CEO and Senior Executive Survey), CEOs respond saying going back-to-basics as an approach. They also cited saying acquisition, retention, and engagement as the top priorities.
Marketing needs to improve on critical internal capabilities
CMOs face challenges with their capability gaps, even though CEO-CMO collaboration is a win. According to the survey report, marketing data and analysis is one of the top-three capabilities gap, cited by 26% of the CMOs. While 23% of the CMOs feel customer understanding and experience management as their capability gap. 22% of the CMOs cite that they face challenges in the marketing technology capability gaps in their team.
Conclusion
According to Gartner, it is vital for CMOs to develop and maintain the capabilities necessary to achieve their goals. However, little has changed in budget allocations for labor, agencies, technology, and media over the years. CMOs are aware that large-scale marketing changes must be made. They also need to re-evaluate the role of the function in order to realize their long-term goals in the enterprises.