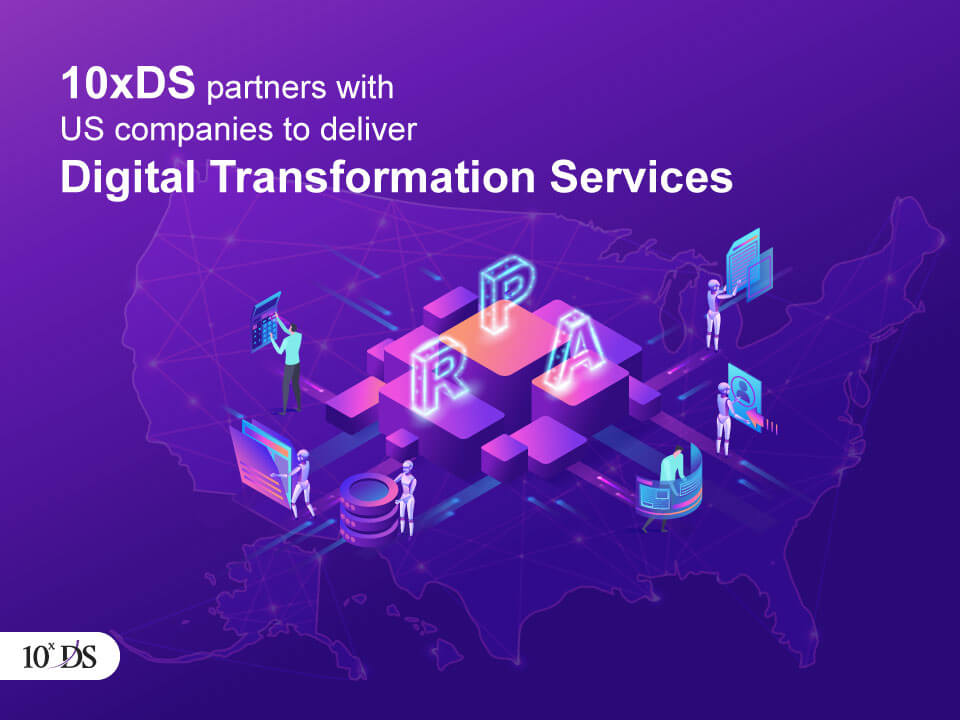 10xDS partners with US companies to deliver Digital Transformation Services
The average budget for digital transformation was around 14 million dollars in 2018,  This was revealed in a survey conducted among 1,200 mid to large scale companies in the United States. The survey had also pointed out that the digital transformation budget of US companies will continue to grow, and it has proven to be accurate.
It is evident that digital transformation services can help businesses to make their operations more efficient, increase revenue, and make informed data-driven decisions. Several companies in the US have realized the need for digital transformation right after the Covid19 pandemic. As a result, we will be able to see more and more enterprises making investments in AR/VR, IoT, and AI in the coming years.
Exponential Digital Solutions (10xDS) is partnering with companies in the US to help US enterprises harness the power of AI, Analytics, Intelligent Automation, and other emerging technologies. The digital transformation services and solutions offered by 10xDS helps these companies to offer better end-user experience, transform processes, and provide value for their customers.
10xDS is greatly focussing on enabling companies in the United States to enhance their existing business models with the right technologies and adaptations that suit their needs. 10xDS looks to align exponential technologies that include Advanced Analytics, Robotic Process Automation, Internet of Things, Artificial Intelligence, among others with the existing infrastructure and services of the enterprises in the US.
10xDS aims to help companies in the US increase efficiency, minimize costs, automate repetitive manual processes, and gain data-driven insights. The services offered by the company caters to a wide range of sectors and industries that includes insurance, banking and finance, logistics, telecom, manufacturing, retail, oil & gas, shared services, and more.
About 10xDS
Exponential Digital Solutions (10xDS) is a new age digital transformation company where traditional consulting converges with digital technologies and innovative solutions. We are committed towards partnering with clients to help them realize their most important goals by harnessing a blend of automation, analytics, AI, and all that's "New" in the emerging exponential technologies.