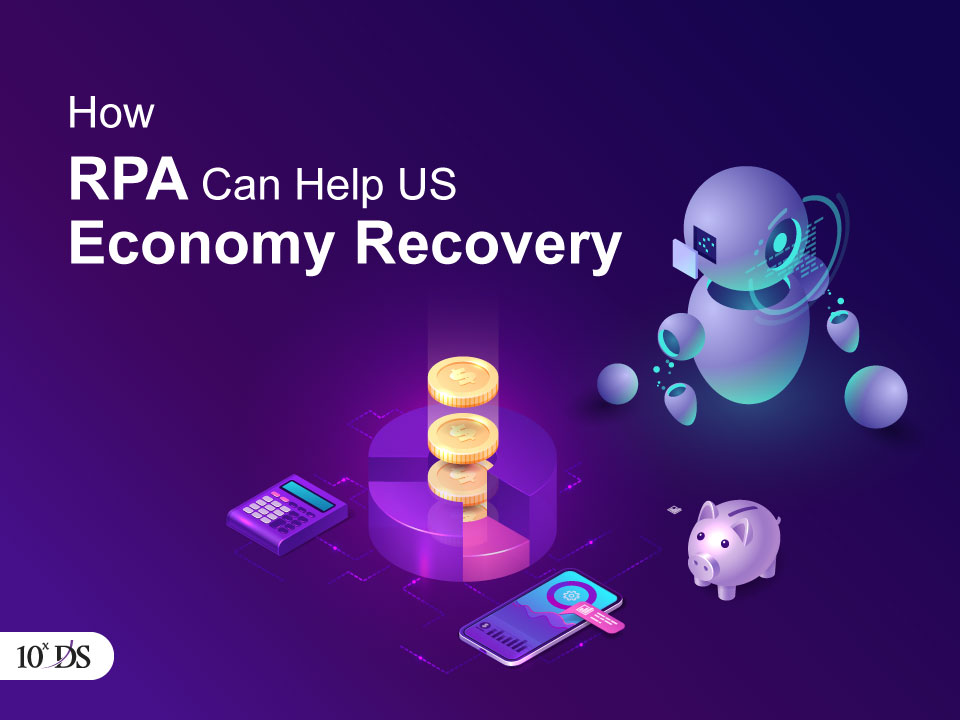 How RPA Can Help US Economy Recovery
The Covid19 pandemic has profoundly changed the way we live and work. The pandemic has affected our health, disrupted livelihood, and prompted several people to adopt a new style of working and running businesses. Several small and medium-sized businesses in the US that contributed to approximately half of the United States GDP struggled during the pandemic. These businesses will surely need to implement profitable, resilient, and adaptable approaches to rise back after the pandemic.
Several businesses had to urge their employees to work from home due to the pandemic. As a result, they had to adopt new processes and rely on technology to efficiently communicate with their employees. It is evident that the trend of working remotely will continue even after the Covid19 pandemic. This move to remote working has encouraged several businesses to adopt new technologies.
The Expansion Of Digital Transformation Initiatives
A recent study conducted by the IFS revealed that 52 per cent of the companies in the world are planning to expand digital transformation initiatives. Several larger enterprises have made it clear that they will be expanding virtual capabilities, investing in the latest technologies, adopting RPA (Robotic Process Automation), and exploiting Artificial Intelligence.
It is not just large businesses that are relying on technology to survive after the pandemic. Several small businesses have decided to increase digital payment options, invest in accounting programs, and update websites. Several business owners are hopeful that the use of Robotic Process Automation (RPA) will help their business to recover after the pandemic.
A Beginner's Guide To RPA
Robotic Process Automation or RPA is a technology that is focused on automating different types of business processes. With the help of RPA tools, businesses will be able to easily configure a robot or software to interpret or capture apps for data manipulation, process transactions, communicate with other systems, and trigger responses.
In simple words, RPA serves the crucial function of taking over mundane work, which will allow employees to focus on other important processes. For instance, RPA is often used to perform repetitive tasks that include data entry, spreadsheet manipulation, automated data reporting, customer outreach, and more.
RPA robots are capable of triggering responses, working across several internal systems, and they can even communicate with other systems. RPA robots also have the ability to perform a number of repetitive tasks accurately and a lot faster. The bots can work 24 hours a day all week without slowing down, making sure all repetitive tasks and other processes are taken care of.
How RPA Is Different From Traditional Automation
You may have seen traditional physical robots, which work in manufacturing assembly lines instead of human workers. What makes RPA different from traditional automation is that it does not replace workers, instead, it works together with them. In simple words, RPA focuses on automating tasks, not jobs. RPA works as a digital assistant to businesses taking care of the low-value and repetitive tasks, which may take a considerable amount of employee working time in normal cases.
Apart from that, RPA is easy to learn, easy to install technology, which even people with little or no technical expertise will be able to understand quickly. Businesses of all sizes will be able to easily automate processes leveraging RPA at a lower cost. The ability of RPA to deliver higher Return on Investments and enabling reduction in low-value tasks makes it an ideal automation option for different types of businesses.
Why RPA Is Beneficial To Governments
RPA is capable of automating workflows, which involve legal systems, and which does not have a database, VDI, or API access. RPA works pretty well with the existing ecosystem and easily connects disjointed systems without the need for costly implementation. RPA can also be quickly implemented in times of critical or crisis situations. For instance, RPA can be used when there is an emergency to issue stimulus checks or when there is a sudden increase in the number of loan applications.
Can Automation Help US Economy Recover?
The Covid19 pandemic has forced both small and large-scale companies to make use of automation. The National Bureau of Economic Research recently released a paper that confirmed that the move towards using automation may happen faster than perceived earlier. This is mainly due to the huge investments made in technology for adopting production processes in times of the Covid19 pandemic.
Conclusion
Several enterprises in the US have started to embrace the process of automation to combat the challenges raised by the Covid19 pandemic. For instance, companies that belong to sectors like oil and gas, healthcare, manufacturing, retail, BFSI, among others are already making use of robotics and automation software and associated technologies to streamline their processes.
Talk to our experts to learn more about RPA and kickstart your automation journey to stay competitive in the industry.