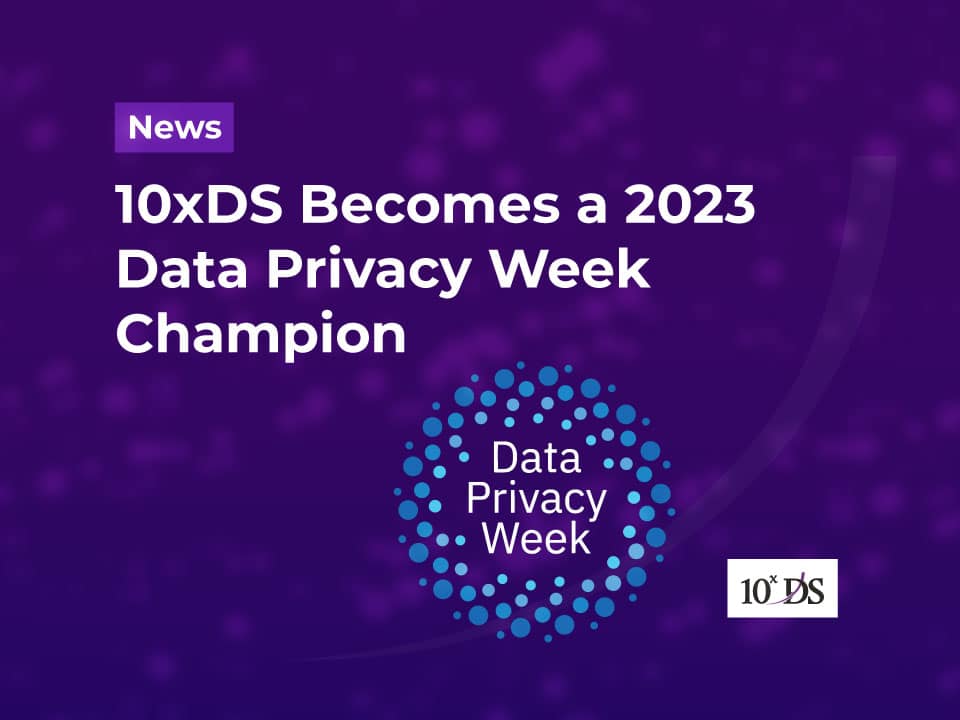 10xDS Becomes A 2023 Data Privacy Week Champion
10xDS is pleased to announce that it has joined the ranks of the 2023 Data Privacy Week Champions. Because we believe that protecting people's privacy is everyone's job, we are dedicated to doing what we can to maintain our status as responsible custodians of private information.
The goal of the annual Data Privacy Week event is to raise awareness about the importance of protecting the privacy of users' personal information and to encourage businesses to adopt more privacy-friendly practices. An extension of the original Data Privacy Day, this weeklong event (January 22–28, 2023) will rally people and organisations all over the world to improve people's time spent online.
In order to assist both individuals and businesses in adopting more secure methods of handling sensitive information, the National Cybersecurity Alliance has provided the following guidelines:
Individuals: Data: The Story of You
An individual's digital footprint is a record of everything they do online. Their online activities, preferences, and purchases are tracked by various websites, apps, and services. Information such as your Social Security number and driver's licence number may fall under this category. Health information is just one example of the kinds of physical self-data that can be included; another is the number of steps you take each day, as tracked by a smartwatch.
Although they may not be able to manage every aspect of how their personal information is used, you are not completely defenseless. A few easy clicks can usually determine the extent to which you share information. Don't forget that you have the right to be picky about who sees your data.
Businesses: Respect privacy
When it comes to gaining customers' trust and keeping their business, there is nothing more important than protecting their personal information. 79 percent of adults in the United States are worried about the privacy of their personal information, according to the Pew Research Center. Businesses should differentiate themselves from the competition by being transparent about their data usage and taking privacy seriously.
Companies must be transparent and should not hide the fact that they are collecting, using, and sharing customers' data. They should think about how users anticipate their data will be used and make privacy settings the default. Businesses should explain concisely and clearly to the general public what privacy means to them and how they intend to protect it.
10xDS is participating in this initiative to raise public awareness about the importance of safeguarding private information. Our firm is of the opinion that stronger privacy and security measures at both home and in the workplace are an important factor in preventing the misuse of private information. Experts in cybersecurity and data privacy at 10xDS hold regular training sessions on data privacy and best practises to ensure that all employee data is protected from unwanted eyes.
Visit stay safe online for more information about Data Privacy Week and how you can get involved.