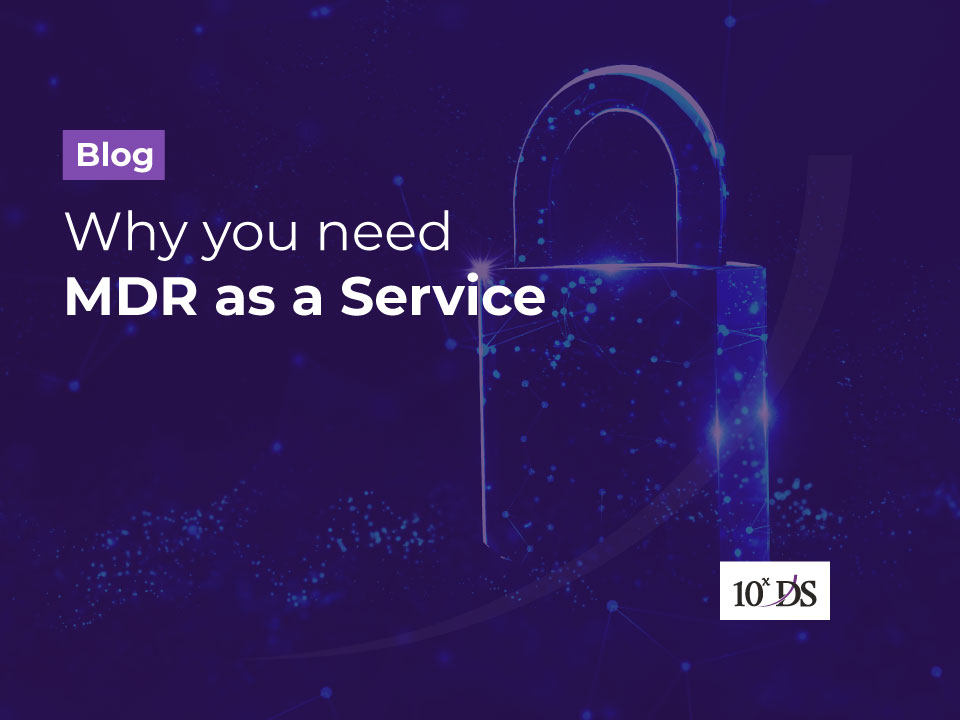 Why you need MDR as a Service
With the meteoric rise in cyber threats and a talent scarcity in finding quality and skilled cybersecurity professionals, Managed Detection and Response (MDR) can assist organisations in improving incident detection, investigation, and response without adding more people to the team. To strengthen cyber resilience, MDR offers a potent and effective blend of technology, analytics, and human intelligence.
There has been a shift in cybersecurity priorities away from IT and into the C-suite boardroom. Companies are investing heavily in cyber resiliency strategies that involve comprehensive threat advice, vigilant monitoring, and prompt response. With the correct foundations in place, MDR is becoming a great solution to significant enterprise cybersecurity concerns, enabling businesses to satisfy strategic priorities for effective cyber security programs.
What Is Managed Detection and Response (MDR) as a service?
MDR as a service refers to outsourced cybersecurity services designed to protect your data and assets even if a threat evades typical company security procedures. An MDR security platform is a sophisticated 24/7 security control that frequently combines a variety of essential security functions, such as cloud-managed security for enterprises that cannot operate their own security operations centre. MDR services brings together advanced analytics, threat intelligence, and human knowledge in incident investigation and response at the host and network levels.
What problems does MDR as a service address and why do organizations need it?
As the number, diversity, and sophistication of cybersecurity attacks skyrocket, it becomes increasingly difficult for organisations to keep their security operations centres staffed with highly skilled employees and equipped with the necessary resources. Companies providing Managed Detection and Response services recognise the importance of improving an organization's cyber defences while keeping the costs low, so they've developed a wide range of services designed to do just that.
MDR services provide highly trained analysts with access to state-of-the-art security methods and current global databases that are typically beyond the means of most businesses. So, it's less of a challenge to adapt to the new forms of threats that crop up all the time.
By incorporating Endpoint Detection and Response (EDR) tools, MDR services provide an alternative for businesses seeking cutting-edge security products that can be challenging for security operations teams to understand and maintain. Therefore, without the hassle and cost of maintaining a fully staffed and up-to-date internal security team, a company can increase its level of threat monitoring, identification, and analysis.
There is more to MDR services than just better detection and response times. They also provide security personnel, who may already be stretched thin, with increased threat intelligence and proactive defence intelligence. In addition to better detection, the time a breach is open is reduced. Compliance issues can also be mitigated by using MDR services that offer comprehensive stakeholder reporting and record retention across a wide range of rules and standards.
10xDS Managed Detection and Response (MDR) Services
10xDS Managed Detection and Response (MDR) as a service is based on the industry-leading Enterprise-Grade Active-EDR, which includes Al-powered prevention, detection, response, and threat hunting across user endpoints, containers, cloud workloads, and loT devices. All of this turnkey security is available for less than the cost of hiring a single security analyst.
Benefits of 10xDS MDR as a Service
1. Actionable and Noise Suppression Alerts
The customer's assets are monitored 24×7 by dedicated named MDR analysts. Every detected alert is triaged, and custom incident report tickets are manually created. Noise is suppressed and only True Positives are escalated so that customers do not have to deal with overwhelming alerts and false positives.
2. 24×7 Access to SOC and Customer Data
Customers can gain full access to EDR Multi-Tenant Instance and to the SOC Ticketing Portal. We provide 24×7 Real-time Incident Alerting & Triage by MDR. Our MDR Analysts are available to jump on Incident Containment Bridge Calls to hel.
3. Predictable Monthly Costs and No Contracts
Customers can subscribe to the service with a Month-to-Month Subscription Contract ensuring a predictable fixed cost for their security operations. Our services help significantly reduce operational complexity and operational costs.
Conclusion
Since sophisticated threats are getting better at evading conventional controls and detection methods, they are becoming increasingly difficult to identify and tackle. The goal of any MDR as a service is to strengthen the enterprise's ability to recognise, investigate, and respond to incidents. In order to improve the hunting and response times, 10xDS MDR as a service makes use of an optimal mix of cutting-edge technologies, analytics, and human intelligence to fortify the cybersecurity posture of enterprises.
Talk to our cybersecurity experts to subscribe to our Managed Detection and Response (MDR) Services and get ready for super-fast threat detection, containment, and response!