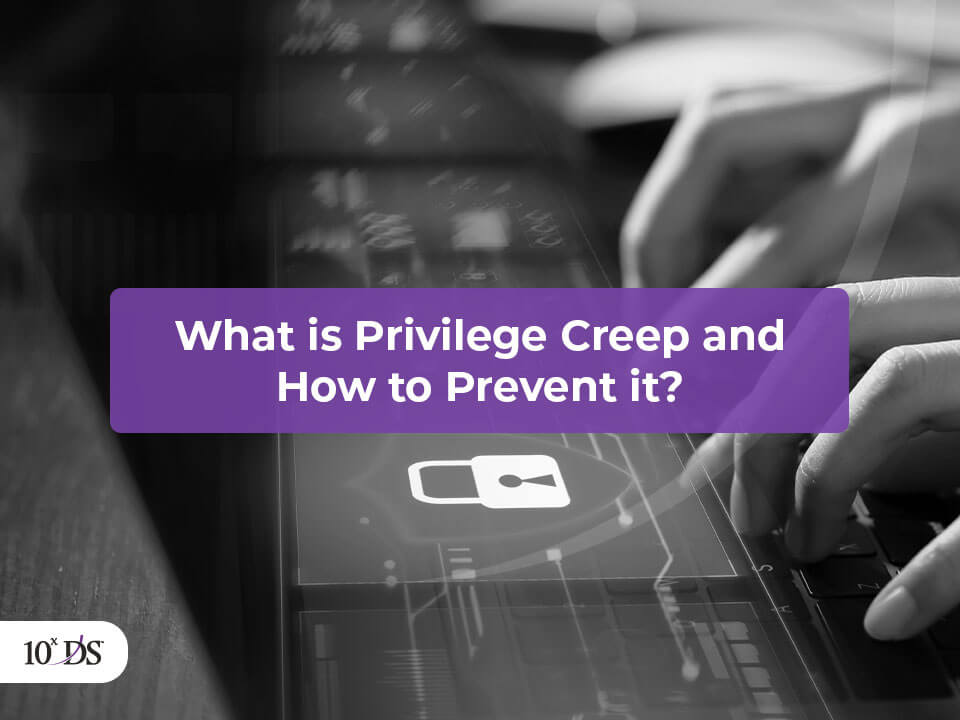 What is Privilege Creep and How to Prevent it?
According to Verizon Data Breach Report, over 80% of breaches within hacking happens because of brute force or the use of lost or stolen credentials. User credentials do play a huge role in network security. It is very important to keep tabs on what databases each user can access and what privilege they should ideally have.
Let us consider this scenario, in an organization, employees have their access privileges such as the right to access a particular system resource such as a folder, document, reports or sensitive data. When an employee gets promoted or have their job role changed, he may be granted new set of privileges. For various reasons, this employee may have to retain his or her old privileges while transitioning to the new role. This employee may not need the old privileges after some time, and this can lead to the accrual of privileges.
What is Privilege Creep?
Privilege creep is the slow accrual of unnecessary permissions, access rights, and privileges by individual users. In such a scenario, the user wielding more privilege than necessary can pose a significant security threat. Privilege creep is very common among enterprises, especially in some IT companies where access to sensitive data, Separation of Duties (SOD) and Account Management is not properly controlled.
How Privilege Creep Happens?
There are two main reasons why privilege creep happens. In the first scenario, the IT Support team may forget to remove old user privileges and the user continues to enjoy them. Another possible reason is the Managers and employees being wilfully generous with logins and passwords, to avoid going to IT Support for changes in access privileges.
What is the Problem with Privilege Creep?
If you are serious about your security concerns, this is something that can never be taken lightly. It can create several security issues, even potential breach scenarios. If there are employees who have uncontrolled access to company's corporate network then it can create workflow, compliance, communication, productivity, and high-level security issues. The problem of access creep may not be apparent at first, may seem an innocuous error. But it is a major problem when it reaches the wrong hands like those malicious attackers, giving them unrestrained access into an organization's network, heavily compromising it. The worst part is, the IT Support and the Information Security team may not be able to easily identify where the threat is and the extent of it. Remediating such a threat would be like finding needle in a haystack.
It could even be internal actors, the employees suffering disappointment or frustration at work. When they have such unmitigated power there are chances that they may abuse it to sabotage their employer or even the former employer (if employees who have exited the organization still enjoy their access privileges).
How to prevent Privilege Creep?
Below are few tips to prevent Privilege Creep
1. Access Control Policy
Organizations should focus on establishing Access Control Policy and enforcing it. The policy should be well documented and reviewed based on the security requirements for access including access authorisation, administration, and audit functions.
2. Identity Governance and Administration
A strong identity governance and administration should be followed and incorporated into the cybersecurity platform. Reviewing and regularly auditing access and privilege of employees is necessary to ensure that they only get the access and privilege that they need for their current job role and determine those privileges that need to be revoked.
3. Enable Fewer departments managing user privileges
Another essential step is ensuring there are fewer departments managing user privileges. This gives greater control for the company to better monitor the privileges being granted to users.
4. Proper Provisioning and De-provisioning
As part of any employee's role transition, onboarding, offboarding, or just moving through the organization it is absolutely essential to implement proper provisioning and de-provisioning of the privileges and the process should be overseen and authorized by the security team.
How 10xDS can Help?
Managing privileges within an organization's environment and ensuring that the access and security policies are enforced and followed ad verbatim can be challenging, but it is quintessential for companies to mitigate or even eliminate the threat of privilege creep. However, this whole process is extremely repetitive, extensive, and laborious. This is where emerging technologies like Intelligent Automation and Robotic Process Automation can play a major role in automating these activities.
---
10xDS has developed an innovative autonomous automation solution called PARs Bot to automate the access control review process using RPA, saving lots of manual effort required from the security personnel. The solution effectively ensures that the user privileges of all employees are periodically reviewed. Deploying PARs Bot can drastically reduce the possibility of such security breaches.
---
Talk to our Experts on how to better safeguard your critical assets against security threats. Our team can help you to proactively identify and respond to internal and external security threats, use existing infrastructure at maximum potential to minimize risks, build a balanced IT security strategy for your organization and more.