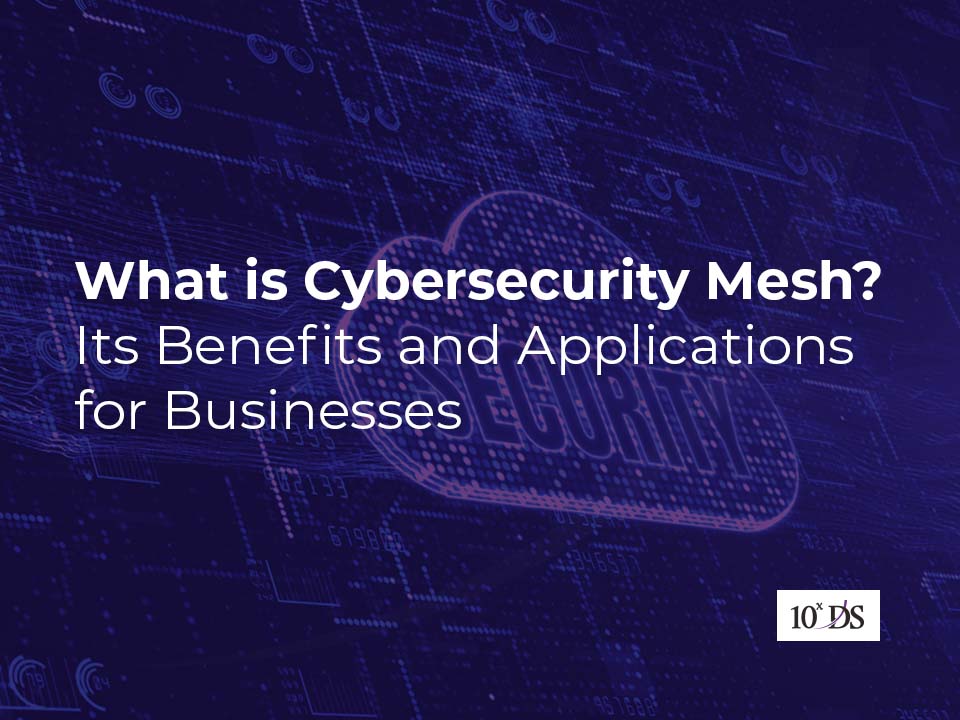 What is Cybersecurity Mesh? Its Benefits and Applications for Businesses
Cybersecurity mesh is one of the new cybersecurity buzzwords, and it is one of Gartner's top strategic technology trends for 2022 and near future. As a concept, cybersecurity mesh is a modern approach to security architecture that allows distributed enterprises to deploy and extend security where it's most needed, enabling greater scalability, flexibility, and reliable cybersecurity control. The rising number of cybersecurity threats are also inspiring innovations in security technologies, and cybersecurity mesh is one such modern innovation. The security mesh enables core distributed policy enforcement and provides convenient composable tools that can be plugged anywhere into the mesh.
Understanding the need for another new security concept
Owing to the pandemic situation, companies around the globe accelerated their digital transformation initiatives, to get ahead of the curve in a battle for existence. Many companies have adopted or are adopting the latest state of the art technologies to support and facilitate work from anywhere trends. For several enterprises their sensitive corporate assets are outside the traditional security perimeters, making it difficult to rely on legacy controls to protect them against advanced cyber threats. With the work-from-anywhere scenario and remote working being the new norm, enterprises have their assets, employees, partners, and customer base globally distributed in different locations.
With inadequate security controls in place, many adversaries exploit the situation to compromise data and target enterprise operations and systems. Therefore, it is quintessential for businesses to ensure reliable, flexible, and scalable cybersecurity controls to secure digital transformation initiatives. This is where cybersecurity concepts like cybersecurity mesh comes in handy.
What is Cybersecurity Mesh
In the wake of Covid-19 pandemic, "location independence" and "Anywhere operations" will be a significant trend which will continue as more and more companies start finding remote working model more feasible and cost-effective. With companies having assets existing outside of the traditional security perimeter, the security approach adopted by companies must evolve to cater to the current needs. Cybersecurity mesh as a concept follows a distributed approach to network and infrastructure security, allowing for the security perimeter to be defined around the identities of persons and machines on the network.  Such a security design creates smaller and individual perimeters around each access point.
With cybersecurity mesh, companies can ensure that the security of each access point is effectively managed from a centralized point of authority, thereby enabling centralized security policies and distributed enforcement. Such an approach is aptly suited for enterprises operating from "anywhere".  This also means that cybersecurity mesh is a building block of a Zero Trust security strategy where devices, services, data, and applications are accessed securely from anywhere by humans or machines with strict identity verification and authorization.
5 Benefits and applications of Cybersecurity Mesh
1. Cybersecurity mesh will support majority of Identity and Access Management Requests (IAM)
Considering the fact that several digital assets, identities and devices exist outside the company premises, it makes it difficult for traditional security models to strongly safeguard the company systems. According to Gartner, cybersecurity mesh will help in handling the majority of IAM requests, ensuring more adaptive, mobile, and unified access management. The mesh model offers a reliable digital asset access and control approach for enterprises.
2. Rise in managed security service providers (MSSPs)
According to Gartner, smarter with Gartner 2021, by the year 2023, 40% of Identity and Access Management applications merging will primarily be driven by MSSPs. The trend shows that MSSP companies can provide enterprises with top-notch resources and the required capabilities to plan, develop, acquire, and implement comprehensive IAM solutions. As per the trends, the whole approach shows that there will be a significant shift in the influence of product vendors, as service partners will be better placed to deliver best-of-breed solutions with an integrated approach.
3. Identity proofing tools in the workforce identity life cycle
With a significant increase in the number of remote interactions, it will become more difficult for people to identify between genuine valid users and malicious attackers. There is a pressing need to implement robust enrolment and recovery procedures. According to Gartner, by the year 2024, 30% of large enterprises will implement new identity proofing tools. This should help in addressing some of the common weaknesses in the workforce identity life cycle processes.
4. Emergence of Decentralized identity standards
Companies find it difficult to ensure privacy and assurance mainly because most of them follow a centralized approach to managing identity data. A decentralized approach leveraging a mesh model and the latest blockchain technology can ensure better privacy, allowing people to validate information requests providing just the minimum required amount of information. According to Gartner's key Predictions for Identity and Access Management and Fraud Detection, smarter with Gartner  2021,a true global, portable, decentralized identity standard will come up in the market to address business, personal, social and societal, and identity-invisible use cases.
5. Reducing Demographic bias within identity proofing
Several businesses around the globe are interested in document-centric approaches to identity proofing. With the pandemic scenario and increased adoption of remote working model, there arises many ways for bias with respect to race, gender, and other characteristics to occur in online use cases. Gartner predicts, by 2022, 95% of businesses will require that identity-proofing companies prove that they are minimizing demographic bias.
Conclusion
The concept of cybersecurity mesh shall remain a fundamental trend in the coming years, and over and above it will offer several key security aspects which traditional cybersecurity practices do not. Understanding the importance of protecting sensitive data, as more and more enterprises start digitizing their assets, they start migrating to cloud computing environments. The cybersecurity mesh will offer enhanced, more flexible, and scalable protection beyond the existing physical boundaries to safeguard their investments on digital transformation.
Talk to our cybersecurity experts to know more about the concept of cybersecurity mesh and other advanced security technologies to minimize risk and protect your critical data assets.