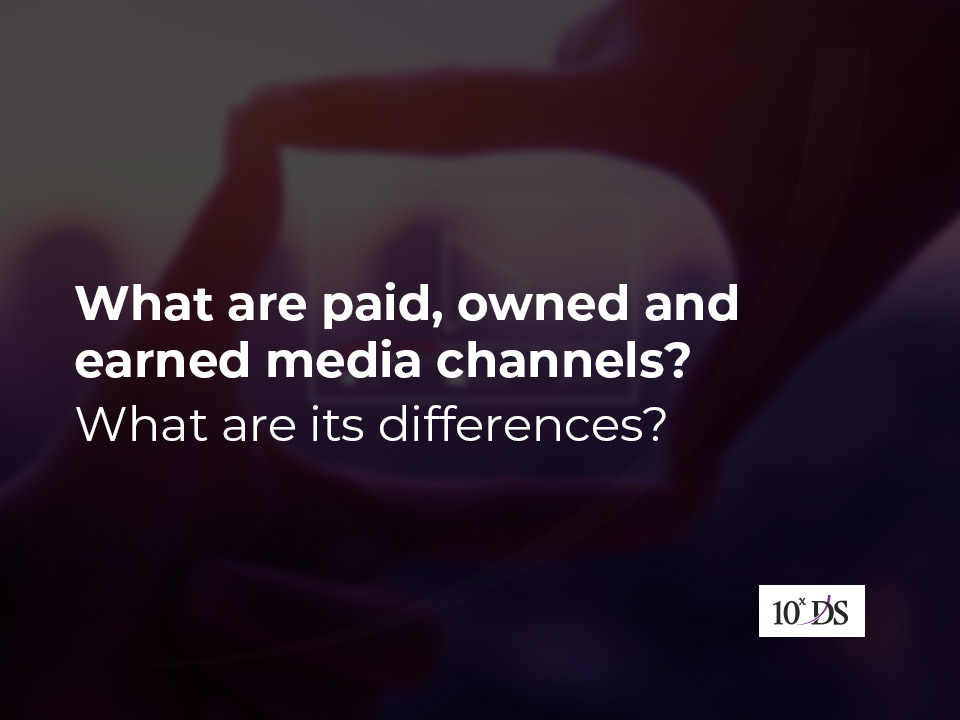 What are paid, owned, and earned media channels? What are its differences?
Every enterprise, whichever industry they are in, wants its brand to be in the media spotlight. Even marketers realize the importance of promoting their content. There are several avenues and media channels to promote content and every content plan needs a complementary promotion plan that combines paid, owned, and earned media. Most effective marketing experts know how to mix and maximize each one. However, not all marketers and enterprises fully understand the differences and which type of media can provide the necessary mileage for their company.
'Paid-Earned-Owned' (POE) media have become a buzzword and each type serves a particular function and requires a specific approach. Building your promotion plan across paid, earned and owned media, considering how it fits into your enterprise's overall marketing strategy can help enhance the effectiveness of the marketing initiatives, allowing the messages to reach the target audience in the best way possible.
So, let's break down the differences between company's paid, owned, and earned media. It is necessary to understand the differences because, before companies create strategies, they should consider some of the key aspects such as how will they get the word out, how will they reach the right people, and what all digital channels should be leveraged, among others.
What are Owned Media channels?
As the name suggests, owned media assets are everything that is published on channels you control, be it your website, social channels, newsletter, among others. Even when you post content in the social media accounts, though you don't own the actual platform, you do own your account and all the content assets residing in your account.
Owned Media assets Examples:
Social Media content residing in enterprise social accounts (be it Facebook, Instagram, Twitter, LinkedIn, Pinterest, Tumblr, etc.)
Email lists – of both customers and non-customers
Blog(s), articles, thought leadership content, case studies, whitepapers, ebooks etc
Company Website and or any microsites owned by a company.
If you look at content assets, for most companies, owned media is the final destination and all strategies leveraged using paid and earned media are the channels used to push traffic there. Owing to the popularity of content marketing strategies and advanced use of social media to promote content, it's become a lot easier to draw traffic to owned media channels.
Like any content, owned media always works best when there is value for the content consumers or visitors when they arrive at your website or digital channel profiles. It is very important that the consumers seek out your enterprise's offerings, rather than the brand pushing products and services onto them, this way the possibility of conversion increases.
For content marketers, the most difficult task involves developing their content plan to promote the brand's content in a unique, platform-native way across all media assets. Every platform has its own nature of content consumption which needs variation in content to cater to the proper audience effectively. For instance, if there is an infographic you have published on your website, you can create some extracts from it with interesting statistics. These make excellent social media updates for platforms like LinkedIn or Twitter. If its Facebook or Instagram, you may crop the relevant part of the infographics and publish it along with useful statistics to take advantage of image-focused posts people expect and that are more popular on these platforms.
By contrast, if you are writing a blog on the topic based on which the infographics were created, you can cut up the infographic into its component pieces to elaborate on each piece with more context and details included.
Pros and Cons of Owned Media channels
The pros of owned media include the fact that an enterprise has complete control over it, it costs less as its published directly on your website or digital accounts. If you look at the cons, the audience can be limited to those who subscribe to your brand or those who visit directly through search engine optimization initiatives. The site and accounts need to be nurtured and maintained properly for better results.
What are paid media channels?
Paid media is any type of content marketing initiative involving payments to promote a brand, product, or any content through digital or traditional channels, be it google pay per click (PPC), display ads, tv commercials or billboard ads. Paid media has a specific target audience, consumer segments, even catering to certain demographic, location, and age group.
At times direct marketing advertisement methods may deliver poor ROIs due to various reasons, ranging from lack of proper strategy, poor content message, low search volume, among others. Even if all these aspects are fine, it can also be too expensive if you are reaching people who have the wrong need-state for consuming quality content.
However, ads are the best source of lead generation, brand awareness, brand reach, and for promoting your brand to the right audience. Here are some interesting paid promotion tactics
1. Twitter Tweet Promotions
Twitter is a powerful social media platform that allows individuals and brands to promote individual tweets. This allows the brand or individual to get in front of the right audience and get into some quality conversations, potentially lead generating. There are several targeting options such as by interest, gender, geographic, or device users are using.
2. Highly Targeted Facebook or Instagram Ads
Facebook and Instagram offer a variety of ad criteria, enabling marketers to target both posts and conventional ads. Usually works best for image-centric feeds/ ads.
3. Outbrain
Outbrain is another popular and effective content promotion ad network. This is best for targeting blogs and garnering views for more subscriptions and greater audience reach.
4. Retargeting Marketing
This is comparatively inexpensive. Especially useful if you have a retargeting list. This way you can advertise your chosen potentially high consumption content to it on AdRoll, or through Google Retargeting.
Some other options include Reddit Ads and StumbledUpon paid discovery for targeting ideally young, socially engaged audience available.
As far as content marketing strategy is concerned, Paid media works really well if you are building a customer base, a new audience for your brand, product or service. It guarantees your content will go straight to your target market, the way you configure your ads. When leveraged together with organic and other media types, paid promotions can prove to be quite effective in reaching the right audience with greater purchase intent.
Pros and Cons of Paid Media channels
Paid media provides faster results, with the right strategy in place. Like owned media, you have complete control over message and copy. It's also easy to track as the ad tools or platform makes the tracking seamless compared to conventional lead generation tactics. However, it gets expensive when targeting high competition areas or keywords.
What are earned media channels?
Of the three types of media channels, earned media channels are undoubtedly the most valuable, simply because of its high credibility and potential reach. It is also the most difficult channel to have your content published or promoted. The message control may be less, but the amount of trust placed in these recommendations or promotions are huge. Here are some of the forms of earned media commonly seen:
1. Social Media Engagement or Sharing
If the content is trending or has good viral potential, social media posts or feeds can garner lot of shares. If the content is good the shares and recommendations of the posts on social media networks like LinkedIn, Twitter, Facebook, among others can be huge, enhancing traffic and also corresponding increase in sales.
2. Pickups of content in conventional or trade media
This can be huge depending on your industry. For instance, a blog getting published in leading digital media publications such as Mashable, TechCrunch among others can give huge boost to your brand awareness, leads and sales conversions. Even pickups in trade media can be very useful for enterprises, mostly for B2B businesses. This can be more effective than even general interest news publications, depending on the industry and content.
3. Popular Bloggers and relevant key Influencers recommending your brand or writing about you
Popular individual bloggers or social media influencers might have huge followers, subscribers, or reader base. When such influencers write about your brand or content, you can gain greater credibility and milage. Who knows, even the media content may rapidly become viral and get picked up by traditional media.
How to enhance earned media appeal in your content?
The key here is to create citable content leveraging high-authority research from reputed sources such as scientific journals, popular traditional media, and other credible sources. Identify such good quality content sources and link back to their most important and useful pieces of content.
Pros and cons of Earned Media channels
Earned media channels offer greater credibility, brand awareness potential and better reach. However, if the content gets picked up for the negative aspects, then this can affect brand reputation through negative publicity. It also takes a lot of time and effort to get picked up and is very difficult to collect.
Conclusion
To sum it up, be it paid media, owned media, or earned media (POE), enterprises should have a sound strategy to run through one or a combination of channels. Each media channels have its pros and cons, but content marketers should use the convergence of POE media to their marketing advantage.
10xDS Digital Agency follows an integrated approach to Digital Marketing, involving solid content strategies leveraging digital technologies and the diverse skill sets of our marketing experts.
Talk to our experts to help you tailor your growth strategy digitally.