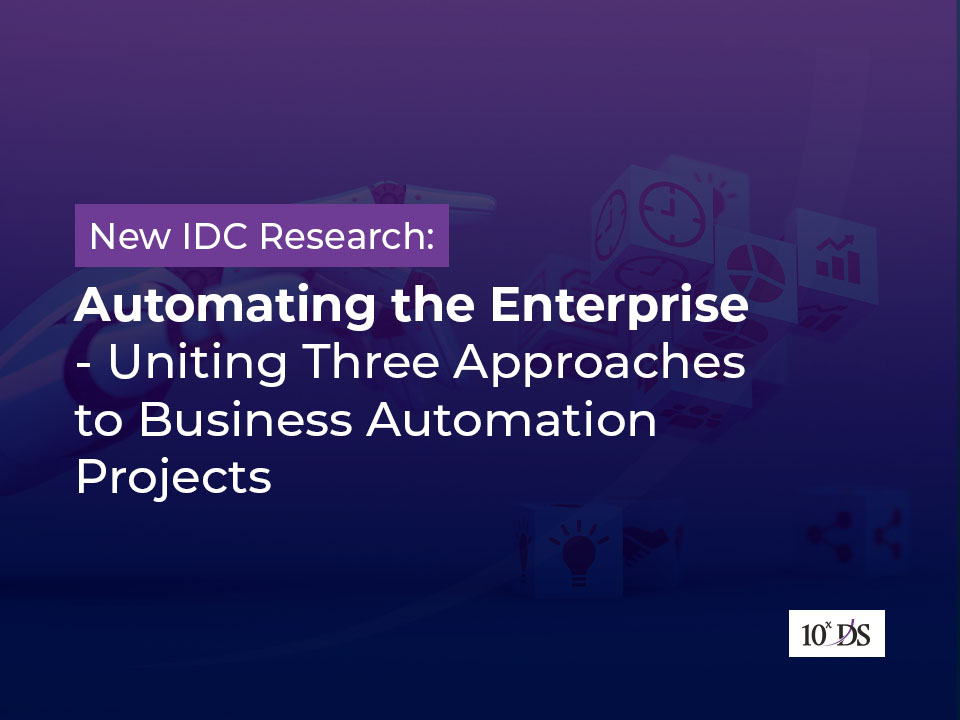 New IDC Research: Automating the Enterprise – Uniting Three Approaches to Business Automation Projects
Business Process Automation is one of the highest priority decisions for most organizational leaders. Enterprises look for process automation to reduce costs, enhance customer experience, improve return on investment (ROI), better manage risks, and provide better experiences for employees. Most administrative business processes are procedural, rule-based and routine and yet they are carried out manually in business functions such as finance and accounting, IT, procurement, and human resources. This is where businesses indulge in business process automation initiatives to streamline and automate processes. Streamlining these business processes can be really time-consuming and complicated considering the fact that automating them require cross-functional teams to leverage multiple technologies in concert, but the returns are striking and definitely worth the time, effort and expense.
Overview of automation projects in enterprises
As per IDC's white paper on "Automating the Enterprise: Uniting Three Approaches to Business Automation Projects" (October 2021), most organizations adopting business process automation with automation technologies, realize the benefits of automation, as they start going through the use cases automating manual or labour-intensive processes spread across multiple unconnected systems.  They start identifying different categories of automation opportunities for processes where tasks are deterministic, repetitive, and highly frequent. Organizations may also prioritize on the areas where processes involve having large internal teams and roadmap items get 'dropped off the list' consistently, among others. Some of the basic and most commonly automated activities include submitting expense reports, repetitive entering data from excel sheets or documents into an ERP or regularly used applications, data collection, validation, team management and others. These repetitive or rule-based activities take up significant number of FTEs affecting productivity, increasing errors and cost.
According to the new IDC research, for personal automation projects, the focus is more towards helping people and teams address administrative challenges that affect their productivity and creativity. The scope of such projects most likely involves a cluster of individual tasks rather than a complete process. Such automation provides "assists" that help human subject matter experts to make their work easier and productive. Business process automation projects look for greater scalability, integration, security, and manageability as compared to personal automation. Moreover, there is work coordination expected with attended and unattended bots within processes that are large and even the ability to handle exceptions at scale is valued. Personal automation projects prioritize speed and simplicity over other aspects.
Unlocking the potential of Enterprise-wide Automation
Several organizations are beginning to realize the importance of automation and even the automation technologies and tools have become more mature and easier to use. Businesses have started exploring the ultimate potential of enterprise-wide automation as the value gained by using automation techniques and technologies are not only for a few use cases but for the entire enterprise. Enterprise automation does not mean that the techniques and technologies must be used in the same way or replicated everywhere in the organization. Organizations that have been able to capture the ultimate potential of automation are using techniques, technologies, and tools in complementary and context-specific ways. This allows them to find success and gain more value out of such projects.
Automating processes to streamline rule-based and repetitive works
Emerging technologies like Robotic Process Automation tools and techniques enable easier automation of processes and tasks. However, considering the cost and effort required to gain the requisite skills and resources to deliver value, organizations started scoping projects with the greatest concentration of suitable automatable works. For instance, such works are already concentrated highly in Shared Service Centers (SSCs). SSCs require high process efficiency and standardizations, which automation can significantly help to enhance. Business functions falling in the scope of the SSCs are generally finance and accounting, IT, HR, procurement, facilities management, among others. Here the organizations aim to automate as much work as possible such as invoice processing, customer service administration, employee onboarding, sales order processing, payroll processing, data synchronization across systems, IT password resetting, IT policy compliance, among others.
Automating tasks across a Long Tail of Use Cases
According to IDC a sizable portion of the automation value – as high as 70-80%, at least 40%- can be only gained through applying automation tools and techniques to a "long tail" of use cases involving individual tasks, or a set of related tasks, rather than the larger set of business processes. These are usually role specific use cases such as report preparation, data collection and validation, and project and team management. They can be time-consuming "everyday tasks" performed by several people across an enterprise, or specific tasks performed by individuals or groups. Such repetitive works can significantly affect the productivity of an individual. Though automating such tasks may not yield more financial return than a use case where a large volume of highly routine work is concentrated, when we consider these works as a whole, the value opportunity is significant and certainly worth automating.
People-First and Process-First Perspectives
The IDC research ascertained that organizations indulging in enterprise-wide automation approaches often explore opportunities and solutions based on their change in perspectives at different stages of maturity. For instance, most organizations start with a "process-first perspective" involving the application of automation extensively to streamline well-defined, high-volume business processes. As organizations grow and gain further maturity, they start looking at the automatable works differently, as a way to enable individuals and groups to work more efficiently and productively – a "people-first" perspective. These works may span a variety of different tasks that may not be easily categorised to fit into process boxes. As organizations become more adept and mature at handling and engaging individuals and groups to drive automation projects, they realize the necessity of integrating "process-first" and "people-first" automation perspectives.
Three Approaches to Automation
The new IDC research covers three different approaches that organizations can take in their business automation works. The "Process First" and "People first" perspectives on automation, we discussed above, are aligned with these three approaches. As you will read in detail below, the first approach of business process automation is process-first, and the second "shared work automation" and the third "personal automation" approaches are people-first.
Business Process Automation
Business process automation is the perfect example of a process-first approach that aims to automate the maximum amount of work within a business process or cluster of business process activities. The automation projects are centrally managed involving a significant degree of complexity, commitments of cost, effort, and time. These projects have designated owners responsible for ensuring the effectiveness of the project results, delivering value consistently.
The use cases involve processes requiring a significant manual effort that are executed frequently. These automation projects aim to minimize human involvement to improve the process cycle time and cost. They usually use low-code automation tools such as RPA, working alongside technical automation experts, to identify clearly and definitely the automation behaviours and relevant aspects of user interfaces. Business process automation projects have a broad automation scope and extent, commonly relying on several components or parts such as multiple unattended bots, attended bots running on individual systems, and operational management platforms.
Shared work automation and personal automation
Shared work automation approach is aligned with the people-first perspective which aims to automate day-to-day works of administrative nature that people do. These works may not be easily categorized into the particular managed business process. Though these automations are used in common ways by large groups of people, it's better to manage them centrally.
Even personal automation projects are aligned with a people-first approach. Here the automation works are more particular to individuals or teams. Unlike the first two approaches, the outcomes are individually owned rather than centrally. Though there will be a central team guiding them all the way, individuals are actually responsible for managing and maintaining the automations.
As we have discussed above, shared work automation and personal automation projects are much different from business process automations, as they focus on helping individuals and teams address administrative pain points. These automation projects have in their scope individual tasks or a small set of tasks rather than entire processes. These projects also do not aim to automate the entirety of the work, instead, they focus on providing automation assists that work alongside humans. Also, unlike business process automation projects, the primary goal here is to make individuals' work experiences more convenient and productive.
Conclusion
As we have seen above, the automation tools, approaches and perspectives involved in business process automation, shared work automation, and personal automation differ in many ways. Business process automation project teams focus on bringing "enterprise-level" qualities such as scalability, integration, security, manageability, ability to manage exceptions, coordinate attended and unattended bot works, among others to streamline long-running processes.  Meanwhile, personal automation projects focus on platforms that deliver speed, simplicity and enhanced convenience to individuals or teams. Organizations looking to deliver the maximum possible ROI from enterprise-wide automations over the long term must seamlessly integrate the automation tools and platforms to properly glean the benefits.  To better understand the automation opportunities, use of tools, techniques, and approaches, it is always best to partner with leaders having technology consulting expertise and experience in Digital Transformations. These experts leverage a wide array of emerging technologies and technology-enabled services that can serve the needs of all kinds of automation projects in an integrated way.
As a technology expert and leader, 10xDS is your ideal partner to help you embark on the journey towards Digital Transformation. Talk to our experts to jumpstart your Digital Transformation journey.