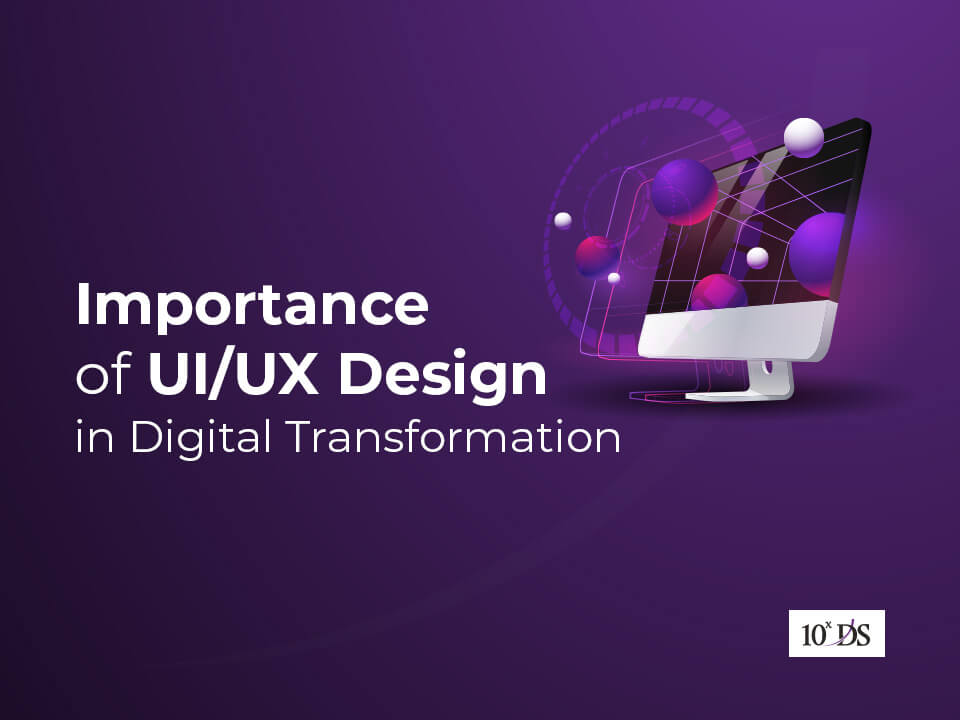 Importance Of UI/UX Design in Digital Transformation
The Covid19 pandemic forced several brick-and-mortar businesses to shift online. The pandemic also urged many businesses to rethink the way they were running or operating their business. Undergoing a successful digital transformation can be quite challenging for businesses of all types and sizes.
However, not many companies have a clear idea of how to drive digital transformation in the right way. One of the common mistakes observed is that they put far more focus on technology and tend to underestimate the role user experience can play in making their digital transformation successful.
Why Digital Transformation is centred around UX
Businesses that tend to give less importance to customer needs and requirements may struggle to stay relevant and grow. Unfortunately, this is something several businesses do when they are undergoing a digital transition. It is crucial to understand that people may behave differently in the digital space. As a result, most of the traditional methods used for offline communication might not be always effective in the online space.
The online buying or purchase decision of internet users can be influenced by several factors such as reviews, price, delivery time, delivery cost, and more. Customers can easily find other online stores or shops that sell similar products with just a few clicks. Therefore, it is critical to ensure a fine customer experience because even a single instance of poor customer experience can drive people away from your offerings.
Fortunately, an excellent UX design will be able to address some of these issues. For instance, a good UX design will boost the audience engagement of your company, simplify interactions with buyers, and help you get more online sales.
It has been reported that the returns from every dollar that is invested to create a fine user experience has amounted to approximately 100 dollars. Another interesting thing you need to note is that nearly 88 percent of people who shop online claim that they will not visit websites with bad UX again. This means that successfully completing digital transformation will not be possible without making the process more user-centric.
Getting Started with UX-Oriented Digital Transformation
Creating excellent products is not just enough to stay ahead of your competitors, as there is fierce competition in the online world. If you want to build a strong online reputation for your brand and stand out, then you will need to delight customers or make sure that the purchasing journey is effortless to customers.
Businesses that are planning to do this will need to gain a deep understanding of the wants and needs of customers. Here are a few simple but effective tips on how businesses can get started with UX-oriented digital transformation.
Conduct UX Research
The primary purpose of doing UX research is to gain a clear understanding of how you can make every single interaction with the website or mobile app pleasant to users. UX research will help businesses to identify opportunities and issues that are related to the usability of solutions and functions that have been implemented already or are planning to implement soon.
UX professionals make use of quantitative and qualitative measures to conduct UX research. Quantitative measures help businesses to identify patterns and test assumptions. On the other hand, qualitative measures enable companies to figure out why customers are doing certain things, assessing their behavioural patterns in their journey navigating through the product, application, or website.
Create Wireframes
Businesses need to understand that it is not a good idea to rush into the development processes without any prototypes and wireframes. You will be planning to complete the digital transformation strategy within a strict deadline. However, it is best to review the timeline instead of wasting resources to create custom software that can't bring desired results.
Wireframes make it possible for businesses to connect information architecture along with a user interface. Creating wireframes is the fastest and cheapest way to check if a particular solution has convenient navigation or not.
In addition, wireframes enable your design team to experiment with several ways of displaying content on the screen, which will help you find and select the perfect UX with ease.
Conclusion
When a business decides to adopt the latest technologies in their operations, then the way they are engaging with customers may also change. This means that the entire process will end up being meaningless if UX doesn't get enough attention. To ensure a successful digital transformation, you will need to make the process user-centric along with taking a holistic approach for creating UX design.
With our digital, UI and UX expertise, 10xDS offers engaging and intuitive User Experiences and interfaces making solutions, products, applications, and systems easier to use.
Talk to our experts to know more!