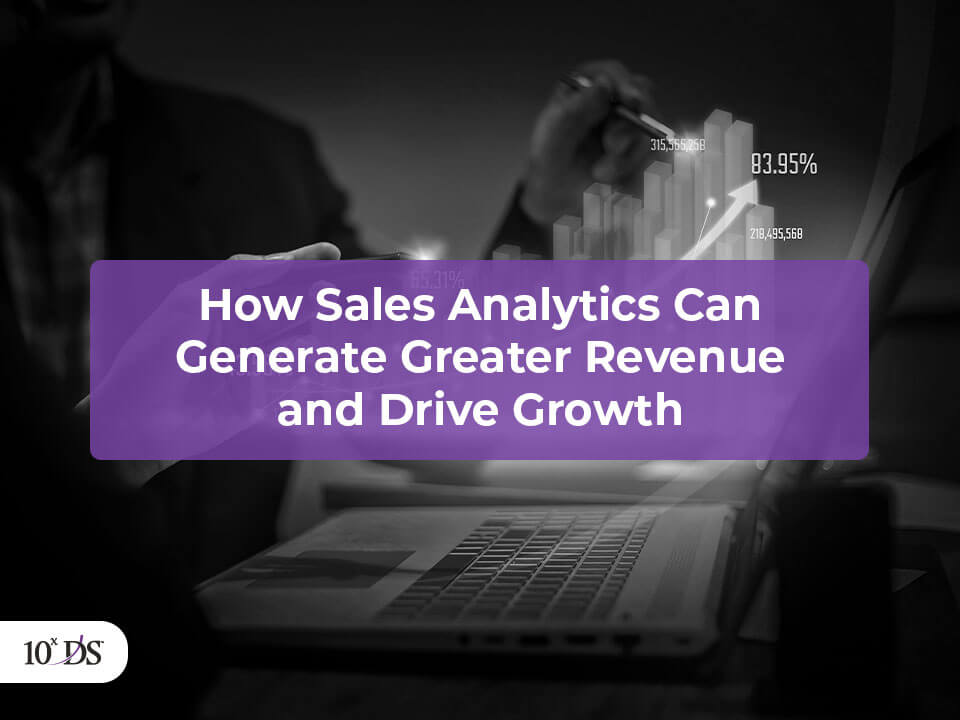 How Sales Analytics Can Generate Greater Revenue and Drive Growth
Sales analytics refers to using data analytics to identify and predict future sales trends. It helps to figure out different actionable strategies and sales models that can help to improve revenue. Analyzing sales data can also help businesses to see what led to the success of their previous sales campaigns and define future sales goals based on the trends.
In general, sales analytics can be broken down into four categories – descriptive, diagnostic, predictive, and prescriptive. Descriptive sales analytics gives a detailed look at the sales-related data while diagnostic sales analytics explains the observations and sales trends. Predictive sales analytics, on the other hand, makes predictions and future strategies based on the diagnostic results, whereas prescriptive sales analytics further simplifies how the plan of action can be put into practice.
Choosing the Right Sales Analytics Metrics
As the amount of data generated is rapidly increasing, you need to choose the metrics for sales analytics carefully for better results. Below are some of the key areas that you should focus on.
1. Pricing analytics
This gives you a brief look at your past sales performance so that you can recognize the price points that appeal to your customers more. This way, you can work out a modified pricing strategy for your future sales.
2. Market size analytics
This allows you to understand the size of the market and see if there is enough growth potential for your business. This will allow you to put a reasonable cap on your sales campaigns or launch a new line of products.
3. Non-customer analytics
This helps you to identify people who are not buying from you and get unbiased feedback from them. It will also open up more opportunities for expanding your business reach and drive more revenue.
4. Competitor analytics
This gives you insights on how your competitors are doing in the market and what makes them a better (or poorer) choice. You can also learn how they pitch their sales and see if you can employ those strategies.
5. Sales channel analytics
This allows you to find which sales channels are more effective in drawing revenue for your business. This can in turn help to allocate your resources appropriately for the productive channels and find new opportunities as well.
How Sales Analytics Can Help to Drive Growth
Sales analytics and forecasting help you to recognize where your business stands at present as well as how things will pan out in the future. Leveraging your historical sales data and analyzing the customer behavior and patterns will allow you to predict revenue numbers as well as make informed business decisions on how to proceed with your sales campaigns.
Below are the top three benefits of adopting sales analytics and data science into your business.
1. Better Customer Relationship
Maintaining good customer relationships is vital in every industry and it significantly affects the growth of the business. By studying customer and non-customer analytics, you can find out what gives a better experience to your consumers and modify your business around that. For instance, customers are more likely to buy from a seller that is known for great after-sales support. So, if you are not offering that, you could be losing many potential customers.
2. Superior Price Optimization
The retail industry is highly competitive and brands continually fight to win customers with lucrative offers and better services. The pricing always plays a crucial role in the buying decision of consumers, so you should make use of proper tools to optimize your pricing structure. Aside from pricing analytics, you can also look at competitor analytics to understand how your top competitors' price their products to maximize sales and generate more revenue.
3. Enhanced Product Development
Sales and market analytics will also help you to determine whether you are catering to the needs of your customers in the right way. This way, you can work on developing products that are more popular among your customers instead of investing in something that no one is likely to buy. Data analytics reports will also help you to see if you need to modify your advertising and marketing strategies for maximizing sales opportunities.
Conclusion
Enterprises should leverage data and insights appropriately to execute change within their business. This starts with identifying the flaws in the internal processes and fixing them accurately. The data and reports generated from sales analytics tools should not be limited to the top management. Instead, companies should ensure that everyone responsible for making the sales decisions are on the same page so that you can implement the plan of action effectively.
Most sales analytics solutions offer the option to access data on any device and from anywhere. This can come in handy to keep the organization's remote sales team aligned with their goals and objectives. Besides, it will also help to maintain transparency in the sales department and achieve higher employee productivity.
How 10xDS can help?
Team 10xDS is driving digital transformations across industries around the globe by leveraging our expertise in data and analytics technologies and deep sector experience to help organizations make strategic business and sales decisions.
Talk to our experts to learn more about choosing the right sales analytics solution and see how you can benefit from it.