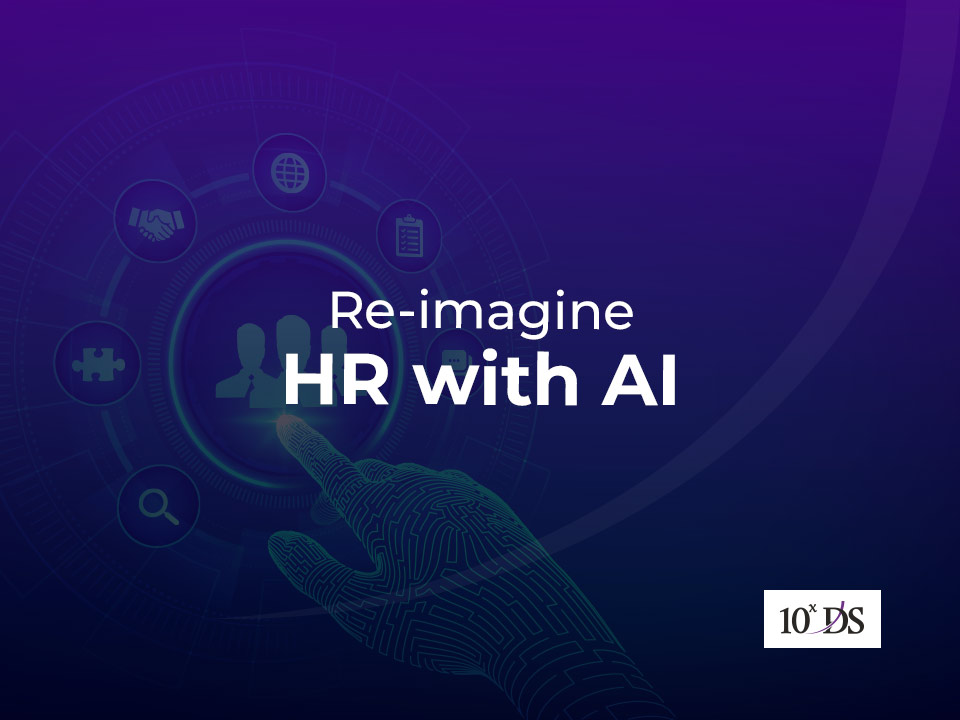 Re-imagine HR with AI
Artificial Intelligence (AI) is perceived as a technology that enhances human lives and humans have started depending on the technology like never before. We do more voice search than textual search, we have smart homes and smart spaces to make our lives easier.  AI implementation should be seen as a brilliant opportunity in our workspaces also. 10xDS Insights library has addressed the use of exponential technologies like AI, RPA, Chatbot and Advanced analytics in HR Onboarding.
Read: 8 Real World Use Cases on HR Onboarding Automation
However, the applications are not just limited to onboarding. In this blog, we will try to explore more use cases that impacts other spectrums of HR.
1. AI Chatbot for Employee Assistance
Let's think about the current scenario where we are working from home and disconnected with each other to the extent that workers are facing anxiety and no one to talk to. The challenges faced by HR personnel is humongous to keep people connected. With the advance of AI and Natural Language Processing (NLP) in recent years, AI is reaching a natural and indistinguishable interaction between humans and machines. HR can make use of such an AI chatbot that can handle the initial conversation with any employees. The chatbot can alert the HR personnel to give immediate attention to an employee based on the emotion detected from the chats. The transition from BOT to human can be so seamless that employee can continue the conversation without feeling any changes.
2. Sentiment Analysis of Feedbacks
There may be many communication platforms available within an organization. Employee engagement survey feedback, chatbots and collaborating platforms are some of them. The textual feedback used by the employees on these channels can be an indicator to assess whether the content of the message is positive, negative or neutral.  This is called sentiment analysis. It will act as an alert in case of low levels of engagement or motivation which might, in turn, cause attrition and needs to be immediately addressed. While retaining employees have become a challenge in today's world, these technology implementations can be a life saver.
3. HR Document Administration
HR handles a huge number of scanned documents like legal documents, Proof of Identity etc. It becomes a hassle for the HR administrators to manually type and enter the data into ERPs. OCR based intelligent automation solutions can extract the data from these scanned documents, conduct post-processing to relieve HR administrators from monotonous and repetitive work. They can further focus on HR strategy that needs more rationale or connect with employees that need a more human touch.
4. Workflow Automation
HR has many workflows like probation evaluation, departmental changes, promotions, performance appraisals etc. These are generally a mix of manual and automated steps. Automation using technology like RPA can free up the huge effort spent by HR administrators on these tasks.
5. Performance Management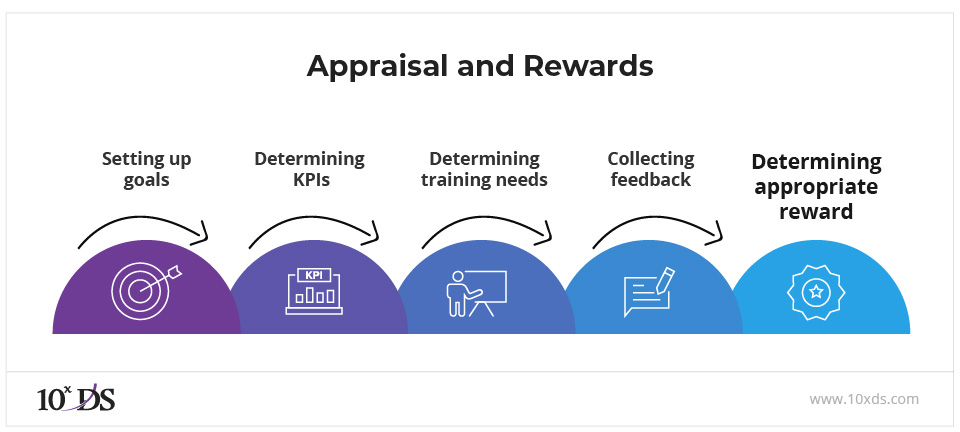 Conducting performance appraisals in the most unbiased and fair manner is a herculean task involving multiple activities. By analyzing data from various sources, AI can recommend training for each employee for upskilling, reskilling, cross-functional skilling and continuous learning. This becomes a major input for performance discussions. Past performance related data may also need to be analyzed using AU techniques based on multi-source feedback for each of the employees.
Conclusion
Currently, AI can be considered as a facilitator, not a complete solution and this can rapidly change in future based on the pace at which the technology is evolving. It definitely helps to give insights and a minimal human touchpoint can provide optimal solutions. The major thing to consider is to input the right set of data to carve out an unbiased algorithm. The security of this data also is something concerning as the models will be dealing with sensitive employee personal data which is kept private and confidential. But with the right amount of planning and bringing in the right technology components and with the right business acumen these challenges can be overcome. AI techniques can definitely help to increase productivity and performance of HR function, and contribute to enhancing its role as a strategic partner in an organization.
Talk to our experts to know more.