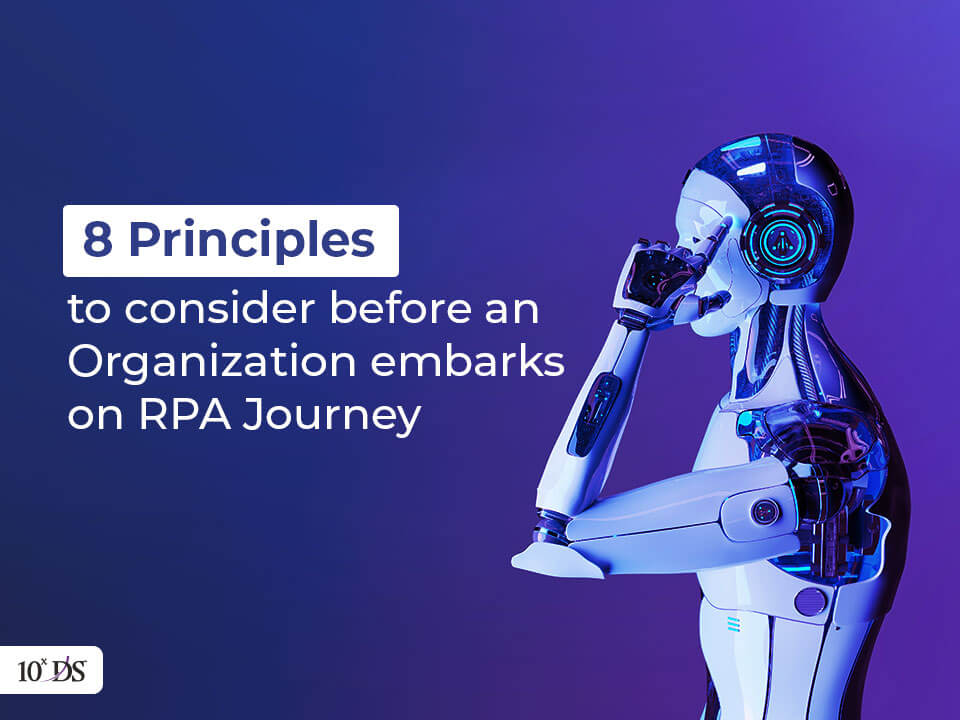 8 Principles to consider before an Organization embarks on RPA Journey
The demand for Robotic Process Automation (RPA) has significantly increased over the years and organizations have acknowledged it as a powerful technology for increasing efficiency and effectiveness. 10xDS journey so far with our partners and clients have been challenging but also rewarding on so many levels, as a wonderful opportunity to continuously learn and gain expertise. From the wealth of experience, we have gained working on several projects we have gleaned several lessons to share in this blog as the guiding principles to prepare an organization for the RPA journey.
1. Have a clearly laid RPA objective in tandem with organizations' strategy and Vision
Digital transformation is a marathon with a clear objective to create touchless streamlined processes. To fully realize this purpose, digitizing in small pockets may not be enough, as organizations should consider streamlining majority or ideally all their processes. From our extensive experience implementing RPA CoEs, we have understood that organizations automating majority, or all the processes have gained better results and greater ROIs than companies that have automated just one or two of their pain processes.
Organizations need to consider aligning with all the other changes in pursuit within as well. For example, If an organization is planning a major ERP implementation in the near future, it is not advisable to implement RPA on the processes that are impacted by the ERP.
Once an organization has defined an RPA objective, it needs buy-in from the leadership. The leadership should be able to clearly understand the RPA objective, its viability and how it will be benefitting the organizational strategy and vision. This is definitely the first milestone.
2. Have all the organizational functions/employees aligned in RPA strategy
Once an organization decides to go ahead with automation or any other technologies, it is necessary to ensure that all the internal functions are properly aligned. RPA is a practice that impacts people, processes and technologies and everyone should be aware, and every aspect should be considered before the RPA transformation affects processes or functions. Most importantly, employees should be given assurance that they will not be losing their job but will be moving up in the value chain. Else, when the transformation process begins, the organization may be forced to deal with the resistance from employees.
3. Understand the potential changes in the future and plan for it
Once RPA is implemented, an organization would face cases of people being freed up from their current job tasks and there should be a proper plan on how to utilize those resources for more value-added tasks. In short, any organization treading the path of RPA transformation needs to have a change management plan and implementation.
4. Conduct an RPA Consulting study to develop RPA roadmap
A complete scan of the organization's processes would help in identifying processes for reengineering to standardise it and check the potential candidates for automation. This can be done in a phased manner by departments or by functions in an organization. Reengineered and standardized processes help in enabling stable processes. Organizations should always strive to avoid "Garbage In, Garbage Out" for RPA programs.
5. Go with an implementation partner who can walk with you in the journey
An organization may be able to set up an RPA team internally which is recommended as well for a successful automation journey, but it is always better to take baby steps working with an expert team in RPA who would listen, understand and deliver results. The expert team can help educate and train the staff laying down a roadmap and implement first few processes and help the staff team build the rest.  They would also be able to recommend which RPA tool is best for the organization, how many licenses to purchase and how to optimally use the available licenses for the organization processes. They can orchestrate these processes very well in a structured delivery model.
6. Start small and scale it up to RPA COE
10xDS always recommends a three-phase journey – Incubate the concept in the organization, institutionalize to see the impact in real life scenarios and industrialize solutions for use across organizations. This would mean that any organization needs to start with a Proof of Concept (POC) which can be materialized in few weeks, then pilot it to gauge practical implementation pros and cons. This would further help in the continuous building of sector and business specific solutions using best of RPA tools with varied implementation approaches and gauge success measures and ROI by running dedicated Centre of Excellences (COEs)
7. Have all security aspects considered while implementing RPA
It is imperative to understand all possible cyber risks and controls needed in RPA implementation. A security review by a Cyber Management expert during the design of RPA solutions is a must have to ensure Robotic Process Automation security.
Read: 5 ways to keep your RPA investments immune to security threats
8. Conduct Post Implementation Review (PIR) on periodic basis
Conducting a review helps to ascertain the degree of success from automation, evaluate whether the project has met its goals and manage the expectations of stakeholders. It also helps to evaluate the efficiency of all elements in solution to identify potential areas for improvement and optimise benefits delivered and assess potential risks to business post implementation and develop controls. 10xDS recommends a third party to conduct this review exercise.
Read: What is RPA Post Implementation Review?
Any strategic initiatives would require preparation for it to be successful; RPA is no different. Considering the above pointers will help you in the RPA transformation journey.
Talk to our experts to know more!