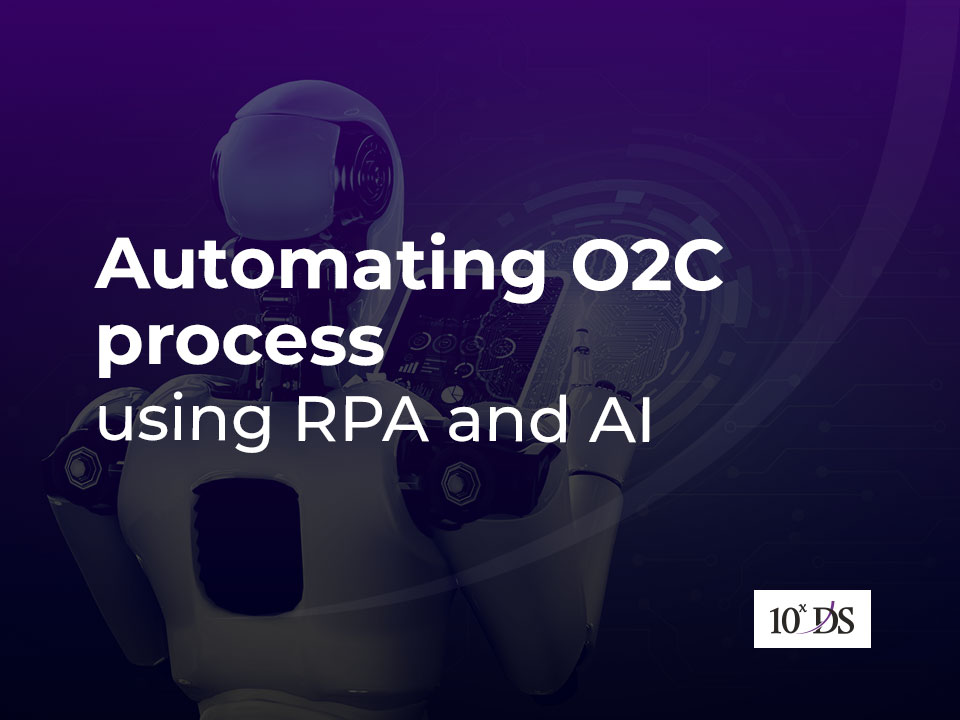 Automating O2C process using RPA and AI
In simple words, O2C or Order-to-Cash can be described as the order processing system of a company. The process begins when a company receives an order for a service or product from customers. The order will be completed, and the product will be shipped to the customer. If the customer has not made any payment at the time of ordering products or services, then an invoice will be created and delivered to the customer. The company will record the transaction in their ledger after receiving the payment. There is no denying that order-to-cash is a critical business process.
Several readers will be surprised to hear that O2C in most cases is carried out manually.
Why use Automation for O2C processes
The major issue with the manual handling of O2C is that there are chances for the occurrence of errors and the process can be very time-consuming. These kinds of issues can considerably slow down the O2C process, which will affect cash flow, customer satisfaction, compliance, and Daily Sales Outstanding (DSO).
This has urged several companies to turn towards Intelligent Automation, which combines analytics, Artificial Intelligence (AI), Robotic Process Automation (RPA), to accelerate and streamline the process of O2C. Automation is capable of cutting down costs, boosting efficiency and eliminating human errors. In addition to that, automation will allow your employees to focus on other important tasks of your business such as handling customer issues and queries.
1. Sales Order Processing
With sales order documents coming in from various sellers, companies need to employee staffs 24*7 to read and enter the details from Order documents to ERPs for further processing. Sales volume and orders peaks during the weekends too. With Intelligent Document Processing (IDP) in its core, intelligent automation can help companies to be on top of this process. With IDP extracting relevant details from pdf and scanned order documents and with Human validation (HITL), the process becomes efficient. With a peak in sales during the weekend, the process can be efficiently managed with minimal staff validating the order from their mobile devices securely with BOT taking the heavy load of the process. Cloud-based architectures also enable seamless and secure access for the users.
2. Billing and Customer Set-Up
There are several manual touchpoints involved in the traditional order-to-cash process. These include updating or setting up accounts for customers. For example, when an order is placed by a customer, the customer information will be manually entered into the finance system or ERP software of a company. This is an inefficient process, which can result in errors.
Billing can be an imperfect experience in some cases when it comes to traditional O2C processes that include mailing and printing paper invoices. Using paper and mail may end up being quite costly for some businesses. Moreover, there are chances for delays when businesses are printing and mailing invoices to users.
Customer information may arrive in the form of unstructured data in USPS, faxes, email, or over the phone. It is crucial to remember that not all automated solutions are capable of processing unstructured data. If that is the case, you will need to rely on intelligent automation including technology components such as OCR (Optical Character Recognition).
Most businesses will be probably aware of the fact that they will be able to automate customer set-up processes like master data maintenance and registration. The automation of these tasks along with integrating them with the billing process will result in an accelerated and smooth workflow. Leveraging this, companies will be able to easily generate invoice digitally and deliver it to customers through fax, mail, or any other preferred channel.
3. Vendor Reconciliation
Vendor reconciliation is the process of matching the unpaid invoices for that date in the Vendor Statement listing with the documents from the customer's system.
The process will help every client in:
Collecting invoices captured onto incorrect vendors and pre-empting payment being made to the wrong Vendors.
Finding invoices duplicated onto the same vendor if the client system does not have an efficient duplicate check mechanism.
Identify payments made by the client but not received/allocated by the Vendor.
RPA for Vendor Reconciliation will involve typically the following steps:
Extract the Vendor statement from email and updates the values to an Excel File.
Generate the document/report from the Client system in an Excel format containing details of the Invoices.
Reconcile between the vendor statement and the report generated from the client system.
If invoices are found in the vendor statement and client report, then no investigation is required.
If values in the invoices are not matching, send a notification to the Accounts Payable accountant to correct the values in the respective ERP.
If values are missing, notify the Accountant or vendor.
These are only a few use cases explained but most of the activities in the O2C process is automation-friendly. This is the right time to get rid of the inefficiencies in the cycle, by automating them to avoid the risk of potential losses.
Conclusion
An intelligent automation solution, which features analytics, Robotic Process Automation, and Artificial Intelligence can help businesses to read, analyze, and process structured and unstructured data from different sources. Apart from that, businesses will even be able to gather customer insights and identify potential billing issues on the basis of past data.
Talk to our Experts to know more about O2C process automation using Intelligent Automation, RPA, and AI.